LOS ANGELES -- I thought it wouldn't bother me. I thought I would be OK. Turns out, I was as wrong as Skip Bayless.
I'm not sure I can handle seeing Ray Allen, Paul Pierce and Kevin Garnett -- three of the NBA's most likable players -- hoist the Larry O'Brien trophy.
Not that there's anything wrong with those three guys, but old dislikes die hard. I came of age in my NBA fandom in the 1980s. Being from Detroit, you already know what that era means to me. I've seen too many replays of Robert Parish's 1-2 combination on Bill Laimbeer; seen Kevin McHale go Plastic Man on the Pistons in the post too many times; witnessed too many of Danny Ainge's whiny expressions; and heard too much of "Bird steals the pass!" to ever be completely comfortable with the idea of the Boston Celtics winning an NBA title.
No question, the Celtics deserve to win this series. They've been the best team all season. They've outplayed the Lakers. They've smothered Kobe Bryant. They practically have Pau Gasol in the fetal position sucking his thumb.
In fact, I hope the Celtics close this series out in Game 5. Because when they do, I'll be on a plane, loaded up with red wine and trail mix, making my way to ESPN's headquarters in Bristol, Conn.
In December I wrote the Celtics' resurgence was a good thing because it rekindled my passion for the NBA. There's nothing like an old-fashioned rivalry to make you appreciate a sport.
Now I wish the Celtics had gone 0-82. I think I'm kidding.
Equally appalling is that some of my friends -- people I consider hardcore Detroiters -- have actually been rooting for the Celtics in the Finals. That's just gross. If you're from Detroit, and you're at peace with the idea of the Celtics winning another NBA title, immediately hurl yourself off the Ambassador Bridge.
Rooting for the Celtics is like supporting inflation, unemployment and locusts. It's like praying for Eva Mendes to get married and for Brad Pitt to be disfigured.
It's like wishing dollar bills and free time for Pacman Jones. It's like hoping the pit bull doesn't take Michael Vick's pinky as a memento. It's like wanting Ron Artest's raps on repeat. It's like coveting fungus.
But the Celtics? If you showed any appreciation for them anytime in the '80s in Detroit, you risked being Jimmy Hoffa'ed.
Celtics fans, I'm aware you're probably plotting to kill me as you read this, but think of it this way: Even if you liked certain individual Yankees, even if you respected their brilliance as a team -- and I'm going to guess that's happened a few times -- does it ever sit right with you when the Yankees succeed?
I realize most people don't consider the Boston-Detroit rivalry the same as Yankees-Red Sox, but besides the Colorado Avalanche, no team was hated in Detroit more than the Celtics. There was a certain amount of begrudging appreciation for the Lakers because Magic is from Michigan and won an NCAA championship at Michigan State.
But the Celtics? If you showed any appreciation for them anytime in the '80s in Detroit, you risked being Jimmy Hoffa'ed.
Admittedly, to some degree it was about race. Detroit is 80 percent African-American, and as my colleague J.A. Adande stated in a fantastic piece on the Celtics earlier this season, the mostly white Celtics teams of the past had a tough time being accepted by black audiences. Boston was viewed by African-Americans as a racially intolerant city. Boston was the home of the infamous Charles Stuart case -- in which a white man murdered his pregnant wife and blamed it on a black suspect who didn't exist.
Those feelings toward the city and the Celtics have subsided, in large part because our own racial attitudes have progressed.
But this isn't about race. This is rivalry. This is tradition. Considering Detroit is America's favorite impoverished punch line, it probably hurts every Detroiter just a little to see Boston succeed.
The Pistons have lived a charmed existence in this decade and haven't had to worry about a serious challenge from their most hated rival. That is, until now.
If the Celtics win this title, there is a sense that this isn't a punctuation mark to the careers of Pierce, Garnett and Allen, but the beginning of an era of anguish for Detroiters. It's an anguish, I'm finding, that never truly goes away.
Jemele Hill can be reached at jemeleespn@gmail.com.
2008 NBA FINALS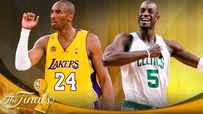 And then there were two -- the Lakers and Celtics. Who will win the NBA Finals? Let the games begin.
Finals schedule | Playoff bracket | Playoff home
Daily Dime
•
Celtics win 17th championship title
•
Did C's lose Regret Game?
•
A little help from Kobe's friends
•
Time for L.A. to go small
•
The Finals Can't Shake Donaghy Mess
•
Unlikely Game 4 comeback gives C's 3-1 lead
•
Rondo's ankle could change L.A.'s game plan
•
Kobe leads Lakers to Game 3 win
•
Lakers need to attack the paint
•
Lakers learn Powe's name in Game 2
•
Time for Gasol to step up
•
Lakers need better defense in Game 2
•
Pierce sparks Celtics in Game 1 victory
•
Expert predictions, clutch stats
•
Pierce loves playing Lakers
•
Celtics to meet L.A. in the Finals
Lakers vs. Celtics
•
Stein: Q&A after six-game "sweep"
•
MacMullan: Pierce's long road to greatness
•
Hollinger: From camp to champs
•
Stein: Boston's big three shine
•
Adande: Questions loom over Lakers' future
•
Hollinger: Celtics commit to defense
•
Scouts Inc.: Game 6 breakdown
•
Hollinger: Farmer steps up in Game 5
•
Sheridan: Late-game letdown for Celtics
•
Stein: Lakers ready to make history?
•
Adande: Greatness eluding Phil and Kobe
•
MacMullan: Doc adheres to dad's lessons
•
Jackson: Time for L.A.'s concession speech?
•
Stein: Game 4 not Kobe's finest hour
•
Adande: KG dominates Gasol again
•
Hollinger: Rivers makes all the right moves
•
Hill: Kobe's Laker legacy on the line
•
Hollinger: Vujacic lends helping hand in Game 3
•
Jackson: Jump shot Jesus has returned
•
Stein: Lakers need to earn sympathy
•
Adande: Lakers feel foul over whistle disparity
•
Jackson: Leading role suits Pierce
•
Adande: Kobe turns away from the pass late
•
Stein: Pierce's knee key to rest of series
•
Finals factor 1: Kobe Bryant
•
Finals factor 2: Celtics Defense
•
Finals factor 3: Paul Pierce
•
Finals factor 4: Home-court advantage
•
Finals factor 5: Battle of the benches
•
Hollinger: Lakers offense vs. Celtics defense
•
Broussard: Turning back the clock

•
Adande: How did Kobe get here?
•
Scouts Inc. breakdown: Lakers vs. Celtics
•
Coaching comparison: Red vs. Phil
•
Smith: Kobe's moving forward
•
Scoop: Fiendin' for a ring
•
Top 10 moments of Lakers-Celtics rivalry
•
ESPN Classic schedule: Relive the rivalry
TrueHoop
•
TrueHoop: Finals reflections
•
TrueHoop: Doc Rivers' redemption
•
TrueHoop: Lakers got Rondo'd
•
Tough night for Allen
•
Game 5 live blogging
•
Laker nation vs. NBA refs
•
Pierce and the evaporating knee story
•
Game 2 live blogging
•
Coaxing Kobe Bryant into hero mode
•
Game 1 live blogging
•
Today's game isn't so different
Simmons
•
Notes from the C's winning night
•
Boston's X factors
•
Game 4 running diary
•
Time for NBA Finals answers
•
The C's and city both look good
•
The Truth comes out in Game 1
•
NBA Finals forecast
•
Chat: NBA Finals preview
•
Simmons: You want a piece of Kobe, Boston?
ESPN The Magazine
•
Sporting Equivalency: NBA Finals meets hip hop
•
Broussard: Reporting from the NBA Finals
Fantasy
•
Join the fun of NBA Finals: Playcaller
Audio
•
Dish: NBA Finals recap
•
Wyc Grossbeck on C's championship
•
Ray Allen on how the Celtics evolved
•
Bob Ryan compares '86 C's to current one
•
Jon Barry credits Tom Thibodeau's team defense
•
Game 4 reactions
•
Rajon Rondo on Pierce, Game 2 plans
•
Bill Walton on Celtics-Lakers history
•
Dr. J on Finals, '80s hoops
ESPN Top Headlines