It began to slip away on the 16th hole, but it wasn't until No. 17 that it became a full-fledged meltdown. The first of many, unfortunately.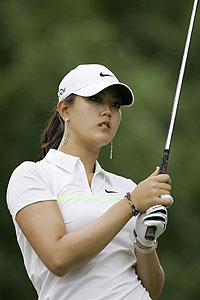 AP Photo/Kiichiro Sato
Michelle Wie showed such great potential at such a young age.
Michelle Wie had a 2-up lead going into No. 16 in her second-round match in the U.S Women's Amateur Championship in 2004. But she dropped a stroke on No. 16. And then she blasted her tee shot into the rough on 17, eventually bogeying the hole. Meanwhile, her opponent, the then-unknown Inbee Park, was the picture of composure. She birdied the 338-yard par-4 17th to pull even with Wie. And on 18, with Wie 15 feet away from the cup and Park a good 60 feet away, Park drilled her putt just a couple inches from the hole, while Wie looked like Happy Gilmore before he started putting with a hockey stick, as she three-putted the final hole. Game over.
"I gave her that match tied up in a box with a pretty pink ribbon," Wie said at the time.
Who knew what a precursor that would be, not only for Wie and Park, but for female golfers in general? Last week the story once again was Park's rise and, for Wie, another crushing fall. But when Park won the Women's U.S. Open -- at 19 years old, she became the youngest woman to ever win that major -- the gap between her and Wie was so much wider than it was four years ago. Wie, who provided the Open's unintentional comedic moment by shooting a quintuple-bogey 9 on the ninth hole of her opening round, didn't even make the cut.
Sometimes disappointments can only be put in perspective by success. And now that a horde of young, incredibly talented women is stampeding through the golf world, Wie's failures are firmly crystallized.
Wie had the most promise and appeal of all of them, but she is, to date, nothing more than a cautionary tale. She is an official What Not -- as in, what not to do when you have loads of talent, lots of money, and shortsighted people in charge.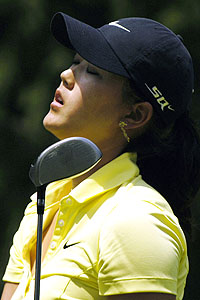 AP Photo/Don Heupel
Now Wie can't seem to find her way.
In a strange way, this glut of young talented female golfers we see today can be credited to Wie. The ridiculous attention Wie received from when she was a preteen more than likely chafed her competitors. If she got on the usually reserved Annika Sorenstam's nerves, you can only imagine what others privately thought of Wie. Undoubtedly, Wie's supreme talent had to make other golfers feel like they had to work twice as hard just to receive a fraction of her limelight.
Now, look at all the anti-Wies. Besides Park, there is 20-year-old Morgan Pressel, who has already won a major and earned more than $1.4 million after just two years on the LPGA Tour. There is 21-year-old Paula Creamer, who has six LPGA tour victories and a top-5 ranking. The No. 1 ranked golfer in the world is Lorena Ochoa, who is just 26.
And now some more bad news for Wie: Picking up major steam in the amateur world is Cheyenne Woods, Tiger Woods' 17-year-old niece. Cheyenne is the daughter of Tiger's older half-brother, Earl Jr. If Wie thinks she has pressure, imagine trying to make a name for yourself in a sport that your uncle pretty much owns.
"I think it had a major impact on me," Cheyenne said when asked about that recently. "It motivated me to follow in his footsteps. Him being my uncle made it that much more motivating to be on the tour and be successful like him."
If only Wie had followed the Cheyenne Woods career plan. Cheyenne already has 30 junior tournament victories, and in between frequent trips to the mall with her friends, she helped her prep school win four state titles while also collecting individual championships her junior and senior years. This fall, she's going to Wake Forest on a golf scholarship.
Too bad Wie's golf career wasn't influenced by someone like Cheyenne's grandfather, Earl Woods Sr. (Tiger's dad), instead of her father, B.J., who I hope wants a do-over for unwisely deciding to make Wie a well-paid show pony instead of a real golfer.
It was in Earl Woods' garage that Cheyenne picked up her first golf clubs, which, of course, originally belonged to Tiger. But more importantly, it was Earl Woods who told Cheyenne's mother, Susan, to make sure Cheyenne didn't burn out.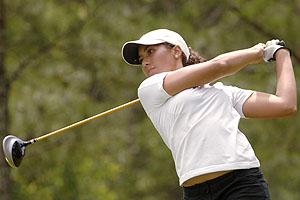 AP Photo/Gene Duncan
Cheyenne Woods is looking like she could be a breakout star.
"He gave me advice on where to start me, in little local tournaments," said Cheyenne, who won the Bill Dickey Invitational Junior Golf Championship at Walt Disney World's Palm Course last week. "When I was 10, I went to a junior world event and 10 TV cameras came to watch me play. My grandpa always told my mom to not let the media be so on top of me when I was young. I think that helped a lot."
What would help Wie salvage her career? A dose of humility, and a major helping of reality. At the moment, she's not good enough to compete on the LPGA tour. The best thing that could happen to Wie is if she didn't make enough money for a tour exemption next year.
The one common thread among her more successful peers is that they learned to win consistently at the lower levels before joining the LPGA. The prospect of qualifying school might be embarrassing for someone who has already earned $30 million, but for once, Wie needs to make a decision that isn't about the money. As her peers distance themselves, most people believe we saw the best of Wie in 2003, when at 13 she became the youngest person ever to win the U.S Women's Amateur Public Links tournament, and became the sporting world's official "it" girl.
Certainly no one can blame Wie for accepting the millions Nike and others supplied. But if you're Wie, which would you rather have right now, another seven-figure check or the promise of a meaningful career?
Jemele Hill can be reached at jemeleespn@gmail.com.