When he was at the bottom of a pile of bodies, suffocating, with unknown hands clawing at his face and clothes, his leg pinned against a stadium seat, and blood gushing from his nose and mouth, Matt Murphy was just hoping he wasn't about to die over a baseball.
It was a thought Murphy revisited a few times in the days following his life-altering catch -- between the appearances on "Jimmy Kimmel Live!" and the "Late Show with David Letterman," his fourth hotel change in two days and his father's warning he should give up the baseball if nefarious figures put a gun to his head.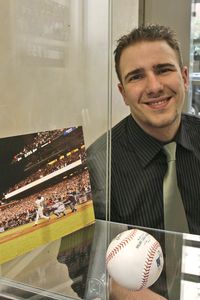 AP Photo/Mary Altaffer
Matt Murphy is the lucky man who emerged from a scrum at AT&T Park with Barry Bonds' record-breaking 756th home run ball.
With his new sneaker business opening Friday in New York's trendy Tribeca neighborhood, the 22-year-old Murphy can look back and see the absurdity and humor in everything that's happened to him since he caught Barry Bonds' historic 756th home run ball a year ago in San Francisco -- which made Bonds baseball's all-time home-run leader and solidified Murphy as a high-level thousand-aire.
"Let's just say I've got a really great conversation-starter," he said.
As you might have heard, Murphy and a friend detoured to AT&T Park en route to Australia, to see Bonds on Aug. 7, 2007. In the fifth inning, Murphy emerged from that pile of bodies with a ball that eventually was purchased by designer Marc Ecko for $752,467.
Murphy's take was half of that. He paid the taxes and gave his buddy, Amir Kamal, who was with him when he caught the ball, the remaining half.
A year ago, who would have guessed that the owners of the historic ball would be much better off than the guy who actually hit it and broke arguably the most hallowed record in professional sports? The opening of Solefood NYC allows Murphy to fulfill his lifelong dream of being an entrepreneur. Ecko received enormous publicity for asking fans to vote online about what he should do with the ball. The fans decided he should brand the ball with an asterisk, which, despite criticisms, Ecko did before turning over the ball permanently to the National Baseball Hall of Fame last month. Meanwhile, the 44-year-old Bonds is out of baseball in what appears to be a result of unofficial collusion. Not a single team, contender or otherwise, will take a chance on a player many feel is the best of his generation.
"I thought [Ecko] was either a really smart businessman or a complete idiot," Murphy said. "Turns out, he was a really smart businessman."
But Ecko wasn't the only one who deserved that kind of credit. Murphy knew the ball was a commodity he could milk for some serious financial comfort. After securing the ball in a safe deposit box, he turned down some initial weak offers, including one from Topps trading cards that guaranteed him $100,000 and free tickets to baseball's All-Star Game and the Super Bowl. Another businessman offered him $200,000 for the ball, but Murphy went with premier auction house Sotheby's, which auctioned the ball to Ecko in January.
Murphy has done his best to lead a normal life. He still works as a contract supervisor, overseeing renovation projects around New York City. He still hasn't bought a car. He moved into a Manhattan apartment, but nothing ultrafancy. He invested in the stock market. The only big-ticket item he purchased was his sneaker store, which he shares with two other partners. The one fact he kept at the front of his mind is that nearly one-third of all lottery winners go broke.
"Even if I made $6 million off the ball, I'd still be at work every day," Murphy said. "My mentality is: Don't spend it. That money can make more money, and then I can live off that money."
About the only thing that's different is his love life, and he admits his faith in people is somewhat shaken. Asked what the dating scene is like when you've got a couple hundred thousand dollars to play with, Murphy laughed and said: "It's like fishing with dynamite. It's a very good closer at the end of the night. Let's just say I've got a good winning percentage."
The money has exposed the ugly side of people. Murphy has gotten an advanced tutorial on hidden agendas and greed. Some of his so-called friends took money from competing auction houses who wanted them to steer Murphy in their direction.
"A lot of freeloaders," he said. "I understand now why people with money watch their backs. Everybody is out to get you. Everyone is trying to get something out of me."
In that way, being a New Yorker is perfect for Murphy. He's living in the one place where the famous and infamous go largely unnoticed. He just wants his new store to do well enough so that he can eventually quit his day job and live out the rest of his days as an unassuming businessman.
"I don't want to be recognized," Murphy said. "I don't need the attention. I just want to live a normal life. In that way, mission: successful."
Jemele Hill can be reached at jemeleespn@gmail.com