Randy Moss was elected a team captain this season by his fellow New England Patriots. Now we'll see if his teammates made the right choice.
Most believe Tom Brady's season-ending knee injury creates the most pressure for lifelong backup Matt Cassel, but that's not true. A lot of pressure will be on Moss, too.
For most of his NFL career, Moss has been viewed as a front-runner -- a consummate professional when things are going well, but a cancer at the first sign of tumult.
I've long believed some of Moss' perceived "character issues" were overexaggerated -- Fox announcer Joe Buck calling Moss' mock moon to Green Bay fans a "disgusting act" comes to mind -- but the fact remains that Moss and "leader" aren't usually comfortably put into the same sentence.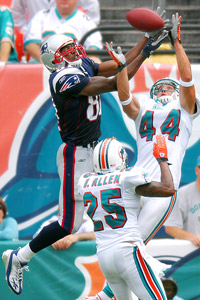 Steve Mitchell/US Presswire
Last season, Moss was unstoppable, even when double-teamed. How will he respond without Tom Brady?
But with Brady out for 2008, Moss should seize the opportunity to finally prove he can be a strong leader in a difficult time. Moss is the most gifted offensive player on the roster, and a 10-year veteran. Cassel, who hasn't been a starter since he had to worry about prom pictures, will need to look to Moss for reassuring calm.
How Moss responds is one of the many mysteries that surround the Patriots in a post-Brady world. Moss has been a model citizen since coming to New England, but this is the first time he is facing the prospect of coming to work every day without his usual comforts. Instead of the offense being guided by one of the greatest quarterbacks ever to play, a three-time Super Bowl winner, it's being turned over to a backup who looked absolutely lost in the preseason.
At the Super Bowl, Moss said one of the reasons he loved playing with Brady is "his drive and his motivation to be the best even in bad situations. I think through the course of the season and through the course of the game, players start to panic. When it comes down to the nitty-gritty, nail-biting time, Tom has been a player and he's been the leader of the team to be able to show that much poise and really not show a lot of emotion."
Can Moss emulate Brady?
Either way, the debate could finally be settled as to Moss' character when adversity strikes. Many of the obstacles and issues the Patriots will face are similar to those that proved to be minefields for Moss in Oakland and Minnesota.
It's possible the Patriots could revert to how they played in 2001 and 2006, when they had a more cautious, balanced, ball-control style offense and relied on their defense and special teams to win games. Instead of blowing teams out by double digits, the Patriots might be walking away relieved with a three-point victory. Everyone knows Moss loves to chase the deep ball, but if the Patriots limit that aspect of their offense to protect Cassel, will Moss remain happy?
Were some of Moss' previous statements in Oakland and Minnesota the real him or simply a frustrated player venting? The Raiders rewrote the book on dysfunction, but Moss was unapologetic about not giving a full effort when things went sour. His words then: "Maybe because I'm unhappy and I'm not too much excited about what's going on, so, my concentration and focus level tend to go down sometimes when I'm in a bad mood."
Given how dramatically different the Patriots will be without Brady, it's fair to assume there will be times when the team will struggle. Will New England even make the playoffs? If not, how would Moss handle that?
It helps that the culture in New England is significantly different from the one in Oakland and Minnesota. Bill Belichick is a strong leader and arguably the best coach in football. He receives a huge amount of respect from players like Moss because they believe he'll always have them prepared. And let's say Moss did have some kind of flare-up; it's unlikely that a hard-nosed veteran like Rodney Harrison would allow any unprofessional behavior to go unchecked.
This much is certain: Moss must come through for the Patriots because he owes them. The Patriots invested a lot in him and we're obviously not just talking about the measly fourth-round pick they gave the Raiders to get this extraordinarily talented receiver.
Brady and Belichick were cemented prior to Moss' arrival, but they put a lot of faith in Moss and gambled on him when other teams seemed to buy into former Raiders offensive coordinator Tom Walsh's assertions that Moss was washed up.
Belichick has vouched hard for Moss, calling him the smartest receiver he ever coached. Let's hope Moss doesn't turn out to be Donnie Brasco.
Jemele Hill can be reached at jemeleespn@gmail.com