When the cameras panned the Rays' games during the ALCS, they zeroed in on a group of young ladies wearing Rays halter tops, who, unless they started cheering for Tampa Bay as embryos, it's safe to assume they probably weren't lifelong fans.
Surely, you've noticed Rays fans have multiplied like Gremlins since Tampa Bay disposed of the Red Sox and advanced to the World Series. It doesn't make Rays fans less authentic. In fact, it makes them more real.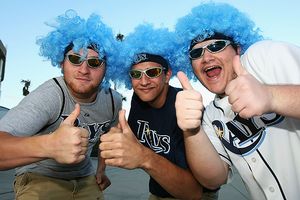 Doug Benc/Getty Images
Can you seriously blame Rays fans for not showing up to Tropicana Field in droves prior to this season?
During the regular season, Tampa-area residents were lambasted for overlooking the fact they had a great, young baseball team developing right under their noses. In September, a Boston Herald columnist went so far as to write: "Hurricane Ike forced Major League Baseball to send the Houston Astros and Chicago Cubs to Milwaukee to play a couple of neutral-site games. Now it's time for MLB to take care of another disaster: The so-called Tampa-St. Petersburg 'baseball market.'"
A month later, Rays mania has caught on like Tina Fey's Sarah Palin impersonation. Only now, Rays fans are being labeled the dreaded B-word -- as in bandwagon.
I'm not sure what kind of fan support everyone expected from a franchise with such a pronounced history of losing. The Rays finished in the basement in every season but one prior to 2008, so pardon the fans for not rushing to purchase World Series tickets after Vegas sports books had the Rays as a 100-to-1 shot to make it to this point.
Rays fans didn't behave any differently than practically every die-hard fan base. Show me an established team, and I'll show you how their immense popularity was almost always tied to winning -- which, by definition, means there's a whole lot of bandwagon behavior going on that nobody wants to admit to.
At one time, Red Sox Nation was eerily similar to Tampa's cowbell crowd. The year before the Red Sox appeared in the 1986 World Series, their attendance was lower than Rays' this season.
In other words, Red Sox Nation was more like a province.
The Celtics' storied history did not make them immune to waning fan support, either. They ranked as low as 24th in attendance in 2004-05 before winning the NBA Finals last season.
The Mariners posted losing records in their first 14 seasons, but led the American League in attendance in 2001 and '02 -- thanks to tying the single-season record with 116 wins in '01.
The Braves were at the bottom of the National League in attendance for three years (1988-90), but rose to be the No. 1 draw in the league by 1992. In 1991, the Braves soared from worst to first in the NL West standings, just like these Rays.
If Rays fans are bandwagon fans, then so is everyone else.
"You have people who wore Red Sox gear to the first regular-season series in St. Pete and now they go to the playoff games decked out in their Longoria jersey shirt as if they were Rays fans all along," said R.J Anderson, editor of DRaysBay.com, a three-year-old Web site that offers comprehensive coverage of the Rays. "Understandably, it's hard to root for a loser, but this sudden bandwagon appeal is nothing this town hasn't seen before. How many people woke up and decided they were Buccaneer fans in 1979 after ignoring them the first three seasons of existence? Or Lightning fans? Or even USF fans?"
Unwavering support, even among the most rabid fan bases, is not only vastly overrated, but rare. The Cubs and Yankees are notable exceptions, but even they have gone through dry periods.
The 1982 Cubs team that lost 89 games drew only 1.2 million fans, 10th among 12 NL teams at the time. Two years later, the Cubs' attendance spiked more than 50 percent after they won the NL East in 1984.
The Yankees sunk as low as 11th in the AL in attendance in both 1991 and '92 after failing to reach the postseason since 1981. Even during their run of four World Series titles in five seasons from 1996-2000, the Yanks never finished higher than third in AL attendance.
When you consider just how awful the Rays were, I'd say the fans' turnaround is as remarkable as the team itself. It's no small thing that the Rays have won over their fans, especially when you consider much of the Tampa area is overflowing with Northeasterners and Midwesterners who are only used to coming to the Trop when their hometown team is in town.
It'll be some time before the Rays fans can emulate the Red Sox or Phillies, but the main ingredient still needs to be victories. It took the Red Sox 40 years of winning to become Red Sox Nation, so it's unfair to criticize the Rays fans when their team isn't even as old as Dakota Fanning.
"Most of us are wondering what took them so long to convert," said Anderson, whose site's traffic has doubled since the beginning of the season. "Anyone who was paying attention to this new front office knew good times were coming, maybe not this soon, but the good processes were in place. It was just a matter of time before good results followed. There's no sense of bitterness toward the new fans, because frankly this franchise needs as many new fans as possible. The revenue streams need to go up in order to maintain the core beyond the next four to five years, so the more the merrier."
There is no Rays bandwagon. It's just an open invitation.
Jemele Hill can be reached at jemeleespn@gmail.com