With the Detroit auto industry's bottoming out and the Lions' flirting with 0-16, the city of Detroit isn't exactly seen as brimming with possibilities.
But for Allen Iverson, Detroit should be considered nothing but a land of promise.
A change of scenery has been known to change the perception of an athlete and, subsequently, the destiny of a team. A trade to New England saved Randy Moss' career. The Herschel Walker trade started a dynasty in Dallas.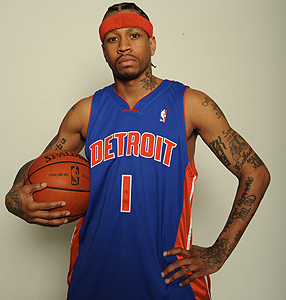 Allen Einstein/Getty Images
Allen Iverson seems comfortable in Pistons threads.
So can a trade to the Detroit Pistons restore the legacy of arguably the league's greatest little man?
Nobody disputes that A.I. is a great scorer. You will find few players in the NBA who can match his level of intensity and even fewer who crash to the hole with such unabashed toughness.
A move to Detroit puts Iverson in the position to change the popular view. For the first time in his career, he is nobody's savior. He's just a component.
He has never been with a team that's as versatile, unselfish and experienced as the Pistons, who acquired Iverson on Monday from the Denver Nuggets in exchange for former Finals MVP Chauncey Billups and Antonio McDyess.
Iverson had to be everything for the Sixers, whom he led to the Finals in 2001. Such a toxic dependency led to an ugly parting.
In Denver, Iverson wasn't charged with saving a city but instead with saving a high-profile star. He was supposed to bring out the best in Carmelo Anthony, and the Nuggets were supposed to magically reach some other level. Yet Denver remained a first-round playoff exit.
In 2004, when Iverson was selected to the Olympic team, a lot of people thought he was the ultimate, international mismatch. After the U.S. finished with the bronze medal, critics claimed Iverson's me-first game was unsuitable for international competition.
Criticism of Iverson always has come quicker than praise. At this point in his career, his failures are more memorable than his successes. Unfairly so.
By going to Detroit, Iverson can show that perception isn't reality. You would think a former MVP and eight-time All-Star wouldn't have that much to prove. But a lot of people are expecting Iverson to be a bust in Detroit. They expect that because Iverson is in the last year of his maximum contract, he'll turn into a problem if the Pistons don't negotiate an extension.
I believe that things will be so different in Detroit, and as a result, A.I. will be different, too. For the first time in his career, A.I. needs a team more than it needs him.
The Pistons don't need Iverson to carry the hopes of the city because unless he can promise thousands of new auto jobs, the people are just fine casting their hopes on something a tad more tangible.
They don't need him to re-energize their fan base because they were selling out just fine without him.
They don't need Iverson to rejuvenate the organization because the Pistons have won three NBA titles without him, and they are guided by one of the smartest general managers in the league.
They don't need Iverson to be a mentor because Tayshaun Prince, Rip Hamilton and Rasheed Wallace are battle-tested and championship-approved.
They just need Iverson to be professional, to knife his way into the paint and score the way he always has, to create during crunch time, to distribute and to add his special brand of toughness to a team that needed to feel hungry again.
In other words, they need A.I. to be what he usually is. But this time, because he's with an organization lauded for its unselfishness and team approach, people might actually notice.
Throughout his 12-year career, Iverson has talked a lot about how much winning means to him. And as he has gotten older and more mature, his desire to win a championship has become like a layer of skin. Always there.
Iverson once told ESPN's Stephen A. Smith, "Everything with my whole situation always been misconstrued. If you're an inside person, you know what's really going on. If not, it always looks like Allen Iverson is the bad guy who can't get along with his coaches. Why wouldn't I get along with the same guy who's trying to accomplish the same thing I'm trying to accomplish?
"I don't have an ego. I don't get on TV talking about, 'Allen Iverson is the greatest basketball player that ever played.' Turn the TV on and watch and judge for yourself. I don't have no ego with teammates. I'm me. I'm satisfied with who God made as a basketball player, a person, husband, father, friend. I'm me, and I don't have a problem with people."
Rasheed Wallace sounded a lot like Iverson when he came to Detroit four years ago. Sheed was consumed with a hunger that was identical to Iverson's. He also was considered a selfish cancer who didn't know how to win. Sheed turned out to be the reason the Pistons won a championship in 2004 and why they've been at the upper echelon of the Eastern Conference for much of the millennium.
Sometimes an organization rubs off on a player, not the other way around.
Jemele Hill can be reached at jemeleespn@gmail.com.
A.I., BILLUPS, MCDYESS TRADE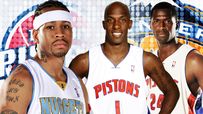 Detroit's Chauncey Billups and Antonio McDyess were traded for Denver's Allen Iverson, writes Marc Stein.
Story
|
Watch: Ric Bucher
---
Henry Abbott

In another blockbuster trade to sweep the NBA, Joe Dumars grabs one of the league's stars and is ready to cast his net again.
Joe Dumars strikes big
---
Chad Ford

How big a risk will this deal be for the Pistons this season? Was Joe Dumars smart for letting Chauncey Billups go to Denver?
Trade risk for Pistons
---
John Hollinger

Detroit had its reasons for making the trade, but Denver came away by winning on the court and on its bottom line.
Denver's trade advantage
---
J.A. Adande

With Chauncey Billups moving on, it's now safe to say that the Pistons' no-superstar approach didn't work out.
End of an era in Motown
---
David Thorpe

How does this deal work out for each team? Do the Pistons get that explosive player they've been lacking?
Expectations for A.I., Billups
---
Jemele Hill

Now that he doesn't have to carry a franchise on his back, Detroit might be the best thing to happen to A.I.
Iverson's comfort level in Detroit
---
More Trade Content
•
NBA Live 09: Trading Places
•
Fantasy: Biggest winners in deal
•
Watch: Stephen A. Smith's trade breakdown
•
Trade Machine: The deal details
•
Vote: Which team got the better deal?
•
Watch: Nuggets' players react
•
Watch: Ric Bucher breaks down the deal
ESPN Top Headlines