Since we're playing the musical blame game, how come Plaxico Burress is the only person frantically searching for a chair?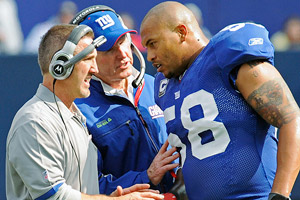 AP Photo/Bill Kostroun
Antonio Pierce didn't exercise very good judgment, but he has escaped criticism thus far.
I say New York Giants linebacker Antonio Pierce and New York City mayor Michael Bloomberg also deserve criticism for their roles in the Burress situation, which looks eerily similar to the downfall of Michael Vick.
Simply put, Pierce should not be allowed to play Sunday against the Philadelphia Eagles. The police have strongly indicated he was complicit in the plot to cover up Burress' self-inflicted gunshot wound, which might cost the wide receiver his freedom and his NFL career. According to reports, Pierce called the team trainer instead of 911, drove Burress to the hospital himself, and then returned to his New Jersey home with Burress' gun in his glove compartment.
But Pierce has gotten a free pass because, honestly, the Giants need him more. The media know it. The Giants' front office knows it. And so do the Giants' players.
I realize the Giants fined and suspended Burress in part because this is the culmination of a number of incidents in which he has been involved. He already was suspended this season for excessive disobedience of team rules. There's no question his act has grown tiresome.
But the Giants don't deserve a standing ovation for the way they dealt with Burress, because the true test of the organization's character is how they've dealt with Pierce.
It's easy to get rid of a player who, thanks to injuries and various improprieties, has been a nonfactor all season. The defending Super Bowl champs haven't missed a beat when Burress has been sidelined this season, and all indications are they will have little difficulty going deep in the playoffs without him.
But Pierce is a different story. He's the soul of the Giants' defense, and without him, the champs' chances of playing in Super Bowl XLIII in Tampa would be severely compromised.
That's why I'm not surprised the Giants are willing to be patient with Pierce and allow all the facts to come out. Coach Tom Coughlin blew off Pierce's actions earlier this week as if the star linebacker had merely missed a defensive assignment. Pierce's teammates tripped over themselves to defend him. It's not just coaches who can sense who is expendable and who is not.
"I don't really think he did anything wrong," backup halfback Reuben Droughns said. "I wasn't there, but I don't think he was trying to hide anything."
Meanwhile, when the media is in full pile-on mode, other details -- like the unwarranted outburst by New York City's mayor -- can escape scrutiny.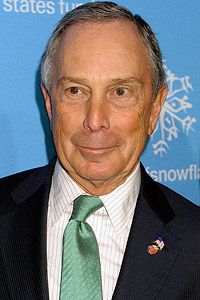 AP Photo/Jennifer Graylock
New York City mayor Michael Bloomberg has been outspoken about the Burress situation.
I'm not saying Burress deserves any sympathy, because the moment he decided to attend a nightclub with an unlicensed, loaded firearm tucked in his waistband, he was jeopardizing his life and the lives of others. But did Burress' actions warrant Bloomberg's irrational grandstanding? You'd think the mayor of the nation's largest city would have bigger concerns than the stupidity of a professional athlete. But since when do politicians pass on an opportunity to make themselves the center of attention?
"If we don't prosecute him to the fullest extent of the law, I don't know who on earth would," Bloomberg said Monday. "It makes a sham, a mockery of the law. And it's pretty hard to argue the guy didn't have a gun and that it wasn't loaded. You've got bullet holes in and out to show that it was there."
I'm surprised he didn't pull a "Perry Mason" by stomping his feet and wagging his finger while he was at it.
Why wasn't the mayor as willing to stand on his soapbox when New York City police officers shot and killed Sean Bell? Bloomberg called for a "thorough" investigation at that time, but he didn't damn those police officers the way he did Burress. (All three officers were acquitted earlier this year.)
I also wonder why Bloomberg didn't act this outraged after the American people were forced to bail out some of his Wall Street buddies because of their bad decisions?
Undoubtedly, Bloomberg loved the idea of making an example of a wayward professional athlete. It curries favor with those who shriek whenever a big-time athlete acts inappropriately, and gives the impression Bloomberg's city won't give celebrities any special treatment. (Remember Jay-Z and P. Diddy both beat gun charges in New York.)
Bloomberg's words guarantee Burress will be treated more harshly in court. And no matter what your opinion is of Burress, he's entitled to a fair trial, the same as the rest of us.
Even in a full-fledged media storm, we all need to maintain some perspective. The media would have you believe Plaxico Burress is the only bad guy here. But he's not the only one whose actions should be questioned.
Jemele Hill can be reached at jemeleespn@gmail.com.