Relationship Between Owens And Romo
Let's start with the obvious: Terrell Owens is a fool.
Blowing up locker rooms is second nature to Owens, so it was only a matter of time before there was carnage in Dallas.
But here's the real question: Why hasn't anyone in the Dallas locker room slapped the Sharpie out of him?
One thing T.O. does better than anyone is expose the real truth about an organization. His reported jealousy of Tony Romo's relationship with friend and leading receiver Jason Witten proves the Cowboys have a weak locker room; a franchise quarterback who's too nice; and pandering, paralyzed, ineffective management.
There is one commonality when T.O. begins to mount a coup. It seems no one ever has the gumption to step up, grab T.O and say "Not here, not now, not ever."
I'm not advocating violence, of course. I'm advocating leadership and good old-fashioned locker-room policing, which is usually a key component of most championship-caliber teams.
In strong locker rooms, certain things just aren't permitted, and it's clear that Dallas' locker room couldn't withstand T.O.'s latest assault because not one player seems willing to put an end to T.O.'s stupidity.
I understand Romo is trying to be professional and just let T.O. self-destruct, but as the Cowboys' franchise guy, it's on him to approach T.O. man-to-man and work this out. Several Cowboys have talked about trying to bring T.O. and Romo together, but isn't that Romo's job?
At the very least, Romo needs to say this to his troublesome receiver: "I may not be the best quarterback in the league, but it's a lot harder to find one of me than one of you. Look at my age. Look at my contract. I will outlast you in Dallas. So let's just cut the (expletive), win some games and break some records."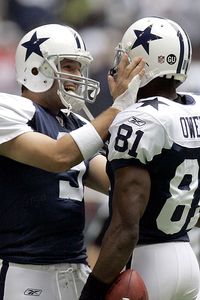 AP Photo/Tony Gutierrez
Tony and T.O., back in happier times.
I'm not blaming Romo, but I'm not convinced he can win important games in Dallas as long as T.O. is his primary receiver. Romo already has a deserved reputation for not being able to deliver in December and January, and now he has the added pressure of trying to make T.O. happy on every single play. What quarterback could win under those circumstances? If I were Romo, I'd be diagramming secret plays with Witten, too.
Also, T.O.'s history strongly suggests Romo's passive-aggressive approach isn't going to work. Owens is the NFL version of Effie White from "Dreamgirls," who in the movie was a self-absorbed diva whose constant complaints eventually got her booted out of her singing group.
It takes strong personalities, great leadership and assured people to deal with the Effies and T.O.s of the world. T.O. would have never survived on those dynamic Cowboys teams of the 1990s. Michael Irvin was the locker-room sheriff, and he made sure a certain level of commitment and togetherness existed among all the players. Certainly, Irvin had his problems off the field, but no one ever doubted his work ethic and discipline for the game. He expected other players to follow his lead, and he never would have let anyone create a problem for Troy Aikman.
T.O. could never have pulled this in New England. Before he had to answer to Bill Belichick, he would have had to answer to Tom Brady, Tedy Bruschi, Rodney Harrison or any of the team's other strong leaders. There's a reason the Patriots haven't had a single problem from Randy Moss even though he's having a down season.
Strong leadership is why the Giants were never sunk by Jeremy Shockey, and even though they experienced a setback against the Eagles, I would be stunned if Plaxico Burress' legal troubles derail their quest for another Super Bowl.
T.O. is at his worst in locker rooms that are ripe for the picking. In San Francisco, T.O. was able to capitalize on the players' secret belief that coach Steve Mariucci didn't have the killer instinct necessary to make the 49ers a championship team.
In Philadelphia, T.O. used the petty jealousies of some players to undermine Donovan McNabb. He manipulated those who resented McNabb for his big contract and close relationship with management, starting a civil war that ultimately destroyed the Eagles' season.
Now T.O. is up to his same old tricks in Dallas. It wasn't surprising that Patrick Crayton and Roy Williams aligned with him to complain about Romo's favoring Witten, even though Owens has been targeted more than any other receiver in the Cowboys' offense.
I'm sure T.O.'s game plan wasn't a hard sell to Crayton and Williams. Crayton mostly was a bust as a secondary option and likely was looking to blame someone else for his shortcomings, and Williams whined in Detroit that Calvin Johnson was getting more balls, so this uprising was right up his alley.
T.O. will never change. But if the Cowboys insist on keeping him, they must change how they do things. As of now, Jerry Jones is that father who would rather be his child's friend than his parent. Wade Phillips is the oblivious grandparent who green-lights everything. The coaching staff is made up of aunts and uncles with no real power or say-so, and this entire melodrama is just a broke version of "Mean Girls." But trust me, things won't end that well.
Jemele Hill can be reached at jemeleespn@gmail.com.