Frank Spaziani Named BC Head Coach
When Mike Shanahan got canned, I wonder how people would have reacted if Shanahan, the winningest coach in Broncos history, told owner Pat Bowlen, "but I thought we had a contract!"
That would be absurd, right? Yet when Boston College athletic director Gene DeFilippo essentially used that same rationale to fire Jeff Jagodzinski for interviewing with the Jets, there was universal applause.
Not so absurd, right?
The hypocrisy is as thick as fresh concrete. When a team fires its winning football coach before his contract is up, the team is operating in its best interests. But when a coach looks for another job opportunity while under contract, he's vile.
Unfortunately, that's just the way our twisted sports world works. DeFilippo is being hailed as a heroic trendsetter, even though his petty inflexibility will hurt BC in the long run and guarantee future coaching candidates will have serious reservations about working for an athletic director who prefers issuing threats to practicality.
Like a lot of the people who reacted with outrage toward Jagodzinski, DeFilippo was unrealistic about the job market for college football coaches.
DeFilippo lost a good coach who was, at best, a long shot for the Jets' job. Certainly Jagodzinski could have handled things more professionally. It was reported that Jagodzinski, a former offensive coordinator with the Packers, aggressively put out feelers in hopes of landing another NFL job after he told DeFilippo he wouldn't use BC as a stepping-stone to the pros. The ugliness probably could have been prevented if Jagodzinski had informed DeFilippo he was interviewing for the Jets' head-coaching position. Instead, DeFilippo found out from a reporter.
Protocol aside, BC would be kidding itself to think it's a permanent destination for most coaches. There's no shame in that, because 90 percent of college jobs fall into that category.
I sympathize with college football fans who are tired of coaches and their false promises, but today's billion-dollar college football industry just doesn't allow for much loyalty.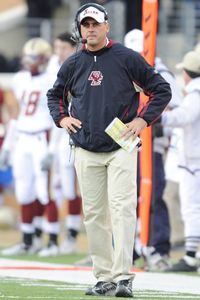 Icon SMI
Is Boston College justified in firing Jeff Jagodzinski after two seasons at Chestnut Hill?
I don't expect fans to fully understand that because most are too emotionally connected to their schools to be objective, and there have been some brutal examples of coaches' leaving programs rather gracelessly.
Rich Rodriguez left West Virginia with such unprecedented classlessness that it reinforced the stereotype of college football coaches' being unethical climbers (also see: Bobby Petrino and Nick Saban).
But if Boston College and West Virginia deserved better, so did Tommy Tuberville, who was forced out after 10 years at Auburn, an 85-40 record and a 13-0 season in 2004.
Granted, Tuberville's final season was poor on every level. The Tigers finished 5-7 in 2008, and his exit likely was hastened by Alabama's resurgence. Still, Auburn punted Tuberville without a second thought.
That's why college coaches don't -- and shouldn't -- hesitate to leave and seek better jobs.
Schools are just as impatient as the coaches who hunt for big-time opportunities. One bad season can get you fired. Lose to your rival on a regular basis, and you're gone. Have too many disappointing BCS endings, like Bob Stoops, and people begin whispering that maybe it wouldn't be such a bad idea if an NFL team snapped you up.
Lloyd Carr was a good football coach, but he retired partly because Michigan fans and boosters grew impatient with 10-3 and 9-4 seasons and a 1-6 record in his final seven games against Ohio State.
The Michigan faithful whined about a new offense and they got one -- along with arguably the most embarrassing season in the school's history. By the way, Rodriguez just finished his first season in Ann Arbor, and there's already talk he'll be on the hot seat in 2009 if the Wolverines have another subpar season.
You can call Jagodzinski a dishonest creep, but consider things from his perspective. The NFL represents prominence and coaching at the highest level. No matter how loyal college coaches claim to be, they've all thought about coaching in the NFL.
No disrespect to Boston College, but it isn't exactly Florida or USC. There's only so much a good coach can achieve there, a fact that likely spurred Tom O'Brien to take the seemingly lateral North Carolina State job after a decade at BC.
It's true that DeFilippo gave Jagodzinski his first head-coaching job, but Jagodzinski made good on the investment by going 20-8 in his first two seasons.
Unless you're Joe Paterno or Eddie Robinson, most coaches are hired to be fired. There's so much money and pressure to win in college football that it's foolish for any coach or athletic director to enter a contract expecting complete loyalty.
"I hope loyalty doesn't die, and there's a place where we can find some common ground," said Al Bohl, a former athletic director at Kansas, Toledo and Fresno State, who through the course of his career hired Nick Saban, Pat Hill, and Mark Mangino. "You don't want to deny a coach an opportunity to advance in college or the pros, but coaches have to recognize when you're essentially dating a program, loyalty should come in there."
Bohl is right and wrong. He believes DeFilippo made a courageous decision to fire Jagodzinski, but he also acknowledged that this is just how the game is played. Stanford's Jim Harbaugh is being pursued by the NFL, but you don't hear about his athletic director's throwing a hissy fit. It's the nature of the job. If you employ an attractive, winning coach, he will be pursued. It's just a part of the game, and considering your options shouldn't be a fireable offense.
If this were a perfect world, every contract would be honored. But as most of us know, college football is far from perfect.
Jemele Hill can be reached at jemeleespn@gmail.com