Perspective should never influence punishment.
Too often in our society, we practice selective perspective. We're willing to see all the angles only when it suits us. When perspective becomes inconvenient, we can be unflinching, even cruel.
There are so many angles to consider with Michael Phelps, another sports celebrity whose reputation hangs in the balance because of bad behavior.
I'm not suggesting Michael Phelps' being photographed sucking on a bong is high treason. But it's not jaywalking, either. Should Phelps be stripped of his medals? Only someone who hit the bong with Phelps would believe that.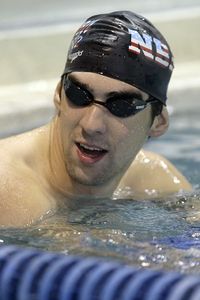 AP Photo/Rob Carr
Michael Phelps seems to have more apologists than black athletes who have been in the same situation.
But does he deserve harsh criticism? Absolutely. He has shown an incredible lack of responsibility. This is the second time Phelps has exercised alarmingly poor judgment. The first, of course, being when he received a DUI in 2004 as a 19-year-old and served an 18-month probation term.
But that doesn't mean USA Swimming's decision to suspend Phelps from competition for three months doesn't ring hollow. The governing body's statement explaining Phelps' suspension was rife with hypocrisy. It read:
"This is not a situation where any anti-doping rule was violated, but we decided to send a strong message to Michael because he disappointed so many people, particularly the hundreds of thousands of USA Swimming member kids who look up to him as a role model and a hero. Michael has voluntarily accepted this reprimand and has committed to earn back our trust."
Let's be clear: USA Swimming acted out of embarrassment, and because more than a few people have wondered whether Phelps, who also lost an endorsement deal with Kellogg's, was getting a free pass.
I'm wondering why USA Swimming didn't seem to care about the type of person Phelps was after his DUI. That crime was far more egregious. Phelps not only endangered his own life, but the lives of others.
Why no outrage then?
It's because Phelps' DUI barely caused a rumble. His sponsors stuck with him. USA Swimming never publicly reprimanded him. Now everyone wants to put on their tough-guy clothes.
I understand why Phelps sympathizers have argued that his mistake represents only the growing pains of youth and that it was "only weed." When you're young, you do dumb things. I just can't understand why some other athletes never were extended that same excuse.
The inescapable truth is that the list of athletes who use marijuana isn't short. I know several athletes -- both black and white -- who have smoked and continue to smoke marijuana.
My problem is that we strive to be real only when it's someone we can relate to. More often than not, it's usually when a white athlete gets into trouble.
In 2002, Rasheed Wallace was given a misdemeanor citation for marijuana possession. The charge against Wallace -- who was 28 at the time -- was eventually dropped after he completed community service, and drug and alcohol counseling. But no way would the Portland paper have ever written an editorial as glowing as the one that appeared in The Baltimore Sun, Phelps' hometown newspaper.
Wallace has had a rocky relationship with fans and the media, but that's not the point. When Josh Howard admitted he and many other NBA players use marijuana, I don't recall seeing a single column like this one on Forbes.com. I never considered the fact that marijuana use might help professional athletes de-stress. What a novel idea.
Look, what Phelps did was stupid, but not unforgivable. The fact that police in South Carolina want to pursue criminal charges against him is a waste of time and resources.
President Barack Obama, former President Bill Clinton and even Dawn Wells, the actress who played Mary Ann on "Gilligan's Island," have smoked weed before. Studies show that nearly half of you reading this column have tried marijuana at least once.
I just wish that same perspective was used when Steelers wide receiver Santonio Holmes was busted for marijuana possession. I also wish O.J. Mayo had been merely spoofed on the "Late Show with David Letterman" -- like Phelps was last week -- when Mayo was cited for marijuana possession his senior year of high school.
Am I turning this into an issue of race? Not completely. While Holmes will have to appear at a hearing on his marijuana charge later this month, he's a Super Bowl hero now. Wallace never has to worry about sponsors hounding him, but he's made millions in the NBA. Mayo's marijuana incident, which was eventually dismissed, didn't hinder him from becoming a dazzling NBA rookie. It's also fair to say Ricky Williams, a once-devoted pot user, received more criticism for bailing on the Dolphins than smoking weed.
But I'm proposing a wild idea: Let's try to employ perspective with every athlete. Let's not treat Barry Bonds like the worst cheater ever to inhale oxygen, when it appears that arguably the greatest pitcher and the greatest all-around player have used performance-enhancing drugs. If you believe Phelps is just behaving like "a kid," then Carmelo Anthony -- who pleaded guilty to driving while impaired last June as a 24-year-old -- shouldn't be stereotyped as a troubled thug. Likewise, Phelps' shouldn't be more harshly judged now just because black athletes weren't given the benefit of the doubt.
Perspective, after all, is for everyone.
Jemele Hill can be reached at jemeleespn@gmail.com