Six-time Grammy winner John Legend will be performing at halftime of Sunday's NBA All-Star Game, but he took some time this week to engage in a witty e-mail exchange with Page 2. By the way, if you ever come across the screen name "BLEED4OSTATE," it just might be Legend.
Page 2: I read that you started your music career playing piano at age 7 and then performing in your church choir. Did you have any time to play sports as a kid?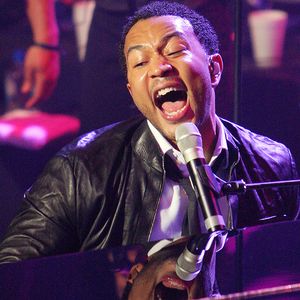 AP Photo/Chris Polk
John Legend has already performed at two Super Bowls, and this weekend marks the second NBA All-Star Game appearance for the Ohio native.
Legend: Yes, I played sports quite a bit for someone who has very little athletic talent. I didn't play much when it came to organized sports (just one year in elementary school), but I played basketball and football with my brothers, cousins and some of the guys in the neighborhood a lot. We had a basketball court in my backyard and we'd play 3-on-3 games there all the time. Plus, my Uncle Ray would take a bunch of us to the gym at the children's home or the YMCA to play 5-on-5. We would pile into his minivan, and he would take us to the gym. He had a killer jump shot, and he would always try to tutor us on our shooting form. I was always slower and shorter and less coordinated, but I hustled and tried my best. I was known to play tight D. Since I wasn't a great scorer, I had to play D if I was gonna stay on the court.
I'm told you're a big Ohio State fan. What are your earliest memories of Ohio State sports?
Ohio State football is almost like a religion in central Ohio. I'm from Springfield, which is about 40 minutes west of Columbus. I didn't go to many games, but one of my earliest memories of Ohio State was going to the Scarlet and Gray Scrimmage game they played when I was a little kid. A couple of my relatives (Sean and Todd Bell) played for the Buckeyes, and one of our family friends from Springfield, Dee Miller, was an excellent wide receiver back in the '90s. I try to watch any and every Ohio State football game, no matter the opponent. If I'm overseas, I go to GameCast on ESPN.com[*] to stay updated. I root for Ohio State basketball too, but there isn't the same passion there.
Are you a Browns or Bengals guy?
I never have been a Browns fan. I actually grew up closer to the Bengals. Cleveland is 3½ hours away from Springfield, and Cincinnati is about 90 minutes. I never fell in love with either team as a kid. In the NFL, I tend to root for specific players or coaches, and I don't have a team that I'm truly passionate about and loyal to. I can watch any game because I love football so much, but I don't have any NFL team that I specifically care about. … I don't know what's wrong with the Browns. I felt like 2008 was going to be a great year for them, but it fell apart. I think they're a great coach and maybe one or two players away from being a strong playoff contender. I really thought the Bengals were on to something with Marvin Lewis and that great offense from a couple years ago, but they just imploded. I think the ownership and management team there have serious and persistent problems that prevent them from being winners. It gets into the players' minds too. You can tell they don't have a winning mentality.
You performed at Super Bowls XL and XLIII, Wrestlemania, halftime of the 2006 NBA All-Star Game, and now you're performing again at this year's NBA All-Star Game. What sporting event would you love to perform at that you haven't previously?
I really want to play at the World Cup in South Africa. It's going to be such a special time down there. I hope I can be part of it.
If you could be any athlete for a day, who would it be and why?
I think it would be cool to be Tiger Woods. He's phenomenal. So smart, so focused, so disciplined, so gifted. One of the most important and dominant athletes of all time.
I also hear you're a Lakers fan. Has LeBron called you out for being a traitor? How did this happen?
I haven't spoken to LeBron about this. He's one of the greatest athletes of all time. I'm sure he won't lose any sleep over me rooting for the Lakers. LeBron is amazing to watch. With his height and strength and athleticism, he can practically score at will. And now it seems that he's maturing and focusing on being the best all-around player in the league. I can't believe he's so young. They say most players peak around their late 20's. If that's the case, then he'll probably end up being the best ever. That being said, I've been a big Lakers fan since Magic, Worthy & Kareem. So I'll stick with them.
OK, let's engage in some rapid fire. Does LeBron James stay in Cleveland? Yes or no?
Yes, I think he will. I think they're building a really good, championship-caliber team around him, and he'll want to stay and fulfill their potential. Who knows, though? He grew up in that area. Maybe he's itching to get away from home for a while. We'll see. I think he should stay. I'm sure Cleveland will find the money to keep him happy.
What's cooler: a 360-degree dunk or a duet with Andre 3000?
Well, I wish I could dunk. I don't even need to 360. I just wanna dunk!
More difficult: Playing the piano or catching an alley-oop?
Playing the piano. It takes more practice than catching an alley-oop. Of course, you have to have the basic ability (height, jumping ability, good hands and timing) for an alley-oop, but being a great pianist takes years of practice.
Better dunker: Dominique Wilkins or Michael Jordan?
I honestly thought Dominique was robbed in the dunk contest back in the day. I'm going with 'Nique on this one.
(*Completely unsolicited plug)
Jemele Hill can be reached at jemeleespn@gmail.com