One of the reasons Bobby Bowden is considered a legend is because of his integrity.
He is a deeply religious man who believes in doing the right thing. The harshest words he probably ever used were "dadgummit."
Because so many people naturally like Bowden and have come to think of him as one of the grandfathers of college football, I'm not surprised some find it distasteful that the NCAA committee on infractions might force Bowden to vacate 14 victories in connection with a widespread academic scandal that involved 61 athletes across 10 different Florida State sports.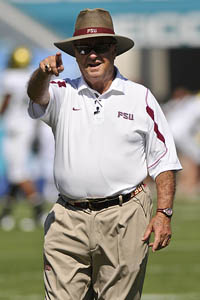 Fernando Medina/US Presswire
Regardless of whether Bobby Bowden knew about academic fraud in his program, it happened on his watch.
That some Florida State fans and media members have cried foul over the NCAA punishment is expected. I just never anticipated that Bowden, a man of integrity, would also offer shallow rationalizations.
"It just seems like they're killing a flea with a hammer," he said of the NCAA sanctions.
FSU is appealing the loss of victories because Bowden just so happens to be pursuing one of the mightiest records in college sports. He has 382 coaching victories, one behind Penn State's Joe Paterno, who currently has the most coaching victories in Division I.
Bowden's crack about the flea and the hammer wasn't even as good as perennial NCAA nemesis Jerry Tarkanian's comment after Kentucky was busted for trying to pay a player an improper benefit: "The NCAA is so mad at Kentucky, it's going to put Cleveland State on probation for another two years."
Maybe Bowden feels like the NCAA should bequeath FSU's punishment to Canisius.
Bowden made it sound like FSU was busted for jaywalking, when in fact the infractions are humiliating and serious.
The Seminoles lost to Kentucky in the 2007 Music City Bowl because nearly two dozen football players were suspended for their roles in a cheating ring involving an online test for a music history course. Reportedly, staffers helped the students with the test and one athlete even took the test for another.
"There are different degrees of doing something wrong," Bowden said, according to media reports in Florida. "You can go five miles over the speed limit. That's one thing. Or you can go 50 miles over the speed limit, and that's dangerous."
FSU accepted the scholarship losses and the four-year probation -- which is hardly crippling, considering the significance of the infractions. In 2003, San Diego State was put on two years' probation, lost six scholarships over a three-year period, and eliminated 21 practice days -- and that was just for conducting unsanctioned offensive line practices at the beach during a four-year span.
There is no doubt Bowden has been a phenomenal coach. While you could argue his best coaching years are behind him, you could never question Bowden's incredible impact on college football.
But just because Bowden has done a lot for college footbal doesn't mean he is above the law. Just because he's pursuing an incredible coaching achievement doesn't mean he deserves a free pass.
Whether Bowden knew about the widespread academic fraud is immaterial. He is the CEO of the football program, and that's not a title that can be worn only when it's convenient. It is Bowden's job to run a clean program and if he has no problem accepting the glory that comes with his title, he must also accept the enormous responsibility. Besides, if we're being truthful, a no-name coach with far fewer victories might have been fired over such embarrassing violations.
I understand Bowden's supporters want to see him overtake Paterno and claim the all-time victories record, but that record shouldn't be what determines Bowden's legacy. Far more damaging than this scandal is the fact that the Seminoles have finished with four or more losses six times this decade and have yet to return to the dominance that made them to team of the 1990s.
Regardless of whether the victories stand, or not, Bowden has won two national championships and 12 ACC titles. He'll be regarded by most as one of the best college coaches of all time -- no matter what.
If the forfeits stand, it's fair to debate whether Bowden should step down. That debate raged before this mess came to light. But since capturing the all-time record seemed to be motivating Bowden to continue coaching, if it's put out of reach, that should indicate to Bowden it's time to go.
If the NCAA orders wins to be vacated, Bowden should do the honorable thing and step down. Bowden's employment was an issue before this academic scandal, based simply on performance -- at least with me and a growing number of FSU fans. If the all-time record is out of reach, there is no reason FSU should feel obligated to keep Bowden around.
At this point, the only thing that will impact Bowden's legacy is wins. Not the ones he vacates, but the ones he earns.
Jemele Hill can be reached at jemeleespn@gmail.com