Fred Weary glanced at the police officers in the next lane. Thinking back on it now, he says, that was a mistake.
As he idled at a stoplight a few miles from Houston's Reliant Stadium on Nov. 14, 2006, Weary could feel the officers' eyes on him, and his 1996 Chevrolet Impala SS.
The officers followed him in their cruiser for several miles, and Weary grew increasingly uncomfortable. Finally, the police signaled him to pull over. An officer then asked for his driver's license.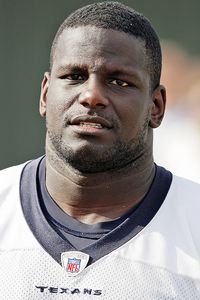 AP Photo/David J. Phillip
Fred Weary's encounter with the police in 2006 made waves in the sports world.
"Can you tell me why you pulled me over?" Weary asked.
That's when, according to Weary's account, things took a bad turn.
"I don't have to tell you anything!" the officer said.
Weary was told to step out of his car. When he did, he said, the other officer was pointing a gun at him.
"It was out of hand," said Weary, who at the time was an offensive lineman for the Houston Texans. "I'm like, what's going on? You step out of the car and someone's holding a gun on you. That's a horrible feeling. I'm no criminal. At that point, I'm just horrified by the situation."
According to the police report, Weary allegedly pushed an officer away, and when he was ordered to put his hands on his vehicle he instead took a step toward the officers -- that's when Weary was Tasered and taken to jail. He said he wasn't told he was being charged with resisting arrest until he posted bond after being in police custody for 10 hours. The charge was later dropped because of insufficient evidence, but for Weary, the episode is far from over. Scars remain. A civil lawsuit is pending, too.
Ryan Moats wasn't yet a member of the Texans when Weary had his run-in with Houston police. But when Weary heard about Moats' chilling encounter with an overly aggressive Dallas police officer on March 18, Weary mentally returned to his incident in 2006.
"Ryan is very fortunate he has audio and video to back up his account," said Weary, who spent all of last season on injured reserve before being waived on Oct. 14. "I didn't have any camera or video, so it was my word against theirs."
The video of Moats begging officer Robert Powell to let him be with his dying mother-in-law has rightly sparked an avalanche of national outrage. On Wednesay, Powell resigned from the Dallas Police Department.
"I still hope to speak with the Moats family to personally express my deep regret, sympathy, and to apologize for my poor judgment and unprofessional conduct," Powell said in a statement Wednesday.
I don't know for a fact whether Powell's inexcusable actions were racially motivated. But I do know there have been enough incidents involving police and African-American athletes to warrant serious concern and examination.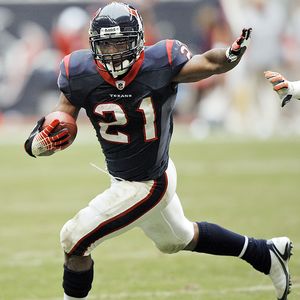 AP Photo/David J. Phillip
Ryan Moats accepted the officer's apology, but many others remain outraged.
Moats told ABC's "Good Morning America" on Monday he accepted Powell's written apology. But Powell's first move should have been to personally apologize to Moats and his wife, Tamisha, whose mother was in the hospital dying of breast cancer.
I wish I could say what happened to Moats was rare. Maybe the exact circumstances were, but police misconduct is something far too many black athletes have had to deal with.
Houston police said Weary was flagged by police because he made an improper lane change and his front license plate was missing. They said the officers were suspicious of Weary because he was "looking at [the police officers] on several occasions."
That's straight from the "Driving While Black" handbook.
"Thank God it was a Taser, and not a gun," Weary said.
In the case of 23-year-old minor league baseball player Robbie Tolan, a gun was involved. Tolan, whose father Bobby played for 15 years in the major leagues, was shot in the chest by police in his own driveway in Bellaire, an affluent, mostly white suburb of Houston.
According to reports, Tolan and his cousin, Anthony Cooper, were confronted by police outside Tolan's home on New Year's Eve after making a late-night run for fast food.
Cooper and Tolan were both unarmed, but as the men walked up the driveway, a police officer emerged with a flashlight and a gun, then ordered them to lie on the ground. Cooper told reporters he and Tolan didn't know the man was a police officer. Tolan said his parents came outside when they heard the disturbance, and one of the officers allegedly pushed Tolan's mother up against the garage. Tolan said he yelled at the officer "to get his hands off his mama," and then was shot in the chest. The bullet pierced Tolan's lung and lodged in his liver. He spent a few weeks in the hospital recovering from his injuries.
City officials have yet to explain why Tolan's actions would necessitate such excessive force, referring to the ongoing investigation. On Monday, Tolan testified before a grand jury, which will decide whether to indict the officers on criminal charges.
"I've tried to come up with my own conclusions about what the officers were thinking that night and I can't," Tolan said Feb. 18 at his first news conference following the shooting. "I can't even make up a good excuse. I don't know if jealousy had something to do with it, or if it was just because I was black and not driving a beat-up car. Or if it was the fact I was black and living in Bellaire. I'm sorry, I hate to play the race card, but that's what it is."
Bellaire police said they began following Tolan because they thought his SUV was stolen. It wasn't.
A recent HBO "Real Sports" report revealed that the police officer who ran Tolan's license plate in the computer entered the wrong number, which supposedly led him to believe the car was stolen. The officers have been placed on paid leave and the case remains under investigation.
In her annual state of the city address last month, Bellaire mayor Cindy Seigel said: "We can't ignore these allegations and even if they turn out that they are just perception, we do believe that we need to address it and take steps that are proactive."
As for Tolan, he may never be able to play baseball again. The bullet is still in his liver.
"He's still hurting," said Geoffrey Berg, Tolan's attorney. "He hasn't put his weight back on. He's struggling, and it's made worse by the fact that spring training is going on and he wishes he were there."
The Tolan incident received some national publicity, but if this were about Michael Vick and slain dogs, there would be outraged people protesting in the streets and every major news outlet in the country would be chronicling the story.
This is the downside of an unrelenting media culture that gives Vick and Pacman Jones constant coverage. Black males are often portrayed only as perpetrators, and rarely as victims. Racial profiling is a serious problem in this country, and black professional athletes are perhaps at an even greater risk of police harassment because they often drive expensive cars and live in exclusive white communities. Some people in this world haven't caught on to the fact that not every black man who presents a picture of success is a drug dealer.
In July 2008, former San Diego Chargers linebacker Steve Foley was awarded a multimillion-dollar legal settlement after a 23-year-old off-duty rookie police officer shot him in the knee and hip after pulling him over. The officer, who began following Foley because he thought he was driving erratically, testified in the civil case that he shot Foley because he thought Foley was reaching for a gun. Foley was unarmed, but the injuries he sustained were serious enough to end his football career.
"If the police pull over a 350-pound lineman and they already have these suspicions of black people, it's just a horrifying mix," Berg said. "It's stereotyping, racism and victimization of people trying to go about their business."
In 2007, the New York Civil Liberties Union analyzed stop-and-frisk activity, and the data showed that 21 percent of the black population was stopped by police compared to 2.6 percent of the white population -- even though whites overwhelmingly outnumber blacks in New York City. Citing an independent study done on the Houston police, Berg said that in Houston alone, black motorists are four times more likely to be pulled over than white motorists. In Bellaire, which is about 90 percent white, African-Americans are 12 times more likely to be pulled over than whites.
"My situation and Ryan's … what's the common factors?" Weary said. "Black males driving nice cars. White officers."
Now just imagine if Moats, Weary, Tolan and Foley weren't athletes. They would be awaiting closure and justice like this Memphis man. Or, these events would simply never register in our collective consciousness.
"It happens each and every day," Weary said. "We've come a long way to have a black president. But when something like this happens, we have to shed light on it because we still have a long way to go."
Jemele Hill can be reached at jemeleespn@gmail.com.