Commentary
Revenge doesn't equal wins
Updated:
August 20, 2009, 10:59 AM ET
By
Jemele Hill
| Page 2
Is this about winning, or is this about payback?
I already know what Brett Favre's answer will be. He'll say his latest unretirement is about winning. He'll say it's about a quest for another Super Bowl. He'll say it's about the Vikings' terrific defense and the opportunity to work with an explosive weapon like Adrian Peterson.
And I say, bunk.
No matter what comes out of "Brat" Favre's mouth -- and by now, we should know he's a consummate double-talker -- returning to the Vikings is largely about sticking it to the Packers one mo' time.
Favre is like the ex-girlfriend who got dumped and, instead of just getting over it like a mature human being, tries to show up the old boyfriend by wooing one of his friends -- the one who just so happens to speak four languages and has biceps as wide as an interstate freeway.
This is not to say the strength of the Vikings team wasn't a factor in Favre's second comeback. At age 39, Favre would have been a complete fool to involve himself with a rebuilding team. The Vikings are a legitimate passing game away from being a serious Super Bowl contender -- and Favre is thought to be the missing piece. And although Vikings coach Brad Childress said all the right words in supporting soon-to-be-irrelevant quarterbacks Sage Rosenfels and Tarvaris Jackson after Favre spurned the Vikings in July, you knew deep down Childress had eyes for only Favre.
But don't be fooled by Favre's act of sincerity, because he snowed the Jets, too. Favre told the Jets his return to football was all about helping the team. But that wasn't the complete truth, either. Favre came to the Jets under similar circumstances. He was touted as the final ingredient, but the Jets were the ones left with a bitter taste.
Favre treated them as though they should have been thankful they were allowed to share oxygen with him. He purposely remained an outsider most of his time in New York. According to a report in Newsday, his teammates claimed that Favre spent most of his time in an office designated just for him, instead of the locker room.
Classic Brat.
The Jets' 2008 season concluded with a disastrous stretch run -- they lost four of their last five games, with Favre throwing two touchdowns and nine interceptions during that stretch. He finished the season with a league-high 22 picks. And in his final game with the Jets, Favre tossed three interceptions, which understandably did not endear him to his teammates.
"You can't turn the ball over and expect to win," running back Thomas Jones said after the Jets' embarrassing Week 17 loss to Miami and former jilted Jet Chad Pennington. "If somebody is not playing well, they need to come out of the game. You're jeopardizing the whole team because you're having a bad day. To me, that's not fair to everybody else. You're not the only one on the team."
Favre's shoulder injury certainly played a role in his poor play, but judging by Favre's behavior with the Jets, he ran out of gas because his revenge tank was on empty. He wanted to play football, but he wanted to hurt the Packers even more. And once Favre realized that playing for the Jets wouldn't provide the get-back he craved, he folded.
If Favre really was on the up-and-up, why did he ask the Jets to release him at the end of the season?
Favre has been plotting against the Packers with Jason Bourne-like precision. You don't decide to have shoulder surgery if you have no intention of playing. And in February when Favre spoke at length with ESPN's Ed Werder, it was clear he was still under the spell of eau de revenge.
Favre told Werder he was still "a little peeved" about the way general manager Ted Thompson dismissed him from the Packers.
A little?
"There was part of me that wanted to stick it to 'em," Favre admitted. "What was probably most disappointing about the whole thing is [being told], 'We don't want you to play here, but we don't want you to play for a certain team.' That made me mad. If I'm not good enough to play here, let me play somewhere where it might be against you. But I'm not good enough, so don't worry about it."
Favre also revealed he kept tabs on the Packers and wanted to outdo them. And you thought Alex Forrest was bad.
"I'd be a fool if I was not aware of what we were doing versus them," Favre said. "I wanted us to do better."
Does that sound like someone who will be returning to football for the right reasons?
I understand that revenge is a dish best served cold, but in Favre's case, his thirst for revenge is practically frozen. As long as Favre remains obsessed with Green Bay, these unretirements will yield poor results constantly.
The Packers have moved on with Aaron Rodgers, and Thompson probably is laughing his head off because Favre's return means the Packers will have virtually no pressure.
Meanwhile, if the Vikings don't reach expectations, they will be branded colossal failures. The fact that Favre reportedly wanted to return only if he didn't have to go through a full training camp -- he has no interest in being prepared, but he's expected to win? -- doesn't bode well.
This stop in Minnesota seems destined to diminish Favre's legacy, and I wonder whether Childress will wind up unemployed just like Favre's other friend, Eric Mangini.
Jemele Hill can be reached at jemeleespn@gmail.com.
ESPN.com, ESPN The Magazine
Co-host of ESPN2's "Numbers Never Lie" and His and Hers podcast
Columnist for ESPN.com
Columnist for Orlando Sentinel (2005-06)
Writer for The Detroit Free Press (1999-2005)
FAVRE SIGNS WITH VIKINGS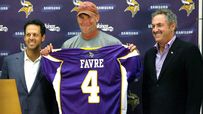 Brett Favre, the NFL's all-time leading passer, signed a two-year, $25 million deal with the Vikings on Aug. 18.
NFC North blog
|
Vikings schedule
NEWS
ANALYSIS/BLOG POSTS
FEATURES
SPORTSNATION
VIDEO
PHOTO GALLERIES