Commentary
Lane Kiffin lands a punch vs. Florida
Originally Published:
September 25, 2009
By
Jemele Hill
| Page 2
As far as I'm concerned, Lane Kiffin is 2-0, beating the No. 1 team in the country twice this week.
Kiffin's first win came Saturday, when his Tennessee Volunteers defied the betting lines and popular opinion with a 10-point loss to the top-ranked Florida Gators at The Swamp. Moral victories are usually worthless, but this one was worth a platinum grill.
[+] Enlarge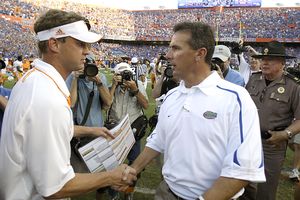 AP Photo/John RaouxIt's going to be fun watching these guys face off the next few years.
Kiffin's second victory of the week was exposing the fact that the Gators have some insecurity lurking behind those two national championships.
All week, Kiffin and Florida coach Urban Meyer have been taking shots at each other. And their exchanges were feisty enough to draw the attention of SEC commissioner Mike Slive, who was so fed up with the sniping, he told both coaches to shut up.
It's not surprising Kiffin was popping off. He's done that since the day Tennessee hired him. Kiffin has jabbed Florida so much, you begin to wonder if Meyer perhaps stole Kiffin's girlfriend in another life.
The big surprise, though, is that Meyer -- like a real gator -- bit.
"I didn't feel like they were going for the win," Meyer said of the game against the Vols. "They wanted to shorten the game. I think that was the plan. I remember looking out there and there's 10 minutes left in the game and there's no no-huddle - they are down, I think it was 23-6, and no urgency on Tennessee's part."
Meyer did the unthinkable. He actually turned Kiffin into a victim.
Kiffin 2, Gators 0.
Up until now, Meyer had chosen to treat Kiffin like a younger, less-talented sibling. It was an appropriate response considering Kiffin has been coaching in the SEC for all of 15 minutes, and during his short, controversial coaching career he hasn't come close to accomplishing what Meyer has.
I'm sure Kiffin's antics have been eating away at Meyer's patience, but that was no excuse for Meyer to violate the coach's code and question Kiffin's strategy and heart.
It made Meyer look weak. Meyer blamed everything from the flu to the G-20 summit for why Florida didn't destroy the Vols and humiliate Kiffin. Although several members of Florida's team were ailing badly before the Tennessee game, once Meyer started rambling about swine flu and how some of his players shouldn't have played, Kiffin's mission was accomplished.
"I guess we'll wait and after we're not excited about a performance, we'll tell you everybody was sick," Kiffin shot back.
Once Meyer stooped to Kiffin's level, it changed the dynamic of this beef. All of a sudden, Kiffin looks like a genius for picking a fight with the baddest team in the SEC.
Before this week, the general consensus was that Kiffin was a punk. His firing by the Oakland Raiders was so bitter that Al Davis pulled a Jackie Chiles in front of the news media, calling Kiffin a "flat-out liar" and reading from a three-page letter that further detailed Kiffin's jerkiness.
Upon arriving in the SEC, Kiffin didn't do anything to change people's minds. During his introductory press conference, Kiffin bragged that when Tennessee beat Florida this year he was looking forward to singing "Rocky Top" all night long. And later, he falsely accused Meyer of committing a recruiting violation.
Most people thought Kiffin looked like a real idiot, but all he did was put more pressure on Meyer and the Gators.
Kiffin has put Florida in a lose-lose situation. If Florida had beaten Tennessee by 100 points, so what? Obviously a loss to Tennessee on Saturday would have been devastating for Florida, but by playing the Gators close, Kiffin made people believe Tennessee might be on Florida's level sooner than anyone thought.
I'm sure Meyer didn't appreciate having to explain himself after a win, but why engage in a war of words with Kiffin when you have two national championships in the past three seasons, a 5-0 record against Tennessee, the No. 1 team in the nation, and the king of college football in Tim Tebow?
Meyer has nothing to prove. But Kiffin has put him on the defensive. As this beef has escalated, Meyer seems to be more threatened by Kiffin's presence and more rattled by his remarks.
Florida Today reported that right after the Vols' loss to the Gators, Kiffin called a Florida recruit and tried to convince him to change his mind.
"As soon as I got off the phone I called [Florida receivers coach] Billy Gonzales," Alabama high school wide receiver Solomon Patterson told the newspaper. "He said, 'Next time just tell them "I am fully committed to Florida and that's where I want to play."' Coach Meyer told me, 'Next time Kiffin calls, tell him I said hello.'"
There is no question Kiffin has been over the top, even unclassy. But it's working. The Vols are relevant again. College football has an entertaining sideshow. If Kiffin can hold up his end of the bargain, the Florida-Tennessee rivalry could vault to being one of the best in sports.
What Kiffin is doing is no different than what Rex Ryan is doing right now with the New York Jets -- only Ryan has the added benefit of backing up his trash talk with a win over the Patriots.
Besides, it's not like Florida fans aren't used to dealing with a coach who irritates everyone and must have the last word.
They had Steve Spurrier.
Jemele Hill can be reached at jemeleespn@gmail.com
Jemele Hill
ESPN