Commentary
Tim Tebow's health should come first
Originally Published:
October 9, 2009
By
Jemele Hill
| Page 2
The optimist in me would like to believe the reason Tim Tebow is a game-time decision against LSU on Saturday is because Florida coach Urban Meyer is playing a shell game with the fourth-ranked Tigers.
But realistically, we all know this isn't an orchestrated game of deception.
With the Gators' No. 1 ranking and national championship hopes on the line, there is tremendous pressure on Meyer to play his superstar quarterback, who suffered a horrendous concussion against Kentucky two weeks ago. But if we see Tebow under center in Baton Rouge -- even if doctors have approved -- we'll know Meyer put himself and Florida's program above Tebow's well-being.
If that sounds melodramatic, you either don't know how dangerous concussions can be, or you didn't see the hit Tebow took against Kentucky. Tebow got blasted by defensive end Taylor Wyndham, and the force of the hit was so enormous that Tebow buckled, causing his head to bounce off the knee of a Florida offensive lineman.
It was nasty. And even nastier was watching Tebow vomit repeatedly into a bag as he was carted off the field and led into an ambulance. Tebow looked so out of it, he probably thought he was running the spread option on Neptune.
That Tebow was even in the game at that point, with the Gators holding a 24-point lead, is an indication that Meyer is susceptible to disregarding common sense. Florida was coming off a fairly unimpressive win over Tennessee, and it's not a reach to suggest that Meyer felt obligated to pile it on against Kentucky to make a statement -- even though Tebow was so sick from the flu he traveled to the game on a separate airplane.
[+] Enlarge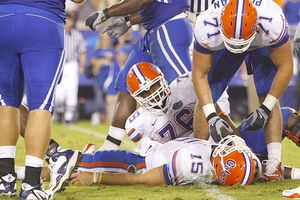 AP Photo/Ed ReinkeA scary sight -- and a reason to be extra careful.
Meyer's decision to leave Tebow in the game obviously backfired, but that doesn't mean he should make up for it by compromising his quarterback's health more than he already has.
Meyer stated this week that Florida's medical staff would determine whether Tebow plays against LSU. But don't think the doctors aren't aware that their call on Tebow could significantly influence Florida's season.
And even if the doctors do clear Tebow in time for him to play, how in the world could Meyer feel comfortable with an 11th-hour approval after such a serious injury?
It's just not worth it. I know this is big-time college football, and in the football-is-religion states, thou shalt play hurt and suck it up. But what happened to Tebow isn't just a case of a player "getting his bell rung." Tebow's body was lifeless for a few seconds after he took that hit, and the fact that he had to be hospitalized overnight speaks to its seriousness.
"I just hope [Tebow] is being totally honest," said Dr. Bob Cantu, a leading neurological expert and medical advisory board chairman at the Sports Legacy Institute, which studies the impact of concussions and other sport-related brain injuries. "If you sustain a concussion, you're more likely to have more concussions."
The way Tebow bulldozes people on the field, he's more vulnerable to a second head injury than most. Another hit, and Tebow's season is over.
This isn't a decision that should be made lightly, because we've seen the devastating toll head injuries have had on NFL players. Although the NFL has instituted many initiatives over the years to better protect its players -- such as cracking down on helmet-to-helmet contact -- many players have still had to deal with serious health issues because of head injuries.
Last week, the NFL released the results of a study it commissioned, and the study showed that NFL retirees ages 30 to 49 were 19 times more likely to suffer from memory-related illnesses, such as dementia and Alzheimer's disease, than the general population. A 2005 University of North Carolina study, which was also based on surveys of retired NFL players, found that players with several concussions had a higher rate of memory loss and depression.
Those numbers are staggering, but hardly surprising. Too many selfish coaches have compromised their players' health by allowing them to return to the field before they were ready. And too many players are so desperate to succeed and prove their toughness that they fail to realize how much they're gambling with their health.
The decision to play Tebow isn't just a medical decision, it's a moral one. Meyer has an obligation to do what's best for a player who has helped him make an incredible amount of money and taken him to the top of his profession. What Tebow has done for Florida is immeasurable. He's been an incredible ambassador for the university, and my guess is his presence has persuaded many Florida alums to add some extra zeros to their donor checks.
Considering that Tebow has a NFL future, Meyer would be wrong to expose him to further injury. I'm sure Tebow wants to play badly and keep the Gators on pace for another national title, but this is one time when Meyer should completely discount what his star player has to say.
Tebow might seem like Superman when he's out there on the field, but that's just our imagination. This is real life.
Jemele Hill can be reached at jemeleespn@gmail.com
Jemele Hill
ESPN