Commentary
Kickball carnival in Las Vegas
Updated:
October 20, 2009, 2:58 PM ET
By
Jemele Hill
| Page 2
LAS VEGAS -- No disrespect to slow-pitch softball players, but the World Adult Kickball Association's 12th annual Founders Cup last weekend -- the Super Bowl of adult kickball -- made your tournaments look like Bible studies.
The Founders Cup is Mardi Gras with a red rubber ball. Softball tournaments are full of fat guys who chug beer and brag about their juiced bats. Founders Cup is 72 teams and 1,500 people rediscovering how to connect. Softball tournaments are a case study in polite clapping. Founders Cup is costumes, beer, profanity-laced chants that would make George Carlin blush, more beer, a DJ and games so intense you would think people were fighting for oxygen instead of a trophy.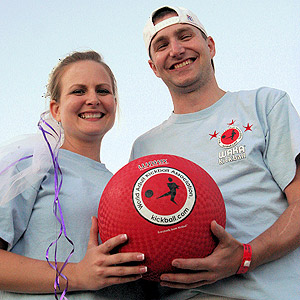 Courtesy of World Adult Kickball Association This happy couple from Arizona, Autumn Fischbeck and Brett Kippes, tied the knot after competing in the Founders Cup.
To say this ain't fifth-grade kickball is like saying Malcolm Gladwell is just a little bit smart. At your average rec league tournament, you do not see a team from New Mexico playing in green wigs as if they're straight out of a Dr. Seuss book or doing a team dance that's a cross between the Macarena and the stanky leg. You do not see men big enough to have played college football wearing bumblebee costumes (complete with antennae and wings) and feather boas. You do not hear the national anthem sung by a man who makes William Hung sound like Luther Vandross. You don't have a couple getting married in their kickball uniforms after their team -- which has a name that can't be mentioned here -- was eliminated from the tournament.
"We figured all of our friends were already here, so why not?" said bride-to-be Autumn Fischbeck, who naturally pitched in her veil.
Imagine the laughter these kickballers first heard when they told people they spend a few nights a week playing kickball with other grown folks. Kickball? What's next -- the World Series of Jacks?
But after spending a weekend with them in Vegas, I get why WAKA has more than 3,000 teams nationwide, why people in India, England and Canada have reached out to WAKA as they start teams and leagues of their own, and why this tournament was sold out in four seconds, with close to 40 more teams on the waiting list.
Adults rarely get the opportunity to drop everything and run to Vegas to play kickball late into the night. It's a break from the world of dinner parties, trips to the theater and play dates.
"You don't have to worry about judgment like when you go to a club," said Cory Gray, a full-time student who found a roommate and a girlfriend after joining a kickball team. "In order to go out and socialize, you have to think about what you're going to wear. You can't just go out and be yourself and be loose. You show up to this in dusty tennis shoes, shorts and a shirt that everyone else is wearing. It's like in elementary school when you didn't worry about picking your nose. Nobody cared."
Welcome to the league, rookie
[+] Enlarge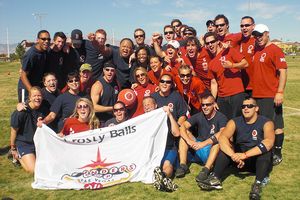 Courtesy of World Adult Kickball Association Here's a team photo of the Frosty Balls team from Virginia. If you squint, you can see our humble correspondent in the middle.
WAKA let me play in a scrimmage with two of the best teams here -- Frosty Balls and All Stars Only -- the morning of the tournament. As a bonus, I got to throw out the ceremonial first pitch before the championship game.
I was assigned to Virginia's Frosty Balls, the defending Founders Cup champions, but Maine's ASO was the tournament's top seed. Nice of them to break me in against a total cupcake.
A little history here: The last time I played kickball, Michael Jackson was still bouncing Emmanuel Lewis on his hip at awards shows and Garbage Pail Kids cards were collector's items. However, I was the kickball MVP of my fifth-grade class. Go ahead -- look it up.
But today's kickball isn't in even the same universe as the game I played as a kid. For one, I'm pretty sure the guys on Frosty Balls either secretly played for the New York Giants or should have been tested for performance-enhancing drugs.
My coach, LaSalle "Sal" Blanks, was like Nick Saban, only loyal and trustworthy. Sal yelled, "Hey guys, let's [bleepin'] do this!" before a scrimmage, which let me know I was going to get scissor-kicked if I made any mistakes. He also relayed the story of how he fell to his knees and cried when the team won the championship last year. I'm guessing Sal, a news anchor for WVEC-TV in Norfolk, Va., probably wouldn't do that even if he won an Emmy.
I took a few practice kicks before the scrimmage. I nailed a few slow rollers, but when our pitcher brought the high heat, I whiffed worse than Rob Deer.
Kickball pitchers at this level don't roll meatballs. They have a curve and a fastball with a tricky bounce that's designed to make you look stupid and uncoordinated.
Sal wisely put me toward the bottom of the order. Not so smart was letting me pitch the first inning against ASO. Let's just say my first five pitches were reminiscent of Charlie Sheen in "Major League."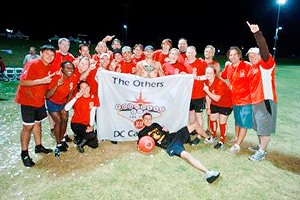 Courtesy of World Adult Kickball AssociationThe Others took the 2009 Founders Cup championship back to Washington, D.C., with a 3-1 victory over Best Coast Ballers of San Francisco.
Thankfully, I had a good defense behind me. I didn't give up a run, even though my pitches were softer than Kirstie Alley's midriff. My first at-bat was an infield pop-up, and I got yelled at because I didn't bunt -- the most strategic way to manufacture runs in kickball. I bunted in my second trip to the plate, but since I haven't had a real burst of speed in about 15 years, I was gunned out before I could make it halfway down the base path. Then I had the nerve to ask for oxygen.
Nevertheless, Frosty Balls and their new ringer prevailed 3-0. But I had learned a very important lesson.
I was terrible at kickball 2.0, so I officially retired.
Let the real games begin
The scrimmage was tame compared to the rest of the tournament, which took more than 12 hours to complete.
I saw at least 25 women who should be considered for the U.S. Olympic track team. I saw two teams play pickup "sloshball" -- same rules as kickball, but you have to keep a beer in your hand at all times and a runner can't advance before shotgunning a brew at each base (not to worry, tournament organizers provided transportation for all participants).
I saw a woman play the entire tournament in a pirate outfit. I saw a walk-off home run, except nobody got shaving cream in the face.
Lastly, I saw a dynamic championship game (preceded by the best ceremonial first pitch in world championship kickball history). There was a sliding catch in the outfield that would have made Torii Hunter proud. There was a dramatic play at the plate, where the catcher got trucked like Ray Fosse. A woman scored from second base on a bunt. Bet the Pittsburgh Pirates could use her.
"We call it the new American pastime," WAKA co-founder David Lowry said.
In the end, Frosty Balls did not repeat as champs, although they did oust ASO in what some say was the best game of the tournament. The 2009 champion was The Others, from Washington, D.C., who beat San Francisco's Best Coast Ballers 3-1. When the final out was recorded, The Others formed a mosh pit on the field, and sprayed each other with champagne and confetti as Queen's "We Are The Champions" blared over the loudspeaker. Temperatures had dipped below 50 degrees, but victory kept them warm.
Meanwhile, Sal, who graciously presented The Others' captain, Bill Castillejo, with the trophy, had the cry look again. This time, he stood upright.
"You don't get this in the real world," Sal said.
Jemele Hill can be reached at jemeleespn@gmail.com.
Jemele Hill
ESPN