Commentary
Jeter has skills without any of the ills
Originally Published:
December 3, 2009
By
Jemele Hill
| ESPN.com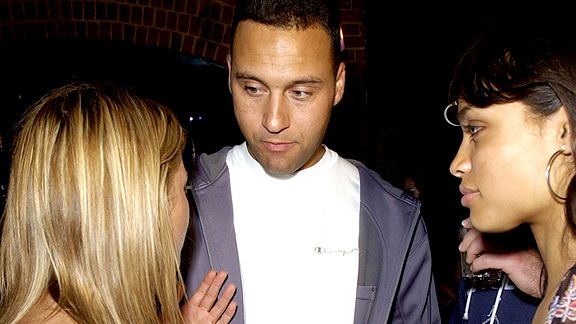 Getty ImagesUnlike some star athletes, Derek Jeter doesn't put himself in positions to be publicly embarrassed.
As we're deluged by hourly updates about Tiger Woods' alleged mistresses, I think we can all agree on one thing:
Derek Jeter is the Playa of the Decade.
Some folks griped because Jeter was honored as Sports Illustrated's Sportsman of The Year this week, but if you take into account his nearly flawless playa-ism for almost two decades, Jeter should be given a platinum chalice.
I respect Jeter's game -- on the field and off -- because he doesn't apologize for who he is. Jeter has never hid from the fact he likes to keep the company of beautiful women, and he's made it known he isn't going to rush into marriage. Romantically, he's been linked to everyone from Mariah Carey to Jessica Alba to Jessica Biel, and presently, he's reportedly involved with Minka Kelly. Jeter is a revered playa, having dated supermodels, actresses and singers. He is sports' version of George Clooney, and I suspect a lot of people respect him for that.
But more impressive than Jeter's list of hot girlfriends is how he's managed to play -- and play -- in New York City for 15 years without getting caught up in any significant personal drama. No baby mommas. No paternity suits. No risqué photos. No situations like Kobe Bryant or Ben Roethlisberger and certainly nothing like what Tiger Woods is going through now. Alex Rodriguez didn't make it in New York four years before he was divorced, tripped up in an alleged affair with Madonna, linked to a stripper and underground poker clubs and accused by the New York Daily News of frequenting the same prostitution ring as former New York governor Eliot Spitzer. Considering how much A-Rod's character has taken a beating since he put on a Yankees uniform, it makes Jeter's pristine track record in such an enormous media market almost as extraordinary as his four Gold Gloves and five World Series championships.
Jeter gets it. I don't know how he pulled it off. I just wish he'd share his secret.
Jemele Hill can be reached at jemeleespn@gmail.com.
Jemele Hill
ESPN