Commentary
VH1's 'Basketball Wives' brings drama
Originally Published:
April 12, 2010
By
Jemele Hill
| Page 2
I'm sure in NBA locker rooms across the country there was a significant amount of chatter about Sunday's premiere of "Basketball Wives," a new VH1 reality show that takes us inside some of the NBA's most dysfunctional marriages and relationships.
If the first episode is any indication, NBA men are no match for their scorned women, who are draped in Gucci and Prada, driving Bentleys and Range Rovers, and using the platform of reality TV to eviscerate their exes, showcase themselves and, I guess, promote the theme of "sisterhood" by gossiping about each other, cursing each other out and throwing drinks on one another when all else fails.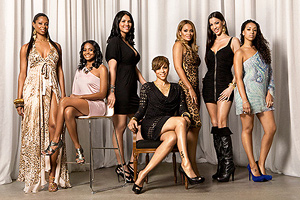 VH1The cast of "Basketball Wives" brings sports relationship drama right into our living rooms.
It's a diverse cast that hits numerous demographics -- the out-of-control baby mama (Royce Reed, the mother of Dwight Howard's son), the soon-to-be ex-wife who's ready for a fresh start (Shaquille O'Neal's wife, Shaunie, who recently filed for divorce), the naïve fiancée who has yet to be exposed to the awful relationship experiences of her bitter acquaintances (Gloria Govan, Matt Barnes' fiancée) and the current wife whose marriage is so awkward it makes Conan O'Brien and Jay Leno look like BFFs (Jennifer Williams, wife of Eric Williams).
Like all reality shows, there were times when "Basketball Wives" appeared staged, but you can't help but be entertained by the delicious drama these women create. In the first episode, Reed shows she's drawn to stripper poles and delighted by the opportunity to suggestively dance and slap another woman's rear at a Super Bowl party hosted by Ludacris and Terrell Owens. Let's just say that after watching that, Howard should probably send his lawyers an additional bonus for getting a court injunction that prevents Reed from talking about him on the show. Another juicy tidbit was when O'Neal revealed her thorny history with Govan, whose sister is rumored to have slept with her soon-to-be ex-husband.
Can I get a "meow"?
To be fair, there also were a few sympathetic moments, because while it's easy to take shots at these women and accuse them of being gold diggers, it's obvious that the trade-off for being with a high-profile professional athlete can be having to live in relationships that are emotionally hollow and unfulfilling.
The real winner here is O'Neal, who is the executive producer and narrator of the show. "Basketball Wives" isn't centered on her relationship with Shaq -- which I'm sure her divorce lawyers advised -- and she deftly manages to put these combustible personalities in explosive situations so the rest of us can simply enjoy the fireworks. Considering how bad this past year has been for celebrity wives -- Elin Woods, for example -- I suppose a little get-back is in order.
Jemele Hill is a columnist for ESPN.com. She can be reached at jemeleespn@gmail.com.