Commentary
Marsha Ambrosius talks hoops, music
Originally Published:
March 4, 2011
By
Jemele Hill
| Page 2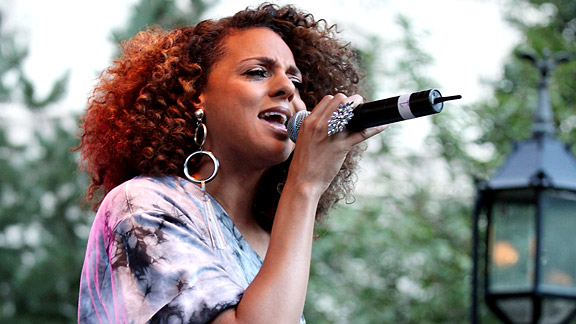 Ben Hider/Getty Images"Late Nights & Early Mornings" by Marsha Ambrosius reached No. 1 on iTunes on its release date.
Many entertainers want to be athletes, and lots of athletes are wannabe entertainers. But in the case of R&B songstress Marsha Ambrosius, she was a baller long before she ever deemed herself a singer.
Ambrosius, best known as half of the neo-soul duo Floetry, surrendered her hoop dreams after suffering a severe ankle injury in high school. While it wasn't career threatening, it was such a devastating reality check that the Liverpool, England, native decided it was time to think of something besides basketball.
Even though her father, Paul, was heartbroken when she decided to give up the sport, Ambrosius' instant musical success proves it was the right choice.
Ambrosius' solo debut, "Late Nights & Early Mornings," was released Tuesday, and as of Thursday, it was holding steady as the second-most downloaded album on iTunes. The album was No. 1 the day it was released.
The buzz on Ambrosius has been strong ever since Floetry, which sold nearly a million albums worldwide. Ambrosius also garnered widespread acclaim for penning the song "Butterflies," which appeared on the late Michael Jackson's "Invincible" album. In fact, she updated the song for "Late Nights & Early Mornings."
Even though it's been an exhilarating week for Ambrosius, she found some time to catch up with Page 2 to discuss plenty of hoops-related topics, including how good her game was, the current NBA player she used to school back in the day, the inspiration behind her much-talked about single, "Hope She Cheats On You (With A Basketball Player)," and her two biggest basketball crushes.
Page 2: How did you start playing basketball?
Marsha Ambrosius: My father [Paul Ambrosius] coached and he played. It was something I was just born into. He was a bass player in a '70s band and a coach. Basketball was always around me.
So what happened? Why did you stop?
I got hurt. It was such a complete shock to my system that I had to think, Wait, I have to fall back on something. So I stayed in school, got my grades up, but I didn't concentrate so much on basketball.
So how much did you know about Georgia Tech when the school recruited you?
I just knew the logo (laughs). Coming up, basketball was an import. We had -- and I hate to date myself here -- VHS tapes of games and we would just watch them over and over. I was a Georgetown, Georgia Tech and Michigan fan. I just identified them by their logo. It was more of a fashion thing.
What was your game like?
My first step was killer. I'd also say, don't leave me open. If you let me by you, it's over with. I didn't do anything fancy, but my fundamentals were a killer. Luol Deng played for my dad and I tell him now, 'I used to kill you! I used to wait for you at the gym.' I was really nice.
One of the most talked-about songs on your album is "Hope She Cheats On You (With A Basketball Player). What was the inspiration behind that?
A friend of mine was going through a bad breakup. His girlfriend cheated on him with a basketball player, and I wanted to convey that emotion. In the real world, a guy just gets cheated on, but in Marsha's world, it's a basketball player. It's a vicious blow to the male ego, your girl cheating on you with a 6-foot-9, $100 million-making basketball player. That's a little bit of a lower blow than cheating on you with the FedEx guy. Not that there's anything wrong with working at FedEx.
So you know everyone wants to know who the basketball player you're talking about in the song is, right?
Take your pick (laughs). It could be anyone. I always judge how people react to the song. If a guy is like, "Oh, that's a great song," then I know that's a good guy. If they don't react that way, then they're in trouble (laughs).
So did you ever have a basketball crush?
I had two -- Derek Anderson from Kentucky and Chris Webber. Yeah, fine (laughs). I've met Chris Webber but haven't met Derek Anderson.
So how much basketball do you watch? Do you watch the WNBA?
I do. It's a little upsetting for me. It's like, with me being a singer, I hate going to a show if I can't touch the mic. [The WNBA] is cool. It's evolved and it's insane that I thought I could play on that level.
What was it like to work with Michael Jackson?
It was surreal. "Late Nights & Early Mornings" came out 10 years to the day we were in the studio recording ["Butterflies."] It feels like yesterday. To be a part of his legacy is an honor and having done that at the beginning of my career. He took a chance on me. He said, "I know you're not known, but this song is amazing and I want to record it." Michael told me, "If this is your beginning, where are you going to go?"
What was he like?
Amazing. To work with him, I had to build a personal relationship with him. Paris and Prince [Jackson's children] were young at the time and just to see him as a father was amazing. He was an amazingly humble, regular person. He had practical jokes for days. He put on fake gold teeth and a hoodie and went to this Las Vegas jewelry store and tried to buy a really expensive diamond. He found it hysterical. That's how he was.
Last question: Who do you have winning the NBA title?
I always loved the Boston teams, but I've been rooting for Philly, but as far as who is going to get it this year ... I'm just looking forward to some really good ball. The playoffs give you new life.
That was a very diplomatic answer.
Thank you. I practiced.
Jemele Hill is a columnist for ESPN.com. She can be reached at jemeleespn@gmail.com.