By Jemele Hill
Page 2
GLENDALE, Ariz. -- The quarterbacks in Monday's national championship game have been dissected and discussed ad nauseam. And while we've broken down everything from their decision-making to their execution, we have yet to illuminate the truly important differences between Chris Leak and Troy Smith.
We won't bore you with any more in-depth analysis. However, we feel it's important to note that a New York stripper gave one of the quarterbacks her personal seal of approval, and we've got evidence the other QB might be a droid. (Question: Is playing a droid an NCAA violation?)
Anyway, here's what you really need to know about the two QBs …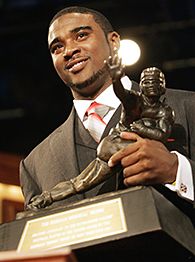 Kelly Kline/WireImage.com
Can't you let the man take his trophy on a plane?
Sounds like:
Smith: A man enjoying being The Man.
Leak: C-3PO
Edge: Smith
Biggest stiff-arm:
Smith: Airport security wouldn't let him carry his Heisman on the plane. He had to ship it home.
Leak: Florida fans booed him during a home game against Kentucky.
Edge: Leak
Will be a good pro because:
Smith: A stripper from New York City's famous Scores strip club -- where Smith celebrated his Heisman win -- told the New York Post's Page Six that Smith is "a natural leader." Who needs the Wonderlic when you've got an endorsement from Kendall?
Leak: He knows what it's like to produce and not be appreciated for it.
Edge: Smith
Words that frighten them:
Smith: NCAA investigation
Leak: Tim Tebow
Edge: Leak
Best thing he said in Arizona:
Smith: Broke down the art of the In-N-Out Burger as if he were Jules from "Pulp Fiction": "The lettuce and tomatoes are extremely fresh. And they toast the buns. That's key. They use a special kind of sauce, too."
Leak: "Hi. My name is Chris Leak. I am a quarterback for the University of Florida. Message repeat. Hi. My name is Chris Leak. I am a quarterback for the University of Florida. Message repeat …"
Edge: Smith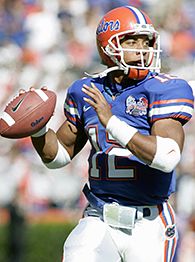 Charles Sonnenblick/WireImage.com
If Florida finds a way to beat Ohio State, Leak's profile will be much bigger.
Defining moment:
Smith: Not following the Maurice Clarett career plan.
Leak: During his senior year of high school, he spent his savings to visit Gainesville to study Florida's playbook and get game film. Cabo couldn't compete.
Edge: Smith
How he spent his college nights:
Smith: What happens in Columbus stays in Columbus.
Leak: Practicing plays in his apartment with teammates/roommates Skyler Thornton and Andre Caldwell freshman year.
Edge: Smith
Best spoils:
Smith: His hometown, Cleveland, honored him with Troy Smith Day.
Leak: Holds every significant Florida passing record.
Edge: Smith
Star Wars name:
Smith: Trosmi Smicle
Leak: Chrle Lecha
Edge: Smith
How he'll celebrate winning the national title:
Smith: Lap dances and burgers
Leak: Pinot Grigio and game film
Edge: Smith
WINNER: Troy Smith. He's no robot.
Jemele Hill, a Page 2 columnist and writer for ESPN the Magazine, can be reached at jemeleespn@gmail.com.