Commentary
Round 2's biggest questions answered
Updated:
May 4, 2009, 5:06 PM ET
By
Jemele Hill
and
Scoop Jackson
| Page 2
Editor's note: Before the start of the NBA playoffs, we asked two of our resident NBA experts for their insights on the postseason. Now, with the conference semifinals under way, we once again tap Jemele Hill and Scoop Jackson to answer our most pressing questions about the second round.
Question: The Magic went 6-3 this season against the Cavs, Celtics and Lakers. How do you evaluate their title chances right now?
Jemele Hill: I know what the regular-season records say, but there's something fishy about the Magic. When they make 3s, they're unstoppable. When they don't, they're prone to getting knocked out like Ricky Hatton. Everyone is going to overrate the tiredness and age of the Celtics and conveniently forget that the Magic didn't win in Boston this year (and the Celtics have home court), and that it looks like Orlando will be without rising star Courtney Lee. That means more J.J. Redick. Do you trust him in the playoffs?
Scoop Jackson: As good as Hatton's chances were against Manny Pacquiao. The Magic are hard to trust. I don't think it has anything to do with what Shaq said about Stan Van Gundy. I think it's deeper. They are inconsistent, too inconsistent to have faith they can win or challenge for the title. Not with teams like the Cavs, Lakers, Nuggets and Celtics still alive. Plus, it bothers me that too often -- and this goes back to the playoffs last year -- Dwight Howard can have big games and they'll still lose. Something's not right about that, and I'm not sure they know how to fix it.
Question: Which second-round series will have you glued to your television set?
Jemele Hill: Celtics-Magic. These teams split their regular-season series. Just based off matchups, all indications point to a seven-gamer. Lots of intrigue here because both teams have serious questions that need to be answered. Do the Celtics have anything left? Are the Magic for real? Can the Celtics return to the Eastern Conference finals without Kevin Garnett? Plus, the winner of this series sets up a potentially terrific matchup with the Cavs (yes, I'm already putting them past Atlanta), since both teams are capable of beating Cleveland.
Scoop Jackson: Boston-Orlando will be fun. Despite what I said earlier, the Magic have a shot to win. It'll go seven. But after watching the incredible Boston-Chicago series, watching Boston-Orlando is going to be anticlimactic. I'll probably watch that Bulls-Celts series over again.
Question: Which player has the most to prove in the second round?
Jemele Hill: Dwight Howard. Is he a superstar or isn't he? He's put up great numbers in the playoffs, but he has yet to have that defining postseason game. The fact that people questioned whether the Magic were better without him after the series-clinching win in Philly lets you know how much they doubt him. He's a phenomenal athlete, but can he take the Magic to the next level?
Scoop Jackson: Yao Ming has to do something. The series against the Lakers will be where we discover whether Yao is ever going to be a dominant player or just a complementary big that needs a future Hall of Famer or two to validate him. It's a different type of pressure. More personal than team-oriented. But now that the Rockets have gotten past the first round and McGrady isn't there, the spotlight is going to be on Yao.
Question: The Rockets finally advanced to the second round -- without McGrady. Are they a better team without him? Do they have any shot against the Lakers?
Jemele Hill: Can T-Mac's "superstar" card finally be revoked? Houston is better without him because the offense goes through Yao, who is an excellent passer. Ultimately, Houston will lose this series because the Rockets just don't have enough. And any time someone anoints himself as the guy who can shut down Kobe -- see Ron Artest -- it does not end well. I'll be pleasantly surprised if this series goes beyond five games.
Scoop Jackson: Jemele, just read my last column. Anyone that believes that the Rockets are better without T-Mac is as clueless as Stacey Dash. As the rounds get deeper, that superstar will become necessary and needed. (Think the Knicks were better without Patrick Ewing when they played the Spurs in the 1999 Finals, even though they were "playing better" without him?) In the case of McGrady against the Lakers, the Rockets will miss his ability to counter Kobe's production, and they will miss his ability to win games with a single shot. While those things weren't necessary for the Rockets to get past the Blazers, it will probably be the reason they won't get by the Lakers.
Question: Glen "Big Baby" Davis was one player who burst into the spotlight in Round 1. Give us three sleeper players to watch in Round 2.
Jemele Hill: J.R. "Swish" (Smith): He's the reason the Nuggets arguably have the best bench in the league. … Rashard Lewis: He's got a pretty favorable matchup against Big Baby. He should put up big numbers. … Shane Battier: He quietly had an excellent series against Portland, including a couple of big 3s in the last game. He's not flashy, but he's efficient and smart, and not the guy to leave alone on the 3-point line.
Scoop Jackson: Al Horford: If he holds his own against Zydrunas Ilgauskas, Al will come out of the series as the player who is the key to the Hawks' success. His defense is going to be the determining factor. … Nene: He has the possibility to float under the radar and be the main reason the Nuggets easily get past Dallas. The fact that he matches up against Erick Dampier will cater to Nene's virtues as a center stuck in a power forward's body. … Shannon Brown: When's the last time you saw Jordan Farmer in a game? Shannon gives the Lakers a toughness in the backcourt they haven't had since Ron Harper.
Jemele Hill can be reached at jemeleespn@gmail.com. Scoop Jackson is a columnist for ESPN.com.
NBA Playoffs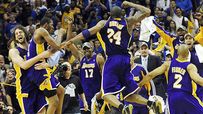 TODAY'S BEST
MORE ON THE PLAYOFFS