Should the final event at Yankee Stadium be a hockey game?
News surfaced that the final event at Yankee Stadium could be an NHL game on New Year's Day 2009. The Yankees may have approved the idea.
Good fun? Sacrilegious? Page 2 editors Kieran Darcy and Thomas Neumann strike up the debate.
JUST SAY "NO" TO HOCKEY AT YANKEE STADIUM
I've been going to Yankee Stadium since I was 6 years old. I've been there dozens upon dozens of times during the past 23 years. And every single event I've ever attended there has been … brace yourself … A YANKEES GAME.
So you can imagine my disappointment when I learned the final sporting event ever staged at Yankee Stadium might be a hockey game.
Would Canadiens fans have wanted the last sporting event at the Montreal Forum to be an arena football game? I think you catch my drift.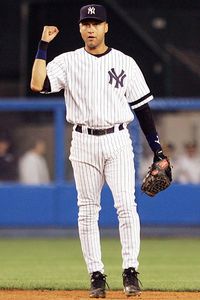 Jim McIsaac/Getty Images
How could the final event at Yankee Stadium not include a Derek Jeter fist pump?
Some of the most famous moments in baseball history have taken placed at The House That Ruth Built since it opened in 1923. Don Larsen's perfect game in the 1956 World Series, the only no-hitter in postseason history. (My dad was there.) Reggie Jackson's three home runs in Game 6 of the '77 Series. Aaron Boone's 11th-inning blast in Game 7 of the '03 ALCS. (A personal favorite.)
Love the Yankees or hate them, you must agree, Yankee Stadium is some of the most hallowed ground in American sports.
I know other events have been staged at the Stadium over the years. The New York football Giants used to play their home games there. U2 played two shows on their Zoo TV tour there. Pope Paul VI and Pope John Paul II celebrated Mass there -- and Pope Benedict XVI will do the same next month.
I'm not a hockey fan. But I'm a Giants fan, a U2 freak and a Roman Catholic -- and I'd have a problem with any of those events closing Yankee Stadium too.
(God forgive me.)
Call me a sap if you like, but I think the last great cheer that erupts in this sports cathedral should be for a game-winning home run, or one more Mariano Rivera ninth-inning nail in the coffin -- not a glove save or a puck sliding into a net and a horn going off.
I'm sorry, but the final curtain on The House That Ruth Built shouldn't be brought down by Jaromir Jagr or Henrik Lundqvist.
As excited as we may be about the new Yankee Stadium, millions of Yankees fans are losing their childhood field of dreams this fall -- the field we watched our heroes play on, the field we dreamed of one day playing on ourselves. After the Yankees play their final inning there on Sept. 21 against the Orioles, or hopefully in late October against a National League foe, that ground won't become any less sacred to us. In fact, it'll become more sacred -- in our memories.
Our last picture should be a baseball picture. There's no place for a hockey game on that canvas.
--Kieran Darcy
EVEN THE BABE WOULD LOVE A HOCKEY GAME
Why shouldn't hockey be played at Yankee Stadium?
It's not as if the NHL is advocating pillaging the place and salting the earth below it. Yankee Stadium is the The House That Ruth Built, but it has always played host to other events.
"The Greatest Game Ever Played" was contested there … and it wasn't a baseball game. Notre Dame and Army played their annual football game there for more than two decades -- including the "Win one for the Gipper" game in 1928. NYU and Fordham also played there. U2, Pink Floyd and Billy Joel played there. Even the Cosmos of the old NASL played home games there at one time.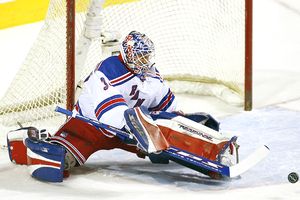 Icon SMI
Heck, Henrik Lundqvist's glove work is a lot more impressive than anything you see from the Yankees.
Joe Louis fought eight championship bouts at Yankee Stadium, including his victorious rematch against Max Schmeling in 1938. The same Joe Louis with a hockey arena named after him in Detroit. Sugar Ray Robinson and Muhammad Ali fought there, too.
Yankee Stadium is indeed hallowed in the baseball world. But the Forum in Montreal was equally significant in hockey circles. Know what became of it? It was used to film portions of the Nicolas Cage thriller "Snake Eyes," then gutted to create an entertainment district containing a Quebec Hall of Fame -- which includes Celine Dion.
The horror. Yankees fans are worried about a hockey game?
To ease the sting for Yankees traditionalists, maybe the NHL could make a few concessions:
• Ronan Tynan could belt out "O Canada."
• Wade Boggs could ride atop the Zamboni.
• Kyle Farnsworth and Sean Avery could duke it out between periods for charity.
• Chuck Knoblauch could drop the opening puck … and hit Keith Olbermann's mom.
• Hank Steinbrenner could fire Tom Renney between periods.
• Brian Cashman could trade Jaromir Jagr to Toronto for Raul Mondesi.
• Hensley Meulens could be a healthy scratch.
Bottom line: The NHL wants to play at Yankee Stadium out of respect for its legacy. An Original Six matchup featuring the Rangers would send the old gal out on a high note.
I'm sure the Bambino himself would be fine with hockey at the Stadium -- even as its last event -- as long as they served enough beer and hot dogs.
--Thomas Neumann