Commentary
Mike the Situation Q&A
Originally Published:
January 8, 2010
By
Lynn Hoppes
| Page 2
So Mike "The Situation" Sorrentino stops by ESPN's campus late Thursday to do a television taping for "SportsNation TV". While waiting for his car to arrive, he pops by my office to talk for a few minutes.
Yes … his car to arrive.
Sorrentino was an assistant manager for a fitness center on Staten Island, N.Y., before being thrust into the national spotlight as "The Situation" this past fall on the reality show Jersey Shore on MTV. For those living under a rock, Jersey Shore is the controversial show following eight people who spent last summer on the New Jersey Shore.
Italian-American organizations and even the city where the show was filmed -- Seaside Heights, N.J. -- say the show is offensive for its depiction of debauchery and crudeness of a group of young Italian Americans. A second season, with likely most of the same cast, will be announced soon.
Sorrentino is the breakout star of the show. His post-show appearances at clubs ($7,500 a pop) draw huge crowds. In fact, an ESPN coworker said there was more buzz about his arrival on campus than some top-level athletes.
JERSEY SHORE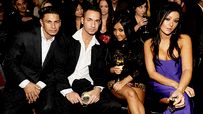 Nina Mandell spoke with Sammi Sweetheart from "Jersey Shore." See why she calls herself the sweetest [expletive] you'll ever meet.
His lines on the TV show are classic:
"Everybody loves me, babies, dogs, ya know, hot girls, cougars. I just have unbelievable mass appeal."
"I wait till the last minute to shave, I wait till the last minute to put the shirt on 'cause you feel fresh. These are rules to live by, shave last minute, haircut the day-of, maybe some tanning and the gym. You gotta do the guido handbook."
"You can hate on me all you want to, but what can you possibly say to somebody that looks like Rambo, pretty much, with his shirt off."
Now he can't really be like that in real life, can he?
Sorrentino was joined on the ESPN tour by his childhood friend Sergio Sosa, who defends the antics of "The Situation" on the show.
"I laugh at what he does on the show. Maybe I'm biased because I'm his friend. I'm his biggest supporter. I try to keep him level headed," Sosa said. "He's the same guy he's always been when we grew up together."
To me, Sorrentino is a cartoon character who has come to life. So let's see what the fuss is about.
Page 2: Are you anything like your character on the show?
"I'm a confident guy. What can I say? I'm just representing myself. The show is funny and I'm humorous. I never thought it be this big of a phenomenon. And I don't worry about the negative publicity. As you know, any publicity is good publicity."
Tell me how you got this nickname, "The Situation".
"I was interested in being a fitness model and I was walking around a beach club and this girl was walking by holding her boyfriend's hand. She looked at me and commented on how great my abs looked. She was disrespecting her boyfriend right in front of me. My buddy next to see said, 'That is a situation right there.' I said, 'Yeah, that's a situation.' So it stuck."
What's it like when you go out to the clubs?
"People are flipping out where ever I go. Cameras are always on you. The girls. So many good things have come out of the show. It has opened so many doors. People magazine. Life and Style. In Touch. I haven't changed at all. I shake every hand. I kiss every cheek. I take every picture. People are so happy to meet me. Stars come up and want to take their picture with me."
So how many more minutes of the 15-minutes of fame do you have left?
"The 15 minutes of fame doesn't apply to me. Maybe some of the cast, but not me. I'm limitless. Glass is always half full. I conquered reality in my first season. Hey, I might get my own show? I might do a Season 2 if they ask. But then I have no reasons to do it anymore. It's the best reality show and it's the biggest reality show ever. It's hard to top that. I'll move on to comedy acting. There might be a Situation series."
What about those who call you a tool?
"I don't point fingers at anybody. That's not the type of person I am. Whatever you have you should be proud of it. I don't worry about all the negativity. I could care less. All I say to those people is, 'Go pick up a magazine cover and see me on it.' They are just jealous. I'm on almost every channel. I'm on all these talk shows. Anybody who talks trash is just jealous."
Dude, you party a lot. What about working out and trying to keep your 6-pack?
"I need to work out more. To tell you the truth I have to figure a way of balancing it out, working out and partying and doing all these publicity tours. The worldwide fame coming my way? I can get used to this."
As a kid, what did you want to be? Obviously, not "The Situation".
"When I was a kid, I wanted to be famous. Look at me now."
Are you being serious? Come on. You're a 27-year-old hanging out with college kids on the Jersey Shore.
"Hey, I live life by the moment. I have no regrets. I live it to the fullest. I have made a lot of mistakes in my life and I'm learning from them. I'm "The Situation". I have a 6 pack and I have spiky hair. I have lots of fun and I get lots of girls. I know people might point their fingers at me wondering why a 27-year-old is heading down to the Jersey Shore to hit on girls. But I'm still going to be me. Every time I look in the mirror, I smile."
Lynn Hoppes is Senior Director for Page 2 and Commentary. He can be reached at lynn.hoppes@espn3.com.