Commentary
Into the mind of Chad Ochocinco
Updated:
February 8, 2010, 10:23 PM ET
By
Lynn Hoppes
| Page 2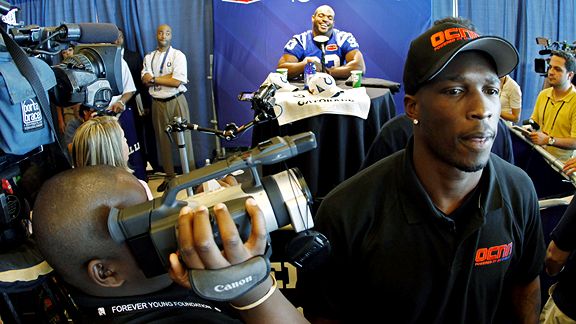 AP Photo/Charlie RiedelChad Ochocinco was right at home at the Super Bowl, even if the Bengals weren't parties to the game.
Chad Ochocinco is a 14-year-old boy in a 32-year-old man's body.
I'm allowed to say that because I spent a week in his inner circle.
Page 2 partnered with Ochocinco and his Ochocinco News Network for Super Bowl week, so I spent many hours talking with the Cincinnati Bengals wide receiver, many hours chasing him down to return my phone calls and many hours dealing with Chad being Chad.
• He really loves Twitter. He's a guy who loves attention -- that's fairly obvious -- but he loves to control the message. That's why he loves to update his Twitter page using his Motorola Cliq. He can write 140 characters of happiness, delivering his message to more than 740,000 followers. He can't stop staring at his phone.
• He loves McDonald's. That's not just because he has a promotional deal with the fast food giant. He really does love a quarter pounder with extra cheese and no onions. He also goes there for breakfast, and he's unhappy if the restaurant isn't open late. He is always hungry. One time he was so hungry he tried ordering me to get him food. I said no.
OCHOCINCO REACHES OUT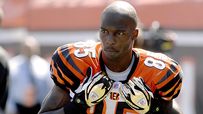 Chad Ochocinco's connection with a fan through social media holds significant meaning for surviving family, friends.
• Amy K. Nelson: Connecting with Chad
• He loves to sleep. A few times this past week, he took naps and it's no secret he sucks his thumb. A few times this past week, he went to bed at 9:30 p.m. He'd then wake up in the middle of the night, get on his phone and start his day all over.
• He's harmless when he makes his boasts. He loves to get a rise out of people, and he did just that by announcing that Terrell Owens would be joining him in Cincinnati. He doesn't know the particulars of contracts, so he had no idea whether it would work. I talked with Owens about this, and he basically said, "That's Chad being Chad."
• He loves video games. When EA held its party Thursday, I spent 90 minutes keeping his lady friend company while he played Madden 2010. She said that he would play video games all day if he could. Ochocinco was really unhappy to lose in the Madden Bowl. "I know I can beat anyone," he said.
• He is moody. He doesn't really get mad. He just gets very quiet when he's not feeling it. He won't smile. He will just put his head down, close his eyes and try to escape the world for a few seconds. When he doesn't want to talk, he'll just shake his head "no" several times.
• His favorite real restaurant in Miami is Dave's Cafe in South Beach. He goes there almost as often as McDonald's. He will get grilled chicken breast, black beans and rice, a couple of fried eggs, sweet plantains and a pineapple drink. Every time.
• He's preparing for his career after football and has more ventures planned over the next several months. But he doesn't want to reveal them to the public yet.
Like I said, he wants to control his message.