Commentary
Actress Joy Bryant a snowboarder, too?
Originally Published:
March 24, 2010
By
Lynn Hoppes
| Page 2

(See more videos on modelinia.com)


Joy Bryant is an actress, model and … snowboarder?
Bryant took time out of her schedule last month to mentor New York inner-city children through the Stoked Mentoring program, a nonprofit action sports organization for at-risk youth.
"I grew up like many of the kids in Stoked, and if it weren't for organizations like that, I sure as hell wouldn't be living the dream," said Bryant, who appears on the NBC show "Parenthood." "For me, it was an organization called A Better Chance. Since I benefited so much from people giving to me, it's only right that I do the same."
[+] Enlarge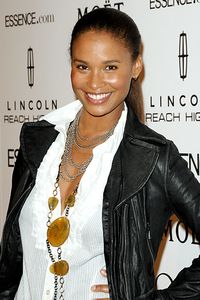 Getty ImagesJoy Bryant has been snowboarding for a few years now.
Bryant grew up in the Bronx, N.Y., and is a graduate of Westminster School, a boarding school in Connecticut. She had a full academic scholarship to attend Yale but quit to pursue modeling. She began her career in Paris and had contracts with Ralph Lauren, Tommy Hilfiger and Victoria's Secret.
"I had quite a few mentors growing up, people who helped to steer me in the right direction and keep me there once I got on it -- my grandmother being one of them," Bryant said. "It's from her that I learned the value of an education, how to always hold my head up high and to dream big."
After several years of modeling, Bryant jumped into acting. Her debut came in 2001 in "Carmen: A Hip Hopera," and she also has appeared in "Antwone Fisher," "Get Rich or Die Tryin'" and "Welcome Home, Roscoe Jenkins."
Now snowboarding.
"I wish I had started way earlier because I would be ridiculously good by now. But I get better every time I go," said Bryant, who learned the sport four years ago. "The last time I went, I had the most epic runs: more challenging terrain, and I felt confident and in control. I had the biggest smile on my face the whole time."
How about giving up acting and modeling and just performing action sports?
"I can catch a wave every now and then, but since I can't really swim, surfing is a little sketchy for me, as you would imagine," she said. "I like skateboarding on my long board, but I'm kinda chicken and don't do tricks or anything like that. I wish I knew about speedskating when I was growing up because I know that I would have been good at it. Is it too late?"
Lynn Hoppes is senior director for Page 2 and Commentary for ESPN.com. He can be reached at lynn.hoppes@espn.com.