1. In an Australian court, actor Sylvester Stallone reportedly pleaded guilty to: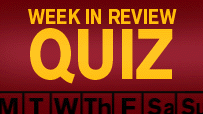 (a)
Importing 48 vials of human growth hormone
(b)
Importing 48 promotional photos for "Rocky Balboa," all featuring graphic imagery of Stallone's melting-wax-sculpture-meets-Tara-Reid's-botched-liposuction torso
(c)
Importing 48 proposals for an Aussie version of "The Contender," only with fighting kangaroos instead of amateur boxers
(d)
Importing 48 copies of "Judge Dredd"
2. Stallone's lawyer reportedly told a Sydney court that Stallone was taking HGH for:
(a) An undisclosed medical condition
(b) Male-pattern vanity
3. After admitting that he doesn't know who former Chicago Cubs great Ernie Banks is, Boston Red Sox pitcher Julian Tavarez added:
(a) "But I hope he was a good guy"
(b) "Is he friends with Big Bird and Elmo?"
(c) "Babe Ruth. Lemme see -- that's a candy bar, right?"
(d) "I'm just a caveman. Your world frightens and confuses me! When I see myself on television, I wonder: Are they stealing my soul?"
4. The NBA suspended Phoenix Suns players Amare Stoudamire and Boris Diaw for:
(a) Spurs forward Robert Horry's gratuitous body check of Suns guard Steve Nash
(b) Suns guard Raja Bell's subsequently charging Horry
(c) Horry's chucking Bell with his forearm
(d) Never touching, threatening or even getting in close physical proximity to anyone associated with the greater San Antonio metropolitan region
5. NASCAR driver Dale Earnhardt Jr. was docked 100 points and his crew chief was fined $100,000 and suspended six races for:
(a) An illegal modification to the Car of Tomorrow
(b) Driving the Car of Tomorrow at a speed exceeding 88 miles per hour, accidentally activating the flux capacitor and making it the Car of Yesterday
(c) Rightly pointing out that "if this is the car of tomorrow, then how come it doesn't fly? Or at least fold up into a briefcase?"
(d) Jumping off his couch and walking a few steps toward the television when Horry flattened Nash
6. While giving a speech at the Wisconsin Republican Party convention, Sen. Sam Brownback (R-Kansas) was booed for referring to Indianapolis quarterback Peyton Manning as:
(a) "[The] greatest quarterback, maybe, in NFL history"
(b) "A heckuva team guy, a player who never gripes about management's failure to trade for Randy Moss and always puts in maximum offseason effort, attending team minicamps and such"
(c) "A much better actor than what's-his-name, you know, the Don Johnson look-alike with the stubble who was in that Cameron Diaz movie"
(d) "Honest and brave, a regular Huck Finn, the sort of fellow you can instinctively trust to sell you over-the-counter heartburn medication"
7. Cincinnati Reds outfielder Ken Griffey Jr. gave a Dodger Stadium heckler:
(a) A brown paper bag containing an extra-large athletic supporter with the number "3" and "JR" written on the waistband
(b) Momentary hope that not every modern professional athlete is either bland or surly, strip-mined of humor, personality and joie de vivre
(c) A and B
8. A German sex toy company was ordered to pay $65,000 in damages to German soccer stars Michael Ballack and Oliver Kahn after selling:
(a) Special World Cup edition vibrators named "Michael B" and "Olli K"
(b) Special World Cup edition ball gags imprinted with pictures of Ballack and Kahn's faces and the word "GOAAAAAL!"
(c) Special World Cup edition cat o' nine tails whips, designed to leave a skin imprint of Ballack and Kahn's career statistics
(d) Please stop, I'm trying to eat lunch

9. "Bend Ya Knees," a song featuring New York Mets minor leaguer Lastings Milledge and containing vulgarity, explicit sexual content, demeaning references to women and the n-word, was condemned by:
(a) The Mets, in a statement released by the team
(b) Al Sharpton and Jesse Jackson, who called for boycotts of Shea Stadium and for Milledge to be released
(c) NBC News president Steve Capus, who then refired Don Imus
(d) The "Today" show, which made Milledge its lead story for an entire week
10. A Sacramento Bee reporter apologized for describing African-American boxer Floyd Mayweather's fighting style in a bout against Oscar De La Hoya as "shucking and jiving," a term with racial/ethnic connotations much like:
(a) Mayweather wearing a giant white sombrero, backwards, into the ring against De La Hoya, a Mexican-American
11. Jose Mourinho, manager of Premiership soccer club Chelsea, was arrested and given a police caution for:
(a) Prematurely leaving his squad's Player of the Year awards ceremony to argue with police officers seeking to remove and quarantine his Yorkshire terrier for being taken abroad and back without required inoculations
(b) No, really, this actually happened
(c) No, really, this actually happened and it didn't involve Pacman Jones
(d) Animal control officers? Is Michael Vick in the news again?
12. The Detroit Free Press reported that Dearborn, Mich., police declined to pursue criminal charges against one of their officers who admitted to ingesting pot brownies made from seized marijuana before calling 911 and:
(a) Asking for the score of the Red Wings game on television that night, explaining, "I just want to make sure this isn't some type of, like, hallucination I'm having."
(b) Asking if Dirk Nowitzki actually won the NBA MVP award, explaining, "I just want to make sure this isn't some type of, like, hallucination I'm having."
(c) Asking if Baron Davis' face was covered with bees, explaining, "I just want to make sure this isn't some type of, like, hallucination I'm having."
(d) Asking for directions to the nearest Taco Bell, because it's "Fourthmeal" time!
13. Donald Trump blasted Dallas Mavericks owner Mark Cuban during an ESPN Radio interview, stating:
(a) "[Cuban] probably always wanted to be a winner all his life, and if you look like him, you can't be a winner"
(b) "Mark Cuban was extremely embarrassed when he copied 'The Apprentice' and failed. They threw him off television like a dog"
(c) "The Mavericks have a great team. They'll never win with Mark Cuban as the owner because he is not a winner"
(d) Meow!
ANALOGIES
14. Seventy-two-year-old actress Sophia Loren: promising to perform a striptease if Italian soccer club Napoli earns a promotion to the country's first division -- is equivalent to:
(a) George Tenent: deciding that 2007 is a good time to note that Iraq WMD intelligence is flawed
(b) David Stern in 20 years: revoking the Stoudemire and Diaw suspensions
(c) Sylvester Stallone: agreeing to star in "The Party at Kitty and Stud's II"
(d) All of the above
15. Donald Trump: making fun of Mark Cuban's appearance -- is equivalent to:
(a) The pot: calling the kettle black
(b) Gasoline: faulting lighter fluid for being flammable
(c) An epochally awful comb-over: mocking a ludicrously ill-advised goatee
(d) All of the above
EXTRA CREDIT
16. New York Yankees first baseman Jason Giambi reportedly is helping to build:
(a) A scaled-down replica of Yankee Stadium for children in his hometown of West Covina, Calif.
(b) A scaled-down replica of his once-imposing physique
17. The 28-year-old cross-country rally record -- set during the 1979 Cannonball Baker Sea-To-Shining-Sea Memorial Trophy Dash -- was unofficially broken by:
(a) 2007 Bullrun racers Richard Rawlings and Dennis Collonis
(b) Burt Reynolds, Dom DeLuise, Dean Martin, Sammy Davis Jr., Catherine Bach, Susan Anton, Jackie Chan, Shirley MacLaine, Sid Caesar, Telly Savalas, Marilu Henner, Tony Danza, Don Knotts, Tim Conway, Jim Nabors, Charles Nelson Reilly, Abe Vigoda, Joe Theismann, Klinger from "M*A*S*H," Khan Noonien Singh and Frank Sinatra. Even though some of those people are dead
18. Former University of Georgia women's golf coach Todd McCorkle's sudden decision to resign reportedly followed complaints from players of inappropriate comments, sexual jokes and:
(a) Sharing a Paris Hilton video from the Internet
(b) Handing out World Cup-themed vibrators
(c) The adoption of "Bend Ya Knees" as the team's theme song
(d) The delivery of a brown paper bag from Ken Griffey Jr.
ESSAY QUESTION
Asked what he got out of his only season under former coach Bill Parcells, Dallas Cowboys wide receiver Terrell Owens reportedly said, "nothing, really." Was Owens' statement an expression of existential despair or a reflection of nihilistic meaninglessness?
---
ANSWER KEY: 1-3, a; 4, d; 5-6, a; 7, c; 8-9, a; 10, a, and it's surprising he didn't start talking like Speedy Gonzalez; 11, all answers acceptable; 12, a; 13, a, b and c acceptable, and Trump really needs to get back into sports; 14, d; 15, d, and why don't those two just get a room already?; 16-17, a; 18, a, and honestly -- there are people who haven't seen the Paris Hilton sex tape?; Essay Question, any answer referencing Turgenev, the collected works of Jean-Paul Sartre and "25 million reasons to live" is acceptable.
Patrick Hruby is a columnist for Page 2. Sound off to Page 2 here.