Paid attention to the week in sports that was? Put your powers of observation and recall to the test with our weekly quiz:
1. Los Angeles Lakers guard Kobe Bryant wants: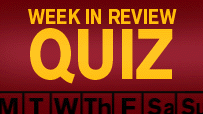 (a)
Out of Los Angeles, unless the Lakers bring back Jerry West as general manager
(b)
To be traded -- and there's nothing, really, that the Lakers can do to change his mind, because at this point he'd rather be playing on Pluto
(c)
Something to be figured out, because he loves Los Angeles and wants to retire a Laker and doesn't want to go anywhere else, including Pluto, which isn't even a planet anymore
(d)
A bottle of Stelazine and a quiet place to lie down
2. After driving his gold Mercedes the wrong way on a street that has double yellow lines shortly before 1 a.m., Los Angeles Lakers owner Jerry Buss was arrested for:
(a) Investigation of driving under the influence of alcohol
(b) Investigation of driving under the influence of trying to figure out how the heck to keep Bryant happy, or at least convince him to not call in to a sports talk radio show for five freaking minutes
3. The 74-year-old Buss was accompanied in his car by:
(a) A 23-year-old woman
(b) Rock. On.
(c) The unspoken blessing of Donald Sterling
4. A police informant told ESPN that Atlanta Falcons quarterback Michael Vick is _______ in the world of illegal dogfighting.
(a) "One of the heavyweights"
(b) "A Saint Bernard, or maybe a Mastiff"
(c) "Like, a combination of Air Bud, Spuds MacKenzie and Scooby-Doo"
5. According to the Chicago Sun-Times, Bears defensive tackle Tank Johnson bought the following from the prison commissary during his 60-day jail stint:
(a) 162 beef sticks
(b) 40 honey bun sweet rolls
(c) 35 summer sausage blocks
(d) 35 bags of barbecue chips
(e) All of the above
(f) 2 vials of insulin and a do-it-yourself angioplasty kit
6. A New York Post cover story claiming New York Yankees slugger Alex Rodriguez went to dinner, a Toronto strip club, and back to his hotel with an unidentified busty blonde woman -- not his wife -- carried the following headline:
(a) "STRAY-ROD"
(b) "YANKEE DIDDLER DANDY"
(c) "BOOTIE CALL-UP"
(d) "TURN TWO-TIMER"
(e) "OH-OH-OH CANADA!"
(f) God bless the New York Post
7. A follow-up story in the New York Daily News reported that Rodriguez:
(a) Was spotted with the same blonde woman at a Las Vegas nightclub two weeks ago, and chatting up a curvy blonde at a Tampa bar during spring training
(b) Is a "serial" strip clubber who frequents at least four New York City gentlemen's establishments, often brings his wife, and "likes the she-male, muscular type" of dancer
(c) Goes to a private social club in Chelsea that fronts as a poker club but also plays host to wild, after-hours sex romps
(d) Loves to shoot "dirty" text messages to his favorite strippers across the nation
(e) Will soon follow Rafael Palmeiro's lead as a Viagra spokesman
8. Rodriguez reportedly caused Toronto Blue Jays third baseman Howie Clark to refrain from catching a key ninth-inning popup by shouting:
(a) "Hah!"
(b) "Mine!"
(c) "See the deck guns on that blonde in the first row? Trust me -- they're better up close!"
9. Former Ohio State basketball player Greg Oden -- who recently said of the Pacific Northwest, "I know it's close to L.A. and I love that. I want to go to L.A. and go to the beach" -- majored in:
(a) Geography
(b) None of the above
10. After all nine American men in the French Open lost in the first round, United States Davis Cup coach and ESPN tennis commentator Patrick McEnroe said:
(a) "It's a reality burger, hold the ketchup"
(b) "It's a dipped Dairy Queen cone of self-delusion, the crisp, pristine chocolate of past American tennis glory giving way to today's soft, runny mess"
(c) "It's a [expletive] sandwich, and Uncle Sam is taking a big fat bite"
(d) "This is almost as disappointing as that Chuck Liddell guy"
11. An English-language news release given out at the French Open following Andy Roddick's first-round loss proclaimed:
(a) "Suzanne Lenglen Court has proven in no way supportive of Andy Roddick!"
(b) "I'm disrespectful to dirt! Can you see that I am serious? Join me or die! Can you do any less?"
12. Irate fans reportedly threw:
(a) Carmex at San Antonio Spurs forward Bruce Bowen
(b) Videx at boxer Tommy Morrison
(c) Sanorex at Tank Johnson
(d) Valtrex at Michael Vick
ANALOGIES
13. Michael Vick: claiming he had no idea a large kennel at a house he owned could be involved in dogfighting -- is equivalent to:
(a) Barry Bonds: "Dude, whatever"
(b) Alberto Gonzales: "I cannot recall"
(c) Dolemite: "That [expletive] ain't mine!"
(d) All of the above
14. Kobe Bryant: telling a newspaper "I'm not demanding anything. I'm not making any threats … I'm just making a suggestion" -- is equivalent to:
(a) Don Corleone: just making an offer
(b) A
EXTRA CREDIT
15. Asked if he would donate some of his stockpiled bats, balls, helmets or spikes to the Baseball Hall of Fame, San Francisco slugger Barry Bonds said:
(a) "I'm not worried about the Hall. I take care of me"
(b) "And, of course, Greg Anderson"
(c) "Oh, and Kimberly Bell. Well, not anymore"
(d) "You're not with the IRS, are you?"
16. Alabama football coach Nick Saban reportedly believes it's more than coincidence that:
(a) Reports accusing him of improper contact with college recruits originated in Miami, where he spent two years with the NFL's Dolphins
(b) NASA trotted out footage of astronauts "walking" on the moon, the same way King Kong "walked" up the side of the Empire State Building
(c) The Twin Towers were attacked exactly 2,625 years from the prophecy of Ezekiel 31
(d) The object of pool is to have a white ball knock all the colored balls off the table
MATH
17. Oakland Raiders wide receiver Jerry Porter backed off his plan to switch jersey numbers for the upcoming season, because he would have to pay $210,000 to reimburse the team and Reebok for the cost of unsold jerseys. Assuming all of the unsold jerseys are purchased by Porter fans this season at a cost of $60 per jersey, how many Porter fans are there?
ESSAY QUESTION
Dallas Mavericks owner Mark Cuban, who is part of a group considering the formation of a professional football league that would compete with the NFL for players drafted lower than the second round, told the Associated Press, "It's a pretty simple concept. We think there is more demand for pro football than supply."
In 600-800 words, discuss the sanity of Cuban's assertion.
---
ANSWER KEY: 1, a-c; 2-4, a; 5, e, and that's good eatin'; 6, a (f also acceptable); 7, a-d; 8, a or b, depending on who you believe, but at least A-Rod didn't purse-slap anyone this time; 9, b; 10-12, a; 13, d; 14, a-b; 15-16, a; 17, trick question, because Aaron Brooks will buy all of Porter's unsold jerseys and have a bonfire, and besides, the correct number of Porter fans is one (his mother); Essay Question, Any answer mentioning delusional psychosis, Donald Trump as a USFL owner, Donald Trump's ridiculous hair, He Hate Me, two guys running for the football instead of a coin flip, pole-dancers-as-cheerleaders and the whopping landmark $3 judgment against the NFL is acceptable.
Patrick Hruby is a columnist for Page 2. Sound off to Page 2 here.