Paid attention to the week in sports that was? Put your powers of observation and recall to the test with our weekly quiz:
1. With the bases loaded in the bottom of the ninth and the National League trailing the American League by one run in the MLB All-Star Game, NL manager Tony La Russa elected:
(A) Not to bat Albert Pujols.
(B) To test the limits of his incredible genius by performing the world's first self-administered dugout lobotomy.
2. Which of the following NBA teams wants guard Steve Francis on its roster?
(A) Houston Rockets.
(B) Orlando Magic.
(C) New York Knicks.
(D) Portland Trail Blazers.
(E) None of the above.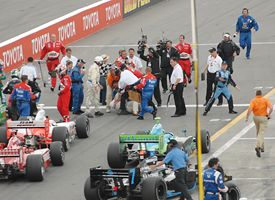 3. Identify where the photograph at the right was taken:
(A)
An IndyCar Series race in New York
(B)
"Monday Night RAW!"
(C)
Downtown Baghdad.
4. A survey of American golfers found that in exchange for the perfect swing:
(A) 21 percent would give up their next pay raise.
(B) 25 percent would give up their hair.
(C) 40 percent would give up sex for a month.
(D) All of the above.
(E) Play enough golf, and all of the above will happen anyway.
5. The NCAA punished the Oklahoma football program for fielding two players who were paid for work they did not perform at a local car dealership by forcing the Sooners to:
(A) Vacate eight victories from the 2005 season.
(B) Vacate the $32.28 million the team brought in during the 2005 fiscal year.
(C) Answer B is a joke, right?
6. Tennis player Marion Bartoli:
(A) Credited her Wimbledon upset of top-ranked Justine Henin to actor Pierce Brosnan sitting in the Royal Box.
(B) Added that she "was focusing on Pierce Brosnan because he is so beautiful … it's not possible I play so bad in front of him!"
(C) Also added that she "was just watching [Brosnan]. He was the only one!"
(D) Will probably win the Grand Slam and/or spontaneously combust if she ever sees the Daniel Craig beefcake beach scene in "Casino Royale."
7. The U.S. men's soccer team:
(A) Failed to record a single point in the Copa America tournament.
(B) Seems determined to follow the shining example of our national men's basketball and baseball teams.
(C) Still owns Team Mexico!
(D) All of the above.
8. After becoming the first player penalized for testing positive for a stimulant under Major League Baseball's drug program, Detroit Tigers infielder Neifi Perez told a Dominican radio station that:
(A) "I say to my fans that I am not stupid."
(B) "I know the difference between good and bad and there are things that are going to be known going forward."
(C) "My lawyer has advised me not to talk for now."
(D) All of the above.
(E) "That stuff about my lawyer and not talking? Told you I wasn't stupid."
9. In 83 games this season, Perez:
(A) Tallied 64 total at-bats.
(B) Hit .172 with one homer and six RBIs.
(C) Got totally ripped off by his stimulant dealer.
(D) All of the above.
10. Former NFL player Bill Maas:
(A) Was arrested after police found a .22-caliber revolver, five grams of suspected marijuana, six grams of suspected cocaine and 28 Ecstasy pills in his SUV.
(B) Apparently hopes to make a comeback with the Cincinnati Bengals.
(C) That was too easy.
11. Participants at the World Series of Poker main event included:
(A) Actor Jason Alexander, star of "Dunston Checks In."
(B) Actress Jennifer Tilly, who won the World Series' ladies event in 2005.
(C) Talk show host Montel Williams, who held the chip lead for several hours.
(D) Jose Canseco, who only lasted a few hours.
(E) The casting director for the next season of "The Surreal Life."
12. Also competing in the World Series of Poker main event were:
(A) Phoenix Coyotes assistant coach Rick Tocchet, who is on an indefinite leave of absence while awaiting sentencing for pleading guilty to running a sports gambling ring.
(B) Janet Jones, wife of Coyotes coach Wayne Gretzky, who was suspected of wagering about $500,000 on NFL games through Tocchet.
(C) Other less famous gambling addicts.
(D) All of the above.
13. Major League Baseball commissioner Bud Selig told reporters that when it comes to being in attendance when San Francisco slugger Barry Bonds breaks the career home run record, he will:
(A) Do what he believes is in the best interests of baseball.
(B) Wait to see if anyone in Congress cares.
(C) Appoint someone to investigate the issue as toothlessly as possible and get back to him by 2012.
(D) Probably be too busy rolling around naked in turnstile receipts and hundred-dollar bills to make it.
14. According to a police report obtained by the Chicago Sun-Times, former Chicago Bears defensive tackle Tank Johnson:
(A) Failed a field sobriety test and had bloodshot eyes and alcohol on his breath when pulled over by Arizona police.
(B) Asked an arresting officer to follow him home while he drove to his mother's house.
(C) Asked to speak with the chief of police, then pointed to his blood test sample and said, "Don't do anything with that until I talk with the chief."
(D) Gets a few drinks in him and thinks he's Obi-Wan Kenobi spinnin' the Jedi mind trick.
15. Portland Trail Blazers center Greg Oden cut short his summer league season in order to:
(A) Have his tonsils removed.
(B) Have his tonsils removed, but only after attending the ESPY awards.
(C) Undergo a priority-ectomy.
(D) C'mon, dude -- those ESPY gift bags contain a "Grey's Anatomy" DVD box set!
16. The ESPY gift bags also contained:
(A) A Chipotle gift card good for free burritos for an entire year.
(B) Somebody tell Bartolo Colon.
17. After receiving 95 percent RSVP on their sent-out invitations, former UCLA basketball coach Steve Lavin and his fiancée:
(A) Moved their wedding from Laguna Beach to Europe.
(B) Informed guests of the move via e-mail.
(C) Apologized for not being able to "share our big day with family and friends," then promised to send pictures.
(D) Are making a pretty big assumption about having any family or friends left to send pictures to.
ANALOGIES
18. Brian Urlacher is to text messaging as:
(A) Ronald Reagan is to anything to do with Iran-Contra.
(B) Bill Clinton is to anything involving Paula Jones.
(C) Alberto Gonzales is to anything to do with firing U.S. attorneys.
(D) All of the above.
19. This year's running of the bulls is to "only seven people gored" as:
(A) New York Yankees is to "only 10 games back."
(B) Pacman Jones is to "only three traffic citations received."
(C) Michael Vick is to "only 46.2 percent of passes incomplete." (D) All of the above.
20. Kobe Bryant is to apologizing to Mitch Kupchak as:
(A) Mike Nifong is to "Sorry, Duke lacrosse!"
(B) Don Imus is to "Sorry, Rutgers basketball!
(C) Steve Lavin is to "Sorry about the wedding!"
(D) All of the above.
EXTRA CREDIT
21. San Antonio Spurs guard Tony Parker and actress Eva Longoria:
(A) Were pronounced husband and wife by the mayor of Paris in a civil ceremony.
(B) Subsequently exchanged vows in a church across from the Louvre Museum.
(C) Held a follow-up wedding party at a famous French chateau.
(D) Are at least six weeks away from getting matching tattoos, six months away from wearing little vials of each other's blood, a year and a half away from appearing on an US Magazine cover reading "DISPARATE HOUSE-LIVES: EVA MOVES OUT!" and two years away from releasing respect-our-privacy-in-this-difficult-time divorce statements through their respective publicists. Ah, love!
22. When Electronic Arts chief executive John Riccitiello said that video game makers are "boring" consumers with games that lack innovation, and that the formula of releasing game sequels needs to change to prevent audiences from drifting away, he was not referring to:
(A) EA Sports' Madden NFL 08.
(B) EA Sports' NASCAR 08.
(C) EA Sports' NHL 08.
(D) EA Sports' NBA Live 08.
(E) All of the above.
23. The Chicago Tribune reported that when then-Chicago Cubs slugger Sammy Sosa was caught using a corked bat in 2003:
(A) MLB officials gave the Cubs one hour to get rid of any other corked bats before league clubhouse inspectors showed up.
(B) Cubs personnel subsequently removed more than 70 corked bats, a third of those belonging to players other than Sosa.
(C) Baseball turning a blind eye to players cheating through artificial means in order to hit more home runs? Yeah, right.
24. Which of the following sports figures did not recently pose nude or semi-nude in a magazine:
(A) Soccer star David Beckham in W.
(B) Swimmer Amanda Beard in Playboy.
(C) Brazilian soccer referee Ana Paula Oliveira in Playboy.
(D) NFL referee Ed Hochuli in Playgirl.
25. Minor league pitcher Matt Elliott:
(A) Slammed the door of a bathroom dugout so hard that he broke it, trapping himself inside for nearly 50 minutes.
(B) Can't say to his fans that "I am not stupid," unlike Neifi Perez.
(C) Will do just about anything to protect himself from a marauding Sam Hornish Sr.
(D) Just made himself a leading candidate to manage the NL in next year's All-Star Game.
ESSAY QUESTION
Currently set to serve a four-game NFL suspension for incurring three drunken driving arrests over a four-year span, Kansas City Chiefs defensive end Jared Allen nevertheless autographed a fan's DUI citation. In 800 words or less, answer the following: Does this meet the classical definition of irony, or is it merely really dumb?
ANSWER KEY: 1, a; 2, e, and in reality, the list is much longer; 3, a, but b and c are reasonable guesses; 4, d, which only goes to show, We Are Not Tiger Woods; 5, a; 6, a, b or c, since spontaneous combustion is not a proven phenomenon; 7-9, d, and what was Perez taking, Sweet Tarts?; 10, a; 11-12, d; 13, a; 14, a, b or c; 15-16, a; 17, all answers acceptable; 18-20, d; 21, all answers acceptable; 22, e; 23, a or b; 24, d, and what a shame for nontraditional readers; 25, a, and no, we didn't make it up; Essay Question: any answer that states "dumb" is acceptable, as is any variation on "yes, it meets the definition of irony," since that could be interpreted as ironic, much as nothing in that Alanis Morissette song "Ironic" was actually ironic, and thus the whole damn song was ironic, and now we're envisioning an M.C. Escher sketch, and frankly, our brain hurts.
Patrick Hruby is a columnist for Page 2. Sound off to Patrick here.