Paid attention to the week in sports (and other stuff) that was? Put your powers of observation and recall to the test with our weekly quiz:
1. When the beer tap failed on a special train carrying German soccer fans to a match, railway officials:
(a) Halted the train for 25 minutes in order to have a replacement part delivered by taxi
(b) Germany is awesome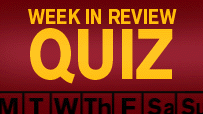 2. Baseball commissioner Bud Selig celebrated San Francisco Giants slugger Barry Bonds tying Hank Aaron's career home run record by:
(a)
Frowning
(b)
Reluctantly standing up
(c)
Jamming his hands in his pockets
(d)
Issuing a lukewarm congratulatory statement
(e)
All of the above
(f)
Um, you said "celebrated," right?
3. Baseball commissioner Bud Selig celebrated Bonds breaking Hank Aaron's career home run record by:
(a) Tying up Hank Aaron and forcing him to record a congratulatory message
(b) Eating a hot dog and watching a rerun of "Hollywood Squares"
(c) Sending noted Bonds detractor Frank Robinson in his place
4. House Speaker Nancy Pelosi, after Bonds broke the record, said: "As a season-ticket holder, I am particularly glad it happened on the Giants' Italian Night." What was she trying to say?
(a) Bonds is Italian
(b) She likes pasta
(c) Bud Selig is clearly not Italian
(d) Thanks goodness it didn't happen on Republican Night
5. In terms of good fortune to still be alive, rank the following individuals from greatest to least:
(a) Jake Brown
(b) Dario Franchitti
(c) Matt Murphy
(d) Coco Crisp
(e) The Mariner Moose
6. Which mascot got nominated for the Mascot Hall of Fame this week?
(a) Mariner Moose
(b) Mr. Met
(c) Don Zimmer
7. Washington Wizards forward Andray Blatche was arrested for:
(a) Attempting to solicit sex from an undercover female police officer
(b) Not realizing that he is a professional athlete, and that the District of Columbia features many bars and nightclubs where women tend to congregate
(c) Being too stupid to look up "escort service" in the phone book
(d) Never noticing all those Oriental massage parlor ads at the bottom of the sports page
8. Actor Kevin James:
(a) Said in an online interview that he named his daughter "Shea" after Shea Stadium
(b) Is lucky he roots for the New York Mets, and not the San Diego Chargers
9. Los Angeles Clippers forward Elton Brand:
(a) Ruptured his left Achilles' tendon during a workout
(b) Could miss the entire upcoming NBA season
(c) Is not on the cover of "Madden NFL 2008"
(d) No, really -- not on the Madden cover
(e) All of the above
10. A 59-year-old German woman finally had a lifetime of headaches and nosebleeds end by:
(a) Having surgery to remove a pencil from inside her head that she fell on when she was 4 years old
(b) Finally deciding to stop rooting for the Cubs
11. According to The Orange County Register, facilities managers at Anaheim's Angel Stadium are:
(a) Dealing with a rodent infestation 13 times more severe than that of San Diego's Petco Park and Los Angeles' Dodger Stadium combined
(b) About as good at catching mice as Tom (of "Tom and Jerry")
12. In ruling that Kentucky's Jockey Club could legally bar a horse owner from naming his 4-year-old filly after famed Thomas Jefferson slave Sally Hemings, a federal appeals judge:
(a) Stated that the right to free speech is not absolute in all contexts
(b) Quoted Shakespeare's "what's in a name?"
(c) Cited lyrics from the band America's "A Horse With No Name"
(d) Dragged American jurisprudence one step closer to the inevitable day when Snoop Dogg's "Who Am I (What's My Name)" serves as binding legal precedent
(e) All of the above
13. The New York Post reported that "within minutes" of Yankees third baseman Alex Rodriguez hitting his 500th career home run:
(a) The YES Network ran an ad for a $129.95 commemorative bat
(b) WHAT?!
14. The Yankees fan who caught Rodriguez's 500th home run wants WFAN radio hosts Mike Francesa and Chris "Mad Dog" Russo to:
(a) Tell him what to do with the ball
(b) Tell him if he should ask that girl out, already
(c) Tell him if Persia can possibly be defeated
(d) Help him decide: paper or plastic?
15. In an interview with Baseball Prospectus, the guy who designs Bonds' arm brace claimed that:
(a) Bonds' arms have not grown in size since 1994
(b) Elvis is alive and living in Kalamazoo, Mich.
(c) Pete Rose never bet on baseball
(d) We have always been at war with Eurasia
16. After losing to the Pittsburgh Steelers in the Hall of Fame game, the New Orleans Saints should:
(a) Fire their coaching staff
(b) Turn over their entire roster
(c) Start evaluating who they want to select with the No. 1 overall pick in next year's draft
(d) Make a fist and smash the panic button, then welcome our new ant overlords
(e) We are talking about the National Football League. There is no such thing as overreaction
17. San Diego Padres broadcaster Ted Leitner says he prayed to God that:
(a) The Padres would decide to bring back those mustard-brown uniforms
(b) The team would finally release David Wells
(c) The team would never, ever sign Sidney Ponson
(d) He wouldn't have to call Barry Bonds' 755th or 756th home run
ANALOGIES
18. Robby Gordon : doing victory burnouts in Montreal
(a) Tracy McGrady : wonderful to be in the second round of the playoffs
(b) Stanford band : celebrating a 20-19 victory over Cal
(c) President Bush : mission accomplished
(d) All of the above
19. Cuba Gooding : "Daddy Day Camp"
(a) J.D. Drew : Red Sox
(b) Richie Sexson : Mariners
(c) Matt Morris : Pirates
(d) Sidney Ponson : Any team
(e) Seriously, didn't Gooding once win an Academy Award?
(f) all of the above
20. Dale Earnhardt Jr. : Red Snapper
(a) Babe Ruth : Sultan of Swat
(b) Lou Gehrig : The Iron Horse
(c) Joe DiMaggio : The Yankee Clipper
(d) Mickey Mantle : The Commerce Comet
(e) Terry Forster : Fat Tab of Goo
EXTRA CREDIT
21. An Iraqi insurgent group released a statement:
(a) Congratulating Iraq's soccer team for winning the Asian Cup
(b) Congratulating Iraq's soccer team for not getting blown up before they could win the Asian Cup
ESSAY QUESTION Esquire just named Tom Brady the best-dressed man in the world. Please explain how he could have received this honor over his coach, Bill Belichick.
ANSWER KEY: 1, a-b; 2, f; 3, c; 4, d; 5, b-a-c-d-e; 6, b; 7, a; 8, a; 9, e; 10, a; 11, a; 12, a, b and c; 13, a; 14, a; 15, a; 16, e; 17, d; 18, d; 19, f; Drew chose to sign with the Red Sox in what many predicted was a bad match; Sexson is highly paid and underproductive; the Pirates traded for Morris for no good reason; Ponson's career ERA matches the reviews for "Daddy Day Care"; yes, Gooding won an Oscar for "Jerry Maguire"; 20, e, assuming Kurt Busch's nickname for Earnhardt isn't one of affection; 21, a; Essay, As long as you mention the Yankees cap that Brady wears, you've correctly answered the question. Because nothing says fashion like a baseball cap.