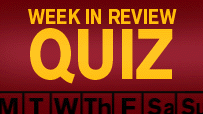 Paid attention to the week in sports -- and other stuff, like the righteous recovery of ill-gotten Joe Montana lithographs -- that was? Put your powers of observation and recall to the test with our weekly quiz!
1. O.J. Simpson:
(a) Got in trouble
(b) Got in trouble
(c) Got in trouble
(d) Got in trouble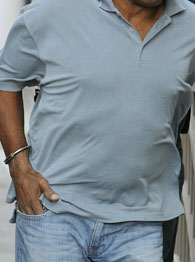 2. Identify the sports figure whose torso is shown at right:
(a) O.J. Simpson
(b) John Daly
(c) Wade Phillips
(d) Phil Mickelson
3. According to police, Simpson was the leader in an armed holdup of sports memorabilia collectors during which Simpson and other men took:
(a) Footballs autographed by Simpson
(b) Baseballs autographed by Pete Rose
(c) Pharmaceutical shipping labels autographed by Rick Ankiel
(d) VHS tapes autographed by Bill Belichick
4. Which of the following was supposedly said by Simpson and captured on an alleged audio recording of the holdup?
(a) "Don't let nobody out of this room! … Think you can steal my [expletive] and sell it?"
(b) "And you will know my name is the Lord, when I lay my vengeance upon thee!"
(c) "Man, move over and let me pass, 'fore they have be to pullin' these Hush Puppies out your [expletive] [expletive]!"
(d) "[Expletive] you, Mr. Han man!"
5. Speaking about the incident, which allegedly took place in a Las Vegas hotel room, Simpson told the Los Angeles Times:
(a) "I thought what happens in Las Vegas stays in Las Vegas."
(b) "I'm O.J. Simpson. How am I going to think that I'm going to rob somebody and get away with it?"
(c) Oh, Nordberg!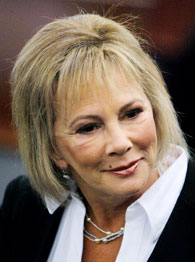 6. Identify the image at right:
(a) Entertainment Tonight special correspondent Marcia Clark
(b) Dallas Cowboys owner Jerry Jones
(c) Falkor the Luckdragon
7. A University of Florida student who approached the microphone during a speech by Sen. John Kerry was:
(a) Restrained and Tasered by police
(b) Someone still cares about John Kerry?
8. When Philadelphia Eagles quarterback Donovan McNabb told HBO that black quarterbacks face more pressure and criticism than their white counterparts, he was referring to:
(a) Jeff George
(b) Drew Bledsoe
(c) Joey Harrington
(d) Rex Grossman
(e) None of the above
9. Duke football:
(a) Won a game
(b) Seriously
(c) Swear to God
(d) Fine. Look it up, already.
10. During a visit to the headquarters of the National Security Agency, President Bush:
(a) Called for an expansion of federal eavesdropping powers
(b) Asked where they were hiding their detailed notes on Eric Mangini
11. New England Patriots coach Bill Belichick:
(a) Broke NFL rules and ignored previous league warnings by illegally videotaping the New York Jets' coaching signals
(b) Is quite happy to discuss LaDainian Tomlinson, Dan Fouts, or even those kick-ass powder blue jerseys
(c) Didn't literally dip into Richard Nixon's playbook, unlike George Allen, so give the guy a break, OK?
(d) Is afraid the deflector shields will be quite operational when your friends arrive
12. The NFL punished Belichick and the Patriots by:
(a) Stripping them of a high-round 2008 draft pick
(b) Fining Belichick $500,000
(c) Fining the team an additional $250,000
(d) Doing nothing, because watching anything related to Chad Pennington attempting to throw a 20-yard out is punishment enough
13. The Patriots punished Belichick by:
(a) Forcing him to issue a sincere public apology not written by lawyers
(b) Making him wear a collared shirt on a day that he isn't getting paid to give a motivational speech to corporate executives
(c) Requiring that he conduct all future illegal spying via Betamax
(d) Extending his contract through at least the 2013 season
14. According to Fox Sports, NBC and other news outlets, Belichick and the Patriots:
(a) Possibly had microphones installed in defensive linemen's shoulder pads in order to tape opponents' line calls and audibles
(b) Might have stolen playbooks from opponents' dressing rooms
(c) Are suspected of sabotaging opponents' sideline-to-booth and coach-to-quarterback communications equipment
(d) Were this close to catching Osama Bin Laden at Tora Bora
15. Who looks better in fishnets and heels?
(a) Oscar De La Hoya
(b) Britney Spears
(c) None of the above
(d) Zee goggles! They do nothing!
16. Which of the following is the probable cause of more than a dozen people suffering heat exhaustion during the first football game at the University of Central Florida's $55 million new stadium?
(a) The stadium not being domed
(b) The stadium being located Orlando, where the average September high is 89 degrees
(c) The human body being about 60 percent water and needing at least 2.5 liters of water intake per day for proper hydration
(d) The stadium reportedly not having water fountains
(e) All of the above
17. According to testimony in the sexual harassment case brought by former New York Knicks executive Anucha Browne Sanders against Isiah Thomas, the coach:
(a) Called Sanders a "bitch," an "[expletive] bitch" and a "ho"
(b) Embraced Sanders after a team victory and told her, "I'm in love with you. It's like love and basketball."
(c) Described Sanders as "easy on the eyes" at an open practice and whined, "No love today?" after Sanders rejected his attempt to hug and kiss her
(d) Is smoove with the ladies
18. In a videotaped deposition, Thomas said:
(a) It's acceptable for a black man to call a black woman "bitch"
(b) It's not acceptable for a white man to call a black woman "bitch"
(c) a and b
(d) He really misses "Def Comedy Jam"
19. Under cross-examination, Sanders admitted she:
(a) Filed fraudulent tax returns from 2001 to 2004
(b) Claimed to have a nonexistent marketing business and wrote off up to $19,000 a year in fake expenses
(c) Is exactly the sort of employee you'd expect to find in a well-run place like the Knicks' front office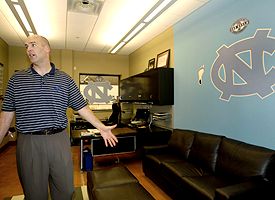 AP Photo/Jamie-Andrea Yanak
20. The adjacent picture of Cleveland Cavaliers general manager Danny Ferry standing in his new office is funny to:
(a) North Carolina fans, because Ferry is a former Duke player and his office was painted as a prank
(b) Duke fans, because people looking at the picture might associate North Carolina with Danny Ferry
21. After spending more than $750,000 on Barry Bonds' record-breaking home run ball, fashion designer Marc Ecko said he will let the public vote on whether to:
(a) Give the ball to the Hall of Fame
(b) Brand the ball with an asterisk
(c) Blast the ball into space
(d) Marc Ecko has a spaceship? Awesome
22. During halftime of a 38-0 loss to Michigan, Notre Dame coach Charlie Weis reportedly told his team:
(a) "The odds of winning the game when you're down 31-to-nothing when on the road at Michigan are slim to none."
(b) "Yeah, I said 'slim.' "
(c) "Stop snickering."
Analogies

23. Cincinnati Bengals receiver Chad Johnson : leaping into the Dawg Pound
(a) Geraldo Rivera : opening Al Capone's vault
(b) Dean Kamen : unveiling the Segway
(c) The XFL : playing actual games
(d) All of the above
24. Lloyd Carr : BFF with Russell Crowe
(a) O.J. Simpson : appearing in picture with J. Edgar Hoover
(b) Paulina Porizkova : marrying Rick Ocasek
(c) Don Rumsfeld : shaking hands with Saddam Hussein
(d) All of the above
25. God : healing Jon Kitna's concussion
(a) God : letting there be light
(b) God : parting the seas
(c) God : stone tablet-making
(d) None of the above
26. University of Colorado : banning beer sales at Coors Arena
(a) Congress : banning lawmaking in Capitol building
(b) Pope : banning prayer at Sistine Chapel
(c) Cable news : banning uninformed jibber-jabber
(d) All of the above
Extra credit

27. The Sri Lanka cricket team set an international record by notching a 172-run victory over:
(a) Kenya
(b) Notre Dame
(c) The Cincinnati Bengals' secondary
(d) Eric Gagne
28. A South Carolina prison inmate:
(a) Filed a lawsuit claiming NASCAR driver Jeff Gordon drops Tic Tacs and oil on the track to wreck other drivers, uses chemical weapons to poison fans and plans to put wings on his car and "fly it into Fort Knox"
(b) Has previously filed suits against George Bush, Elvis, the CIA, Michael Vick, Don Imus and Barry Bonds, who he claims cracked the Liberty Bell with Hank Aaron's bat
(c) Has never even met Gary Sheffield
29. According to the Baltimore Sun, former NFL player and coach Mike Ditka:
(a) Helped write a country song about aging pro football players that will be sold on a benefit CD
(b) Penned the lyrics on toilet paper with a blue Sharpie
(c) Performs a "rap-like voiceover" during an interlude in the song
(d) All of the above
(e) Rhymes "if your ho only know" with "Broadway Joe," and "bend ya knees" with "pensions, please"
30. A Puerto Rican racehorse:
(a) Suffered her 125th consecutive loss, believed to be a horse racing record
(b) Probably is not managed by Michael Vick
(c) Would like you to consider using staples and/or duct tape for your binding and adhesive needs
(d) Just had her Duke football scholarship offer rescinded
Essay question

As part of his prepared statement apologizing for illegally videotaping opponents' coaching signals, Belichick claimed:

"Part of my job as head coach is to ensure that our football operations are conducted in compliance of the league rules and all accepted interpretations of them. My interpretation of a rule in the constitution and bylaws was incorrect."
In 800 words or less, determine whether the above is:
(a) A statement of genuine remorse and soul-rending anguish that indirectly mirrors the ongoing philosophical and judicial debate between Originalists and Living Constitutionalists
(b) Smarmy, contemptuous weasel-speak
ANSWER KEY: 1, a-d, it happens every year!; 2, a; 3, a-b; 4, a, but d would have been badass; 5, a-b, and what has the world come to when the Juice has his own material?; 6, a; 7, a, and frankly, we didn't even know John Kerry was still alive; 8, e; 9, a-d, go ahead and click through; 10-11, a, and can't you just picture Belichick ending his Roger Goodell conversations with a "so be it ... Commissioner"?; 12, a-c, Belichick's a genius, which means he's smart enough to fast forward through any Pennington footage; 13, d, and that'll learn 'em!; 14, a-c, at least until Robert Kraft acquires a fleet of unmanned Predator drones; 15, c, the horror, the horror; 16, e, hopefully they remembered to install toilets; 17, a-c; 18, c, Zeke said nothing about white people dancing funny; 19-20, a-b; 21, a-c; 22, a; 23-26, d, and yes, we know, you could sub "Page 2" for "Cable news" and not miss a beat; 27, a, the others would do way worse; 28, all answers valid, surprisingly; 29, d; 30, a; ESSAY QUESTION: Any variation of "b" is acceptable, and if you can somehow pull off "a," we implore you to stop wasting time at ESPN.com and get back to proofing Justice Scalia's latest opinion, mmmkay? Thanks.
Patrick Hruby is a columnist for Page 2. Sound off to Patrick here.