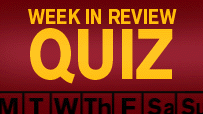 Paid attention to the week in sports -- and other stuff, like the recent play of the New York Mets -- that was? Put your powers of observation and recall to the test with our weekly quiz:
1. Which of the following is an actual headline from the past week?
(a) Sex Life Of Jumping Spiders Continues To Surprise Scientists
(b) Man Finds Human Leg In Smoker Purchased At Auction
(c) Milton Bradley Tears ACL Arguing With Ump
(d) All of the above
2. Suspended Atlanta Falcons quarterback Michael Vick:
(a) Was indicted on dogfighting charges by a Virginia grand jury
(b) Tested positive for marijuana
(c) Has been sued by the Royal Bank of Canada for defaulting on a $2.5 million loan
(d) Can't understand all the fuss over O.J.
3. Which of the following is NOT one of the conditions placed on Vick by a federal court after his positive drug test?
(a) Daily restriction to his residence from 10 p.m. to 6 a.m.
(b) Electronic monitoring of his location
(c) Being subject to any method of drug testing at any time
(d) Being chained to a post in his backyard, then starved, the better to make him tough and vicious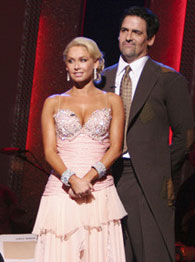 ABC
ZZ Top was right -- every girl is crazy about a sharp dressed man.
4. Identify the image to the right:
(a) A villain from the next "Batman" movie
(b) Peter Pan, experimenting with facial hair
(c) A painting from David Stern's art therapy class
(d) Dallas Mavericks owner Mark Cuban
5. AOL Sports users:
(a) Voted hot rod racer Ashley Force winner of a "Hottest Athlete" poll
(b) Obviously haven't seen Oscar De La Hoya in fishnets and a pink miniskirt
6. Which of the following is the MOST surprising?
(a) Mike Tyson pleading guilty to DUI and drug possession
(b) Florida State announcing that 23 student-athletes engaged in "academic dishonesty"
(c) Actor James Woods claiming that O.J. and Nicole Simpson once propositioned him for a threesome
(d) Notre Dame losing again
(e) Rex Grossman getting benched
(f) None of the above
7. When Notre Dame coach Charlie Weis said, "You keep going until there's a payoff," following a 31-14 loss to Michigan State, he was referring to:
(a) Notre Dame's upcoming game against Purdue
(b) Notre Dame's juicy TV deal with NBC
(c) Notre Dame's November game against Duke
(d) A, even though B and C are far more plausible
8. Which of the following was NOT among the items reportedly seized by authorities in the Simpson armed robbery and kidnapping case?
(a) Game balls
(b) Signed photographs
(c) Neckties
(d) A MENSA membership card
9. Ohio State football player Antonio Henton was arrested and charged with:
(a) Soliciting a prostitute
(b) Failing to understand that 49.9 percent of Ohio State's nearly 52,000 students are, in fact, female, and that he is, in fact, a quarterback on the school's highly ranked football team
10. According to banned cyclist Floyd Landis:
(a) Arbitrators upholding his flunked drug test only proves that the entire anti-doping system is corrupt
(b) Sen. Larry Craig's guilty plea only proves that he is innocent
(c) The NFL's quick destruction of the Patriotgate spy evidence only proves that it was an isolated, one-time incident and that the matter now is closed
(d) We have always been at war with Eurasia
11. The coach of Oklahoma City's minor league hockey team helped prevent a State Fair horse stampede by:
(a) Biting a horse on his ear
(b) Bad. Ass.
12. The Vancouver city council reportedly:
(a) Banned Ultimate Fighting because the sport is too violent
(b) Banned boxing because the sport is too violent
(c) Banned the Vancouver Canucks because hockey is too violent
(d) Banned the BC Lions because football, even Canadian football, is too violent
(e) Just A
13. Australian cricket star Shane Warne:
(a) Reportedly sent a text message to his wife that was intended for his mistress
(b) Said in that message, "Hey beautiful, I'm just talking to my kids, the back door's open"
(c) A and B
(d) Must have been sleeping around with an English teacher, because he actually bothered to punctuate a text message
14. English soccer officials are investigating new Chelsea coach Avram Grant's credentials because:
(a) He reportedly does not have the UEFA coaching license required by the Premier League
(b) Norv Turner is lucky he coaches the other type of football
15. Grant's wife, Tzofit, hosts an Israeli talk show on which she has:
(a) Bathed in liquid chocolate and spaghetti
(b) Drunk her own urine
(c) Received a spanking from a sadomasochist, whom she subsequently punched in the face
(d) All of the above
(e) And to think that Oprah is the one with her own magazine
16. Auburn basketball player Frank Tolbert was arrested for:
(a) Jumping a fence at a car lot to retrieve his SUV, which had been towed and impounded
(b) Subsequently driving his SUV through the lot's metal fence
(c) A and B
(d) Inadvertently demonstrating that America would be better off replacing the proposed 700-mile Mexican border fence with a flaming moat, manned by fireproof dragons
17. According to a British newspaper, actress Angelina Jolie:
(a) Gives her son Maddox $50 every time he loses a tooth
(b) Rues the day she introduced Maddox to Scott Boras
(c) Still wouldn't dream of handing Washington Redskins receiver Brandon Lloyd a $10 million signing bonus. Are you out of your mind?
18. Detroit Lions wide receiver Roy Williams told a Detroit-area radio station that he:
(a) Is a cheap date and content to eat at McDonald's
(b) Does not tip pizza delivery guys
(c) Might take a date who "wants to go somewhere nice" to Red Lobster or a casino's free buffet
(d) All of the above
(e) Is totally cool with being single
19. A Florida woman claiming to be the ex-girlfriend of Orlando Magic guard J.J. Redick claimed that Redick's brother, David, left her threatening phone calls and text messages and told her:
(a) "You will be sought after, and you should be scared"
(b) "Hey, you wanna hear J.J.'s latest poem?"
20. As part of a prearranged agreement with his pitching coach, Chicago White Sox pitcher Mark Buehrle was allowed to skip his final start because he:
(a) Killed a 200-pound black bear with a bow during a hunting trip with teammates
(b) Brought back the head of Alfredo Garcia
(c) Trapped the Erymanthian Boar, stole the Girdle of Hippolyte and left the Augean Stables spotless
(d) Scored a perfect 3,333,360 points playing Pac-Man
21. According to CBS NFL analyst Charlie Casserly, the league released a memo ordering teams to prevent cheerleaders from:
(a) Warming up and/or doing anything distracting in front of the visiting team's bench
(b) Note to self: Do not buy season tickets behind visiting team's bench
ANALOGIES

22. Notre Dame : finally scored a touchdown!
(a) Star Wars Episode I : nominated for best sound-mixing Oscar!
(b) Iraq occupation : making progress in Anwar!
(c) Tampa Bay Rays : stylish new name and logo!
(d) All of the above
23. Oklahoma State football coach Mike Gundy : I'm a man!
(a) Dennis Green : The Bears are who we thought they were!
(b) Jim Mora : Playoffs?
(c) Howard Dean : Going to New Hampshire, South Carolina, various other states
(d) All of the above
24. Greg Ryan : starting Brianna Scurry
(a) San Diego Chargers : drafting Ryan Leaf
(b) Coca-Cola : introducing New Coke
(c) Britney Spears : appearing on 2007 VMA's
(d) All of the above
25. Boston Red Sox owner John Henry : paying $16 million for a house he plans to tear down
(a) Henry : paying $70 million for J.D. Drew
(b) All of the above
EXTRA CREDIT

26. An Indiana couple with the last name of Fields named their newborn son:
(a) Wrigley
(b) Center
(c) Strawberry
(d) Burning Iraqi Oil
27. Which of the following lines did New York Knicks guard Stephon Marbury reportedly use to seduce a team intern into having a sexual encounter in the back seat of his SUV?
(a) "Are you going to get in the truck?"
(b) "Hey beautiful, I'm just talking to my kids, the back door's open."
(c) "Who wants to sex Marbury tonight?"
(d) "I have to be able to give the teachers the tools that they need to be able to help the little kids. I can't give them what they need if they ain't got it."
28. Fashion designer Marc Ecko announced Barry Bonds' record-breaking home run ball will be:
(a) Branded with an asterisk
(b) Sent to the Hall of Fame
(c) Shot into space
(d) A and B. Sniff
ESSAY QUESTION
A spokeswoman for Tom Cruise denied reports that the actor is planning to build a 10-person, multimillion-dollar survival bunker under his Colorado mansion, the better to survive an attack on Earth from evil deposed galactic warlord Xenu. In 800 words or less, explain what it says about Cruise that his spokeswoman has to publicly deny this sort of report in the first place.
ANSWER KEY: 1, d; 2, a-c, apparently Vick found God while filling out a High Times subscription card; 3, d; 4, d, although a would be awesome; 5, a-b, really, Oscar is just that pretty!; 6, f, and if you find any of this surprising, you probably think Iran doesn't have gay people and/or is pursuing its nuclear program for strictly peaceful purposes; 7, a or d; 8, d, and on the plus side, no bloody gloves, either; 9, a, and in the words of Bill Walton, come onnnn; 10, a, now please shut up and go away; 11, a or b; 12, a or e; 13, c, smooth work, Mr. Bond; 14, a; 15, d; 16, c, everyone knows dragons aren't fireproof; 17, a; 18, d, though after watching the moronically conspicuous consumption on "Kimora: Life In The Fab Lane," we're sympathetic to Williams, and also understand why the terrorists hate us; 19, a, 'cause b is just too horrifying to contemplate; 20, a, 'cause d is downright impossible; 21, a, stupid No Fun League; 22-24, d; 25, b, and he probably gives kids $50 for lost teeth, too; 26-27, a; 28, d; ESSAY QUESTION: Any variation of, "I miss crazy Cruise," "Tom Cruise will see you in Harlem," " 'MI: Quattro' is coming out already?" or "Cruise, Katie Holmes, the Beckhams and Dan Snyder will be the only people to survive the end of the world as we know it? Humanity is royally screwed," is acceptable.
Patrick Hruby is a columnist for Page 2. Sound off to Patrick here.