Michael Vick is going away. But not forever. Which begs the question: Can the Atlanta Falcons quarterback use his 23 months of federal prison time as a springboard to a possible NFL comeback?
More to the point, can he stay in anything remotely resembling football game shape while pumping iron in the yard and scarfing jailhouse tater tots?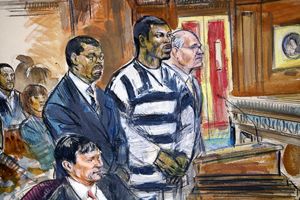 AP Photo/Dana Verkouteren
It's not terribly difficult to stay in shape when you have constant assistance from coaches and trainers. It's quite another matter in prison, with a restricted diet and poor workout equipment.
Page 2 asks the questions so you don't have to:
What kind of shape can someone such as Michael Vick stay in while behind bars?

Teddy Atlas, boxing trainer: I trained a heavyweight, Art Tucker, who had been incarcerated for 12 years.
Did most of his time in Rahway, N.J. (East Jersey State Prison). He came out and went into a professional career. He was in very good shape, which of course is not hard to do while you're incarcerated. Not to make fun of it, but you have plenty of time on your hands.
Dave "Jumbo" Palumbo, pro bodybuilder, former federal inmate and author of "Perfect Prison Physique": When I first got to prison, I thought it would be impossible to maintain my muscle. And I lost a lot of weight initially. But after a while, once you get used to the system there, you can adapt to anything.
Abdul-Karim al-Jabbar, personal trainer and former NFL running back: To be quite honest? With some guidance, and if Vick is really serious, I believe he could make his body incredible. Ten years in prison would be too much. But in 20 months, it's possible his body could be stronger than it's ever been.
Right, so besides being in prison, what's the downside?

A trainer who works with NFL players: I've worked with guys who have been out of the league for only a year. Their skills erode. You can't replicate doing things at game speed, being in an environment where you're being coached. It's one thing to be in shape, and another to be in football shape at the NFL level. It's going to be an uphill battle.
Atlas: One advantage fighters used to have is that in some prisons you could actually box. They've done away with that. And there's no substitute for practicing your sport, no replacement for the timing, the mental and emotional and physical pressures that the sport brings. You can't forge making the right mental and physical choices, and that has to be forged.
al-Jabbar: I think he has the natural ability to come back and play the game, but not at the level he played it before. I don't see him getting that speed back, running around and doing the things he was able to do.
In terms of being a quarterback who throws the ball, there's a chance for him.
Where does Vick start?

A trainer who works with NFL players: First and foremost, he's gonna need to eat three square meals a day. Stay hydrated. That's the simplest thing. But is he going to want to eat? Is he depressed? There's a mental aspect. And how is the food?
Michael Truman, spokesman, Federal Bureau of Prisons: Inmates' diets are basically taken from military recipes, formulas for large groups of individuals.
Palumbo: The hardest part is eating healthy. Most of the food is horrible.
Truman: A typical breakfast would be like fruit, cereal, muffin, milk, coffee and tea. Lunch would be a fish sandwich, potato chips, vegetable, fruit, a fruit drink of some sort. Dinner would be soup, baked chicken, a vegetable, fruit.
Palumbo: They provide a lot of carbohydrates, but not much protein. Once a week, they had chicken night. That was good. But it's random. You get there last to the meal hall, and you wind up eating the chicken legs. The early guys get the breasts. Also, they have a ton of beans -- but if you eat too much, you'll fart your brains out.
Truman: Some items are rationed. Meat is rationed.
Palumbo: What I did was buy chunk tuna packets at the commissary. Thirty grams of protein, and they cost like 90 cents. I ate seven a day. I would eat it with my oatmeal in the morning. When you're starving, it's delicious. I always say, if there's mercury in tuna, I'm either going to die of poisoning, or I've become totally immune. Once or twice a week, they have hamburger night, too. Problem is, you only get one patty. Unless you work in the kitchen. That's what I did. That's what I'd recommend for Vick.
Will Vick be able to pump iron in jail?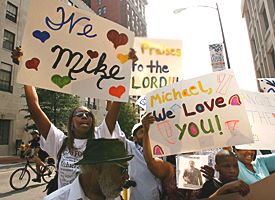 Win McNamee/Getty Images
Michael Vick still has plenty of supporters, but his conditioning while in prison will be completely up to him.
Palumbo:
The prison I was in actually had some free weights. They were outside. In winter, we'd wear jackets; during the summer, we'd be sweating our [expletive] off. They weren't the greatest weights.
Truman: Public law prohibits the introduction of any equipment into a federal prison. Equipment that was already in there is allowable. Repairs are prohibited with exception of immediate life safety. The law went into effect around 2002, maybe even further back than that.
Palumbo: They think the inmates are going to get too big for the corrections officers and overpower them. A lot of these facilities have no weights at all. So guys do push-ups, pull-ups. In some places they make their own weights -- you'll see them bench-pressing a broomstick with two water-filled garbage bags -- or use other people as weight.
al-Jabbar: You don't need weights. I could make a whole routine with just a towel, something so dynamic and unconventional you'd build core strength, strength in places you've never even had to use before. It's all about your mind and how focused you are.
What else can Vick do to stay fit?

Truman: There's usually an outdoor or an indoor area to exercise. A track. Basketball courts. Maybe an area with stationary bikes.
Palumbo: The amateur sports they had in my prison -- the softball league, the touch football league, organized basketball leagues -- it was a high level of competition. You'd have to be a semipro athlete to compete with some of these guys. Sometimes they'd bring in basketball teams from the local community colleges. Our team would always win. Once Vick starts making friends, they're going to love having him, want him to play everything. They're going to fight over him. They like to win.
Especially against the all-guard team, right?

Palumbo: Nah, nah, That's TV movie stuff. But I have news for you: These guys do get hurt. If I were Vick, I'd be careful. He could blow out a knee!
How much time will Vick have to work out?

Truman: All inmates have to work at a job. A typical day in prison goes like this:
• 6:00 a.m. -- Lights on
• 6:30 -- Breakfast
• 7:00 -- Work call
• 11:00 -- Lunch
• 3:30 -- End of work day
• 5:00 -- Dinner
• 9:00 -- Compound closes
Between five and nine is when inmates would have the opportunity to go to the different recreation areas.
al-Jabbar: The thing Vick could possibly benefit the most from is the regimen. The body is very good with that. If he has to eat at the same time and sleep at the same time and do all these other things at the same time, he could see better results than somebody just out on the street.
Palumbo: I took a morning job, worked at 6 a.m. But you have to understand: in jail, work is like watching grass grow. You gotta be there, but there's not much work involved. I was responsible for mopping about a 4 foot by 4 foot area of the floor. And even if you're working five hours, what else are you doing the rest of the day?
Can Vick stay motivated?

A trainer who works with NFL players: That's going to be his biggest challenge. Mentally, can he stay with this? You're taking away football, something that defines him and has been with him since he was a kid. Now he doesn't have that, and he's isolated. No teammates, no coaches, no trainer. That's hard. Even though these guys are playing at the highest level, they need to be coached and motivated.
al-Jabbar: A lot of guys have never learned how to take care of themselves on their own. They do it with the team. Once they're out of the game, they completely stop. And once you do that, your body deteriorates so much more rapidly than a recreational athlete. Your body is used to such a high level of stress that once your remove it, a certain amount of atrophy kicks in. The tendons and ligaments change.
Palumbo: There were certain days where I'd say to the guys I was friends with, something is [expletive] up, I just feel really weird. Turns out there's this level of stress that is on you at all times when you're in prison. You may not be aware. You block it out. Most people do, because you can't deal with it. But it's there all the time, and your resistance gets weak and you feel it and get depressed. It may hit a guy like Vick more because he was on top of the world, and now he has to take orders from people.
Suppose Vick does his time, keeps himself fit and is allowed to return to football. Then what?

A trainer who works with NFL players: Personally, I think he can pick up his skills again. He's relatively healthy and still young. Michael's biggest problem will be picking back up the speed of the game. That speed continues to move and go. And he'll be older.
Atlas: When Art [Tucker] came out, he wasn't used to the level of competition he would get in the gyms. Some of it was physical, the pace and speed. But mentally and emotionally, he just hadn't been asked the kind of questions that good competition forces you to answer. He suffered with making choices under pressure.
al-Jabbar: When I played with Dan Marino, he had undergone so many surgeries by that point that he could barely move in the pocket. But he was so savvy, he only needed to move a few inches to be able to play. I don't think Michael ever developed those pure quarterback skills. He relied on his legs. If anybody has a shot at this, it's him, because of how talented he is. But how long will he be out? Three years? Once he's out of prison, it could take him another three years to really get back in the game.
Patrick Hruby is a columnist for Page 2. Sound off to Patrick here.