Commentary
NFL Preseason Hall of Fame, Part 2
Originally Published:
September 2, 2010
By
Patrick Hruby
| Page 2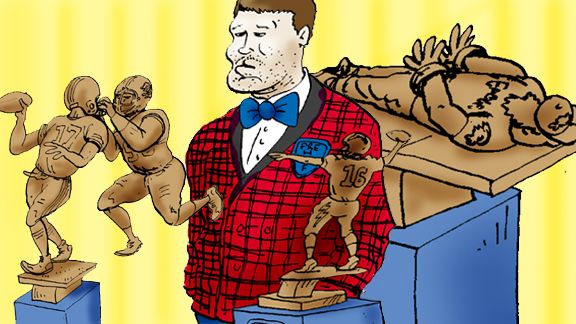 Kurt Snibbe/ESPN.com
Meaningless exhibition games? Not to us. And definitely not if Ndamukong Suh nearly decapitates you.
Page 2 recently introduced its NFL Preseason Hall of Fame -- a way to honor pro football's tired, huddled training camp masses, desperately attempting to avoid serious injury, yearning for roster spots, game-day checks and maybe, just maybe, a bit of recognition.
Our rationale? So long as team owners continue to charge regular-season prices for preseason football, the league's warm-up period ought to count for something.
(Besides, there already are halls of fame for cowgirls, Canadian cartoonists and sports mascots. So why not the NFL's silly season?)
After inducting our inaugural class of individuals, teams and entities with the greatest impact on August -- including Steve Spurrier, A.J. Trapasso and the 2008 Detroit Lions -- we invited readers and contributors to suggest additional exhibition superheroes whom we overlooked.
Herein the best of your suggestions comprise the second class of the NFL Preseason Hall of Fame:
Ryan Leaf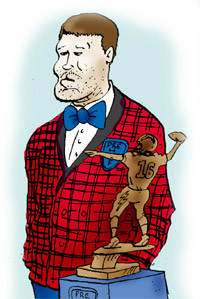 Position: Enfant terrible. Also, quarterback
Team: San Diego Chargers
Preseason bio: Believe! The can't-miss, No. 2 overall pick in the 1998 draft was an exhibition star. Well, maybe not a star. But uncharacteristically competent. In four exhibition games, the rookie Leaf completed 49 of 81 passes (60.5 percent) for 580 yards, two touchdowns and two interceptions -- one of which wasn't his fault, as it first bounced off receiver Webster Slaughter's pads. Leaf also ran for two more scores. More surprising? After San Diego beat Indianapolis 33-3 in a preseason game that saw fellow rookie Peyton Manning toss two picks, an actual New York Times headline read "Leaf Outduels Manning." As we said: believe!
Non-preseason bio: As a regular-season starter, outdueled Manning in only pouting, throwing interceptions and being out of football, becoming arguably the biggest bust in NFL history -- apologies to JaMarcus Russell, who is inarguably literally bigger.
Harry Sydney
Position: Fullback
Team: Seattle Seahawks
Preseason bio: How impressive was Sydney's preseason performance against the San Francisco 49ers in 1980? So impressive that legendary then-Niners coach Bill Walsh ultimately gave Sydney a job ... seven years later. Seattle's final preseason cut in '80, Sydney worked odd jobs -- cook, pizza deliveryman and forklift operator -- for two years before playing in the United States Football League and Canadian Football League. Back to driving a forklift in 1987, he mailed his résumé to every NFL team. Only Walsh invited him for a tryout, and Sydney ultimately made the team.
Non-preseason bio: Sydney later was named San Francisco's special-teams captain for Super Bowl XXIII. He's also the only player in NFL history to catch a touchdown pass from Joe Montana and Brett Favre. Not bad for a pizza guy!
Ndamukong Suh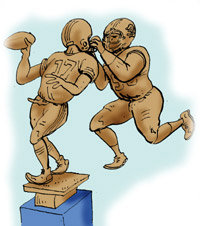 Position:
Defensive tackle
Team: Detroit Lions
Preseason bio: In the film "Conan the Barbarian," a young, loincloth-wearing Arnold Schwarzenegger is asked, "What is best in life?" To which he responds, "To crush your enemies, see them driven before you, and to hear the lamentation of their women." Were "Conan" remade now, I do not believe he would answer the same way. Or say anything at all. I believe that he would simply do this.
Non-preseason bio: Luckily for Jay Cutler, Aaron Rodgers and Brett Favre, it's currently incomplete.
The 1967 Kansas City Chiefs
Position: AFL standard-bearers
Team: In hindsight, a very good one
Preseason bio: After Kansas City's bitter, humiliating 35-10 loss to the Green Bay Packers in Super Bowl I -- a game that reinforced the widespread belief that the AFL was inferior to the NFL -- the Chiefs were looking for payback. They found an opportune target in George Halas and his Chicago Bears. Up 60-24 in the fourth quarter with the ball on the goal line and the clock running down, the Chiefs didn't take a knee -- they called timeout, then scored again when quarterback Pete Beathard tauntingly walked a naked bootleg play into the end zone. Who doesn't like a little good ol' fashioned, gratuitous, by-proxy score settling?
Non-preseason bio: The Chiefs failed to reach Super Bowl II, but with the pretty much the same core -- coach Hank Stram, plus Hall of Famers Len Dawson, Jan Stenerud, Bobby Bell, Willie Lanier and Emmitt Thomas -- they defeated the Minnesota Vikings in Super Bowl IV.
Rich Martini
Position: Wide receiver
Team: Oakland Raiders
Preseason bio: A former college baseball player, Martini was a preseason pass-catching force for the Oakland Raiders in 1979 and '80, never more than ... hey, you know what? It doesn't even matter what Martini did. He makes the Preseason Hall of Fame entirely on the basis of his amazing name. Seriously: Rich Martini. That's game show host-worthy.
Non-preseason bio: Caught 33 passes for 367 yards and two touchdowns in three NFL seasons, which makes him statistically comparable to Darrius Heyward-Bey. Also inducted into the UC Davis Baseball Hall of Fame. We're not making that up.
Philadelphia Eagles fans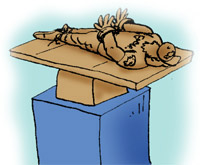 Position:
Filling Veterans Stadium. Including
the in-stadium courtroom
!
Team: The Eagles. Either cheering or booing, flip a coin.
Preseason bio: After a 2001 Ravens-Eagles preseason game was postponed -- and later canceled -- thanks to artificial-turf problems that made the Vet's notoriously ragged field unplayable, Eagles fans smashed will-call windows and other areas outside the stadium, with six people ultimately being arrested for unruly behavior. Who says the preseason doesn't count?
Non-preseason bio: From getting doused with pepper spray at opposing stadiums to infamously whipping ice balls at Santa Claus, Eagles fans always are in regular-season form. Feel the brotherly love!
David Clowney
Position: Wide receiver
Team: New York Jets
Preseason bio: Current Jets pass-catcher might not make the team's opening day roster. So what? Clowney runs fast in a straight line with the best of 'em best of other clubs' second-and-third stringers, having caught touchdown passes of 73, 71, 70 and 50 yards during the past three preseasons. Put him in the UFL, and he's Randy Moss.
Non-preseason bio: Despite having just 15 catches for 217 yards and a single touchdown in three NFL seasons, Clowney has a fairly elaborate official personal website.
Christopher Ivory
Position: Running back
Team: New Orleans Saints
Preseason bio: Undrafted rookie runner made like an exhibition Gale Sayers during this spectacular 76-yard catch-and-run, the finest non-Suh, non-Victor Cruz play you'll see this preseason.
Non-preseason bio: Doesn't matter. If Ivory actually makes the final roster of the defending Super Bowl champs, he already will have accomplished something special. Well, probably not as special as that run. But still.
Cartoon illustrations by Kurt Snibbe.
Special thanks to Sheldon Spencer, Tom Gower, Thomas Neumann, the Football Outsiders and Page 2 readers for contributing to this article.
Patrick Hruby is a freelance writer and ESPN.com contributor. Contact him at PatrickHruby.net.