Commentary
Who was bigger abroad than stateside?
Originally Published:
October 7, 2010
By
Patrick Hruby
| Page 2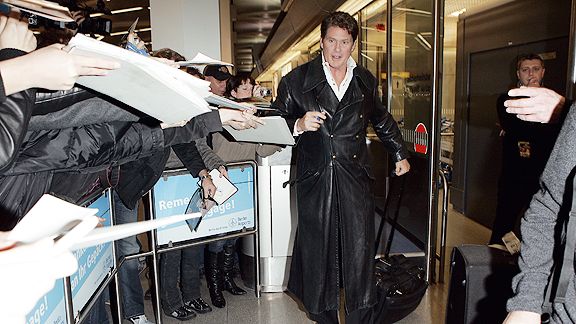 Toni Passig/FilmmagicSinger/actor David Hasselhoff arrives in Berlin, Germany, and people actually want his autograph.
When former major leaguer Matt Murton broke Japanese baseball's record for the most hits in a single season this week, he didn't just top Ichiro Suzuki -- he joined the illustrious list of American athletes who were Big in Japan.
What does it mean to be Big in Japan? Literally speaking, the phrase applies to Western rock bands who failed in the United States and the U.K. but were successful in Japan; liberally speaking, the phrase can be applied to anyone who floundered at home but soared abroad.
With that in mind, Page 2 presents a short list of individuals who were better over there than here:
Tuffy Rhodes
Over here: Best remembered for hitting three opening day home runs off Dwight Gooden in 1993 -- approximately 23 percent of the 13 total homers Rhodes swatted over a six-year major league career that saw him bat .224 with 44 RBI.
Over there: Eleven years in Japanese baseball yielded 474 home runs, 1,292 RBI and Pacific League MVP honors in 2001, when Rhodes bashed 55 home runs to tie Sadaharu Oh's single-season record. Also, Rhodes earned his own Japanese cheering song.
Milt Stegall
Over here: In three seasons with the Cincinnati Bengals, caught four passes for 43 yards and one touchdown.
Over there: The Jerry Rice of Canadian football, Stegall played 14 years for Winnipeg and retired in 2008 as the CFL's all-time leader in receiving yards and touchdowns scored; more impressively, he was once named the league's best-looking man and was quoted as saying, "there's only six guarantees in this world. Death, taxes, trouble, Milt Stegall being on time, Milt Stegall being pretty, Milt Stegall being in tip-top shape. There are only six guarantees." Eat your heart out, T.O.!
Bob Sapp
Over here: Over four-year pro football career, appeared in a single NFL regular-season game; defeated Refrigerator Perry in a televised toughman boxing bout.
Over there: Enjoyed success in Japanese pro wrestling, MMA and kickboxing circuits, most notably by defeating four-time K-1 champion Ernesto Hoost; also in Japan, endorsed numerous products, wrote three best-selling books and released a hit album. According to an ESPN.com report, it was "not uncommon for fathers to phone Sapp, offering up their daughters in marriage."
David Hasselhoff
Over here: "Knight Rider" star, "Baywatch" auteur, national punch line.
Over there: Respected as a vocal artist -- at least in Germany, where he had two No. 1 singles.
Randy Bass
Over here: Six years as a major league bench player.
Over there: Tuff-er than Tuffy Rhodes, Bass won the Japanese league batting Triple Crown in 1985 and 1986, led the Hanshin Tigers to a league championship and fell one home run short of breaking Oh's single-season home run record when a Japanese pitcher threw only intentional walks to Bass in the final game of the '85 season.
[+] Enlarge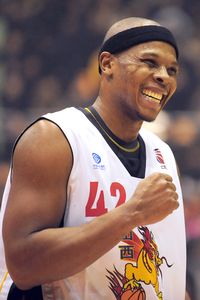 Frederic J. Brown/Getty ImagesFormer NBA star Bonzi Wells is having a better career in China.
Dave Livingston
Over here: Boston College forward played one season of minor league hockey.
Over there: Over eighteen-year career in European hockey, tallied 673 goals and 703 assists while winning Dutch League MVP award in 1995.
Marcus Brown
Over here: Shooting guard averaged four points per game in one season with the Portland Trail Blazers; also played six games for the Detroit Pistons.
Over there: Two-time MVP of the Russian, Turkish and French basketball league (six MVPs total); won French, Spanish, French, Turkish, Russian, Lithuanian and Israeli national championships.
Damon Allen
Over here: Younger brother of NFL great Marcus Allen was a standout quarterback at Cal State Fullerton and attended Pittsburgh Pirates camp.
Over there: Played 23 seasons in the Canadian Football League, winning four Grey Cups; holds the pro football record with 72,381 career passing yards; his 11,920 career rushing yards are just 323 yards less than his older brother's career total.
Rod Allen
Over here: Would-be journeyman played 31 major league games over three seasons with three different teams.
Over there: Prime mover in the greatest mound-charging video ever recorded.
Bonzi Wells
Over here: Mercurial shooting guard averaged 12.1 points per game over 12 NBA seasons; best remembered for making an obscene gesture toward a fan and cracking GQ Magazine's Ten Most Hated Athletes list.
Over there: Reportedly scored -- and we're quoting news reports -- "as many as 50 points a game" for the same Chinese team that later signed Stephon Marbury.
Homer Simpson
Over here: Borderline incompetent nuclear power plan operator.
Over there: Mr. Sparkle! Seriously disrespectful to dirt!
Patrick Hruby is a freelance writer and ESPN.com contributor. Contact him at PatrickHruby.net.