Commentary
Did Badgers, Broncos run up the score?
Originally Published:
November 15, 2010
By
Patrick Hruby
| Page 2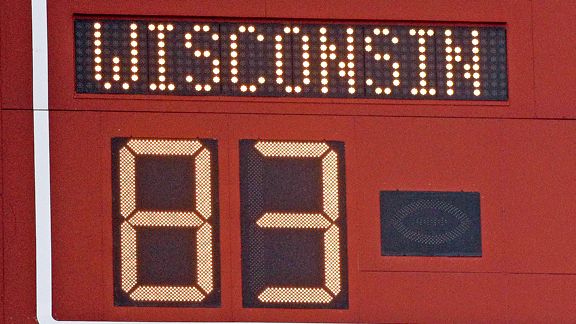 AP Photo/Morry GashWisconsin is lucky its scoreboard is still functional after undergoing heavy usage on Saturday.
"The strong do what they can and the weak suffer what they must."
-- Thucydides
And to think: The ancient Greek historian never saw Wisconsin score a touchdown on a 74-yard, fourth-quarter pass during an 83-20 victory over Indiana.
Nor did he see Chiefs coach Todd Haley wag a finger at Broncos counterpart Josh McDaniels after Denver's 49-29 shellacking of Kansas City.
Or the Connecticut women's basketball team crush Holy Cross 117-37, the second-largest victory margin in the history of a program that habitually makes opponents kneel before Zod.
Here's the thing about running up the score: It happens. Sometimes to settle a score. Sometimes to prove a point. Sometimes just because. No matter the cause, the power calculus is always the same. The strong do what they can (see the 1989 San Francisco 49ers), while the weak suffer what they must (see the Broncos, same vintage).
Question is, do any of the above pile-ons rank with the most egregious in sports history?
1. Georgia Tech
Victory: Defeated Cumberland College 222-0 in a 1916 college football game.
Run-up: The numbers tell the story. Georgia Tech amassed 1,620 rushing yards -- no, really -- and scored 32 touchdowns en route to the biggest blowout in college football history, while Cumberland lost nine fumbles and rushed for minus-96 yards. On the other hand, the Bulldogs did complete two passes for 14 yards -- so they had that going for them.
Rationale: Don't mess with John Heisman. Yes, that John Heisman, who was Georgia Tech's coach at the time. In 1915, Cumberland's baseball team -- supposedly stocked with professional ringers -- beat a Georgia Tech squad coached by Heisman 22-0. Enter payback. Although Cumberland had discontinued its football team in 1916 because of budget cuts, Heisman insisted that the school honor a contract to play Georgia Tech or else pay a $3,000 fee. A Cumberland student manager threw together an impromptu, 13-man team, which traveled to Atlanta to receive an epochal beatdown.
Fun fact: In 1903, a Heisman-coached Clemson team beat Georgia Tech 73-0; Tech hired Heisman the next season. Talk about a successful job interview.
Fun fact II: The game's second half was actually cut short by 15 minutes.
Quotable: According to a Cumberland historian, Heisman said the following during a halftime pep talk: "We're ahead, but you just can't tell what those Cumberland players have up their sleeves. They may spring a surprise. Be alert, men." The score was 126-0 at the time.
Quotable II: After a Cumberland player fumbled the ball late in the game, the fumbler yelled, "Pick it up!" to a nearby teammate. The teammate supposedly replied, "Pick it up yourself; you dropped it!"
Egregiousness quotient: Astronomical. Georgia Tech scored 63 points in the first quarter, 63 in the second, 54 in the third and 42 in the fourth -- and would have scored more if not for Heisman's uncharacteristically merciful decision to end the game early.
2. Covenant High School
Victory:
Dallas-area high school girls' basketball team defeated Dallas Academy 100-0 in 2009.
Run-up: Covenant reportedly led 59-0 at halftime yet still ran a pressure defense against Dallas Academy, a school that works with children who have learning disabilities, had an estimated 20 female students and hadn't won a girls' basketball game in four seasons.
Rationale: Hey, your guess is as good as ours.
Fun fact: Actually, there's nothing fun about this one.
Egregiousness quotient: Stratospheric. Covenant subsequently fired coach Micah Grimes -- who had taken the school from a 2-19 mark to state title contention -- and apologized for the victory, which the school chose to forfeit.
3. Chicago Bears
Victory:
Defeated the Washington Redskins 73-0 in the 1940 NFL championship game.
Run-up: The most lopsided game in NFL history. Ten different Bears scored touchdowns. Redskins quarterback Sammy Baugh threw eight interceptions. What else do you need to know?
Rationale: The two clubs were rivals, dating back to Washington's 28-21 victory over Chicago in a fight-marred 1937 NFL championship game. Bears owner George Halas and Redskins counterpart George Preston Marshall didn't like each other much, either. Late in the 1940 season, Washington beat Chicago 7-3 with the help of a controversial pass-interference non-call; after the game, Marshall called the Bears "crybabies" and "quitters." But wait, there's more! Before the championship rematch, Marshall sent Halas a telegram congratulating his team on reaching the game, because it would give Washington the opportunity to beat Chicago twice.
Fun fact: According to the book "The Pro Football Chronicle," the teams were using an old practice ball at the end of the game. Why? All the good balls had been kicked into the Griffith Stadium stands on Chicago extra points.
Fun fact II: Because of the ball shortage, the Bears attempted their final two extra points on plays from scrimmage.
Fun fact III: Also according to "The Pro Football Chronicle," Marshall refused to renew the season ticket of a Redskins fan who heckled him throughout the game; the fan, who owned a building that housed one of Marshall's Palace Laundry stores, then refused to renew Marshall's lease and kicked him out. Touché!
Egregiousness quotient: Very high. Marshall very well may have been asking for it -- who sends smack by telegram, anyway? -- yet still got way more than he was asking for. Oh, and the landlord fan piling on is just gratuitous.
4. Murry Bergtraum High School
Victory:
New York-area high school defeated Brandeis High School 137-32 in a 2006 girls' basketball game.
Run-up: The nation's No. 2-ranked team, Murry Bergtraum, featured guard Epiphanny Prince, who scored 113 points in the game to set a national prep record. Murry Bergtraum had already defeated Brandeis 115-22 earlier that season.
Rationale: After Prince scored 58 first-half points, Lady Blazers coach Ed Grezinsky decided to let her take a run at the 105-point, single-game national record held by Cheryl Miller.
Quotable: Said Prince, "It was efficient. It wasn't like I missed a whole bunch of shots. That's what made it even better." Well, unless you happened to be playing for Brandeis.
Quotable II: Said LeBron James, when informed of Prince's performance, "It's an amazing thing when an individual does that. I don't know who she is, but maybe we'll see her in the WNBA. For that matter, the NBA."
Fun fact: Lisa Leslie previously scored 101 points in a half in 1990 for Morningside High School of Inglewood, Calif., but opponent South Torrance refused to play the second half.
Egregiousness quotient: Very high. Individual records are all well and good, but making them the whole point of a blowout is pure Velveeta.
5. Yates High School
Victory:
Houston-area Yates High School defeated Lee High School 170-35 in a 2010 boys' basketball game.
Run-up: Yates led 100-12 at halftime yet continued to trap and press.
Rationale: After the game, Yates coach Greg Wise told the Houston Chronicle that the last time he told his team to ease up, it lost a game.
Quotable: Said Wise, "We practice running, pressing, trapping every day. If we get to a game and I tell them not to do what we do in practice, I am not coaching well."
Fun fact: Yates beat other opponents by 115, 99, 98, 90 and 88 points. So at least it wasn't personal!
Egregiousness quotient: Very high. During the same season, Yates tried -- and failed -- to score 100 points in 12 straight games by intentionally fouling opposing Westbury High during the last three minutes of a 94-64 victory, the better to get extra offensive possessions. Surprisingly, an inspirational biopic about Wise is not in the works.
6. New England Patriots
Victory:
Defeated the Washington Redskins 52-7 in a 2007 game.
Run-up: The 2007 Patriots pummeled a number of opponents en route to an undefeated regular season -- but even so, their thrashing of Washington stands out. How so? Up 38-0 late in the game, New England went for it on fourth down to keep a drive alive, then scored on the same possession.
Rationale: Said Patriots coach Bill Belichick, "It's 38-0. It was fourth down. We were just out there playing." Exactly. Pent-up passive-aggressive rage over Spygate and/or New England's real and perceived detractors had nothing to do with it.
Quotable: Also spake Belichick, "What do you want us to do, kick a field goal?"
Egregiousness quotient: High. On one hand, the Patriots scored on seven of their first 10 possessions; on the other, they had third-string quarterback Matt Gutierrez take a knee to end their 11th -- the equivalent of Darth Vader striking down Obi-Wan Kenobi but declining to use his vacated Jedi robes as dish towels.
7. University of Nebraska
Victory:
Defeated Arizona State 77-28 in a 1995 college football game.
Run up: The Huskers scored a school-record 63 first-half points yet decided to throw for a 39-yard touchdown pass with 38 seconds left in the game.
Rationale: Perhaps Nebraska felt a need to match No. 1 Florida State, which beat N.C. State 77-17 the same day. Or maybe then-Huskers coach Tom Osborne -- who publicly apologized after the game -- suffered from the same momentary lapse in sportsmanship that possessed him to coach Nebraska to a 84-13 victory over Minnesota in 1983.
Quotable: "The last touchdown was bad. It was my mistake. I apologized to [Arizona State coach] Bruce [Snyder], and it was something that never should have happened. I feel bad, and I should have just run a draw play. My apologies to Arizona State."
Egregiousness quotient: Does Matt Gutierrez need to step out of a smoking DeLorean with a sportsmanship manual?
8. Slovakia
Victory:
Defeated Bulgaria 82-0 in a 2008 international women's ice hockey game.
Run-up: Slovakia scored 31 times in the first period, outshot Bulgaria 139-0 and averaged one goal every 44 seconds. Other than that, Mrs. Lincoln, how did you like the spirited competition?
Rationale: Bulgaria was bad. Really bad, in fact, having lost 30-1 to Croatia and 41-0 to Italy in previous games.
Fun fact: Said Slovakia coach Miroslav Karafiat, "We took it as training." Which probably makes Slovakia the greatest practice team of all time.
Fun fact II: Although 14 different Slovakian players scored, not one used "The Move" from "NHL '94."
Fun fact III: The world record for hockey ineptitude still belongs to Thailand's men's team, which lost 92-0 to South Korea in the 1998 Asia-Oceania U18 Championship.
Egregiousness quotient: High. Eighty-one goals we can understand. But 82 seems a bit excessive.
9. Troy State
Victory:
Defeated DeVry Institute -- seriously! -- 258-141 in a 1992 men's college basketball game.
Run-up: Troy State shot 109 3-point attempts, shattering the previous Division II record of 70. Case study: Reserve guard Brian Simpson played 15 minutes yet managed to score 37 points while attempting 26 triples.
Rationale: Said Troy State forward Terry McCord to Sports Illustrated, "We wanted to put Troy State on the map. We need to get notarized." Asked whether he meant noticed, McCord responded, "That, too."
Quotable: Responding to accusations of running up the score, Trojans coach Don Maestri said, "You don't tell great defensive teams to stop playing defense halfway through the game, do you?"
Fun fact: Troy State set the NCAA single-game scoring record, breaking its own mark of 187 -- which it set the previous season against ... DeVry.
Fun fact II: At the end of the game, the scoreboard read 58 because it went up to only 199 before turning over.
Egregiousness quotient: Moderate. Troy State's entire game plan was based on not just running up the score but also letting opponents run the score up on it, as evidenced by a defense that routinely surrendered more than 100 points per contest.
10. Ohio State
Victory:
Defeated Michigan 50-14 in a 1968 college football game.
Run-up: Up 44-14 late in the game, the top-ranked Buckeyes scored a superfluous touchdown, then eschewed a PAT kick to go for two against the No. 4-ranked Wolverines. The conversion attempt failed, but Ohio State's intent was clear.
Rationale: Two reasons, really: (A) The two schools hate each other; (B) then-Ohio State coach Woody Hayes really hated Michigan, so much so that he famously once refused to stop his almost-out-of-gas team bus in Michigan. Said Hayes: "Stop for gas?! We'll push the damn car all the way to the Ohio state line before I contribute one penny to any business in the state of Michigan!"
Quotable: Asked why he chose to go for two, Hayes replied, "Because I couldn't go for three."
Fun fact: The Wolverines famously upset the Buckeyes the next season.
Egregiousness quotient: Mild. All is fair in a rivalry this intense. Hayes' quote is probably the most honest thing a college football coach has ever said in public.
11. Cincinnati Bengals
Victory:
Defeated the Houston Oilers 61-7 in a 1989 game.
Run-up: Up 45-0 in the third quarter, the Bengals executed a perfect onside kick.
Rationale: Before the game, a Bengals cornerback called the Oilers "scared," while a Houston linebacker countered that Cincinnati was a "sissy bunch." More to the point, Bengals coach Sam Wyche detested Houston counterpart Jerry Glanville.
Quotable: Said Wyche about Glanville, "I don't like phonies, and I don't think Jerry is a very genuine guy. The cheap shots they tried after our quarterback was down, their big mouths. Jerry tries coming up and talking to me before the game, and when the cameras start rolling, he puts his arm around you and smiles behind those dark glasses. When your football team is so talented and yet so undisciplined, you got to be ready to get kicked and the score run up on you. And that's exactly what happened today. ... I feel sorry for the Houston players having to put up with him ... he's a joke.'' OK, now tell us how you really feel.
Fun fact: After the game, Glanville ran for the locker room without shaking hands with Wyche, leaving the Bengals' coach to stand on the field and mockingly wave.
Egregiousness quotient: Low. Bad blood + big egos = anything goes.
12. University of Miami
Victory:
Defeated Notre Dame 58-7 in a 1985 college football game.
Run-up: Up 44-7 in the fourth quarter, the Hurricanes called a fake punt on fourth-and-11; they also left star quarterback Vinny Testaverde in the game.
Rationale: No. 4 Miami was attempting to impress college football poll voters, which is what happens when you award your national title based on style points instead of a playoff system.
Quotable: Said Miami coach Jimmy Johnson, "Nobody apologized to me when Oklahoma did it," referring to a 63-14 Sooners demolition of Johnson's Oklahoma State team in 1980.
Fun fact: The game was Gerry Faust's last as coach of Notre Dame and helped create the "Catholics vs. Convicts" Hurricanes-Fighting Irish rivalry of the 1980s.
Egregiousness quotient: Very low. The Canes leapfrogged idle Iowa for the No. 3 ranking in the Associated Press poll. Mission accomplished.
Also receiving votes
Lincoln beating Ohio State-Marion in college basketball 201-78 in 2006; the Texas Rangers defeating the Baltimore Orioles 30-3 in 2007; many, many Florida college football games involving Steve Spurrier; the Cleveland Cavs defeating the Miami Heat 148-80 in 1991; Baylor defeating Texas State 99-18 in women's college basketball in 2010; the Detroit Red Wings defeating the New York Rangers 15-0 in 1944; many, many women's college basketball games involving UConn; Australia defeating Namibia 142-0 in international rugby in 2003; Houston defeating SMU 95-21 in college football in 1989; Australia defeating American Samoa 31-0 in international soccer in 2001; the Jonas Brothers beating a team of ESPN all-stars 3-0 in softball in 2010; a Madagascar soccer team losing a match 149-0 in 2002 after its coach staged a protest by ordering his players to score at will against themselves. Now that's running it up.
Patrick Hruby is a freelance writer and ESPN.com contributor. Contact him at PatrickHruby.net.