Commentary
Coming clean on sports guilty pleasures
Originally Published:
November 30, 2010
By
Patrick Hruby
| Page 2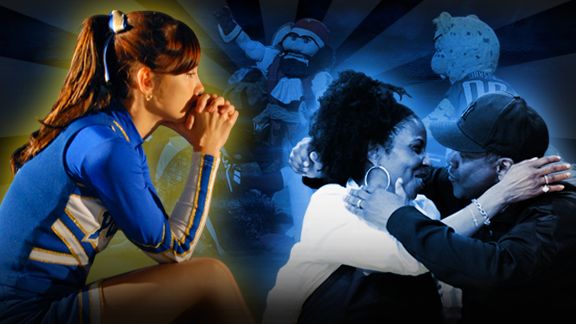 ESPN.com Illustration
Fast-food fish sandwiches. Pre-paid subscriptions to US Weekly. All things Bieber, provided you are not, in fact, a 12-year-old girl. Modern life is rife with guilty pleasures -- the things we're really not supposed to like, the things we're too sophisticated, too discriminating, too jaded and just too cool to enjoy, the things ... we can't help but love anyway.
The sports world is no exception.
Euripides wrote that "short is the joy that guilty pleasure brings." On the other hand, the ancient Greek dramatist never rocked a teal-colored jersey; never cheered a cow-hormones-and-flaxseed-oil-enhanced slugger blasting splashdown home runs; never spent an hour on YouTube searching for man hit in groin by football. (Too bad: "Medea" would be less of a downer with a few "America's Funniest Videos"-style interludes.)
Fact is, the joy wrung from athletic guilty pleasures isn't short. It's long. Enduring. Something to hide, sure, but also something every last one of us is dying to share.
Indeed, what's the point of a good thing if you keep it all to yourself?
Here at Page 2, we're tired of keeping secrets. So we're coming out of the closet. We've compiled a list confessing our guiltiest sports pleasures, starting with ...
Mascot Violence
Before a football game earlier this year, Ohio University mascot Rufus attacked Ohio State mascot Brutus. Not as joke. Not as a skit. For real. With actual punches. In full costume. The assault was vicious, unprovoked, widely condemned and totally awesome.
[+] Enlarge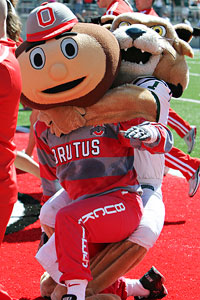 AP Photo/Neal C. LauronMascot-on-mascot crime is the stuff of legend.
Honestly, I enjoyed it more than boxing and MMA, not to mention the president of Bolivia playing soccer.
Here's the thing: I know there are living, breathing people under all that Febreze-soaked fake fur. Cut them, and they will bleed. Still, I can't help but laugh -- can't help but be utterly delighted -- when mascots go down, and go down hard.
I cheered when the Oregon Duck beat down the Houston Cougar.
I giggled when an Edmonton Oilers coach ripped the goofy, oversized tongue out of Calgary Flames mascot Harvey the Hound's goofy, oversized mouth.
I've probably watched mascot-costumed Will Ferrell be set on fire in "Old School" more times than years I've been alive.
Heck, I considered trying out for the Pittsburgh Pirates -- note: I am neither self-loathing nor a contestant on an Indian reality TV series -- when Randall Simon famously took a whack at one of Milwaukee's racing mascot sausages.
Does all of this make me wrong? Yes. Am I a bad person? Also yes. Only I don't care. I like Wile. E. Coyote cartoons. Why wouldn't I like the real thing? There's a sausage killer lurking in my blackened heart of hearts. And I'd probably feel guiltier if I didn't suspect everyone else harbored similar sentiments.
-- Patrick Hruby
The Kiss Cam
Few things are more enjoyable than unintentional, comedic awkwardness. Whoever invented the Kiss Cam was genius enough to see the enormous potential in having a camera pan the crowd at a sporting event, focus on two people and pressure them to lock lips.
[+] Enlarge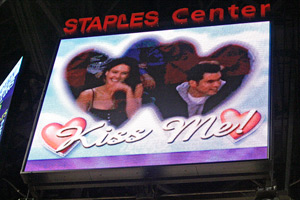 AP Photo/Danny MoloshokHey dude, that's Jessica Alba. On the Kiss Cam. What are you waiting for?
You know when people tap their glasses with silverware at a wedding to get the bride and groom to kiss? That's the Kiss Cam -- except the tapping comes via a Jumbotron, and depending on who you're sitting next to, you might have to kiss your sister.
It's "spin the bottle" on steroids.
The best part of the Kiss Cam is the anticipation: will the two participants embrace passionately? Will someone be bold enough to slip another person the tongue? Will they totally chicken out and settle for a peck on the cheek? Or will they not acknowledge the Kiss Cam at all and subject themselves to boos and scorn?
I believe that how you deal with the Kiss Cam is a direct reflection of who you are. If two people kiss passionately on the Kiss Cam, they're either madly in love or have such a good sense of humor that they don't care about a little lip touching in front of strangers. If they ignore the Kiss Cam, I can't help but wonder if, deep down, they are unhappy, inflexible people who take themselves far too seriously. A quick, perfunctory kiss? Two people who play it safe.
Imagine the Kiss Cam being used to evaluate NFL draftees. Imagine it being expanded to other parts of our lives -- at church sermons, banquets and monotonous corporate functions. We'd all learn so much about each other.
-- Jemele Hill
The Los Angeles Lakers
If you're a Lakers fan that's not from Southern California, you get trashed as a front-running cornball, a soulless fraud. Well, like the rapper Redman said, "I'll Be That." As a child of the 1980s, growing up in Western New York, I could have embraced the Pat Ewing Knicks. I chose Showtime. The Lakers had Magic Johnson and they were winning titles. I went with the winner. Since then, by my estimate, there's been only three seasons in which the Lakers weren't among the best -- or at least most compelling -- teams in the league.
[+] Enlarge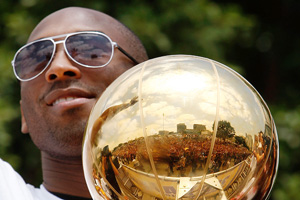 David McNew/Getty ImagesKobe and his trophy: Makes you feel all warm and fuzzy doesn't it?
My hoops life has been good.
So, yeah, that's me at the sports bar rooting for the NBA's evil empire with a bunch of other folks from nowhere near Southern California -- the kind of annoying fans who have the audacity to chant Kobe's name like a pack of louts. The funny part? If we're being honest, no team is less likeable than the Lakers. Especially these Lakers. Not the Yankees, not the Cowboys, not Duke.
Not even the Miami Heat.
Really, what's to like about the Lakers? Phil Jackson and Kobe Bryant battle it out to see who's the smuggest dude in sports. Shannon Brown probably single-handedly exterminated the dunk contest with his shenanigans last season. There are times when the Gasol-Odom-Bynum trio plays with the collective toughness of an emo band. Derek Fisher -- or Uncle Fish, as I like to call him -- does three things exceedingly well: flop, miss layups and pummel younger guards with dirty uncle fouls.
I should hate all that.
Instead, I love it. Because here's the bottom line: Your team may be more likeable, but my squad routinely plays ball in June. They win, I win.
-- Vincent Thomas
Gus Johnson's Voice
Man Rule No. 5: Never admit that you love another man's voice.
Unless, of course, it belongs to Luther Vandross.
But see, I grew up loving Vin Scully, Keith Jackson and Howard Cosell. Billy Packer and Al McGuire. I listened to Brent Musburger when he was local, before he, Irv, Phyllis and The Greek changed television. I listened to John Madden ... in the Pat Summerall days. I've always had an affinity for broadcasters who master sports via their voice.
In this day and age, though, television asks us to pay more attention to Pam Oliver than Kevin Harlan; we're not supposed to tune in to hear another man speak. Only Gus Johnson is my exception. A secret obsession. Marvin Gaye. "Buckets!"
Listening to Johnson call a game -- especially in the month of March -- is damn near intoxicating. Like pornography, a Ferran Adria meal or accidently being overpaid, it gets me excited past arousal. That voice. That delivery. That ability to capture and enhance the moment makes every moment its own moment -- even when he's just calling a random MMA match on cable.
"Rise and fire ... COUNT IT!" Happy. Ending.
-- Scoop Jackson
Crappy Minor League Sports
I love me some crap sports.
You can have the Miami Heat, the New York Yankees and the Dallas Cowboys Pittsburgh Steelers.
[+] Enlarge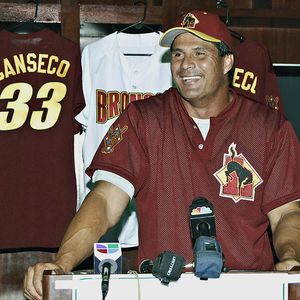 AP Photo/Ulysses S. RomeroJose Canseco in Laredo? That's right in our wheelhouse.
I'll take 46-year-old Rickey Henderson leading off and playing left field for the San Diego Surf Dawgs. I'll take former New York Rangers star Ron Duguay playing for the San Diego Gulls -- without a helmet, of course; that would impede his flowing locks -- a decade after his final NHL game. I'll take 69-year-old Gordie Howe skating a shift for the Detroit Vipers. I'll take Maurice Clarett suiting up for the UFL's Omaha Nighthawks -- five years after producing glacial 40 times at the NFL combine and mere months after his release from the Ohio State Penitentiary.
I'll take ... the Los Angeles Clippers.
Anyone would want to watch LeBron James, CC Sabathia and Troy Polamalu compete in their primes for high stakes.
But it takes a special brand of self-loathing imagination to find enjoyment in teams which occasionally fail to show up for the conference championship.
You could pay hundreds of dollars to be entertained in a prime seat for 2½ hours by the 2010-11 Miami Heat. But why? Five bucks will buy you 2½ hours of bleacher entertainment from 46-year-old Jose Canseco, taking hacks for the independent Laredo Broncos.
You can have the show. I'll take the sideshow.
-- Thomas Neumann
Tear-Jerker Olympic Athlete Television Profiles
A guy from Ethiopia who trains on roller skis. A 41-year-old mother who is a serious contender in a sport dominated by athletes half her age. A soccer team inspiring a country ravaged by war.
I should be beyond prime-time story packages bringing me to tears. I ought to enjoy the Olympic Games as pure athletic spectacle. I definitely know better than to be swayed by personalities crafted by network executives and PR teams.
Only I absolutely love the warm-and-fuzzy, overcoming-adversity, cheer-for-the-underdog, nothing-is-impossible stories I'm inundated with every Olympics.
Maybe it's the fact that I've had a soft spot for "Cool Runnings" since I was a kid -- and really, what is that movie if not a longer, Hollywood-ized version of an Olympic profile?
Maybe it's because I can retell the same stories to friends who tune in only for the tape-delay broadcasts, and my in-depth "knowledge" of athletes' heartbreak and triumph makes me sound like an Olympics genius.
Maybe it's the music. Or the training montages. Or the slow-motion shots hitting me over the head with the idea that something special is on the verge of happening. Usually right after the next commercial break.
What gets me the most, for sure, is the afterschool special effect: the profiles convince me that on any given day, anything really is possible.
That, and they give me a reason to care about some sports -- handball, luge, any event involving a boat -- I only remember exist every four years.
-- Maria Burns Ortiz
Fans Going Nuts When Shown on Television or the Jumbotron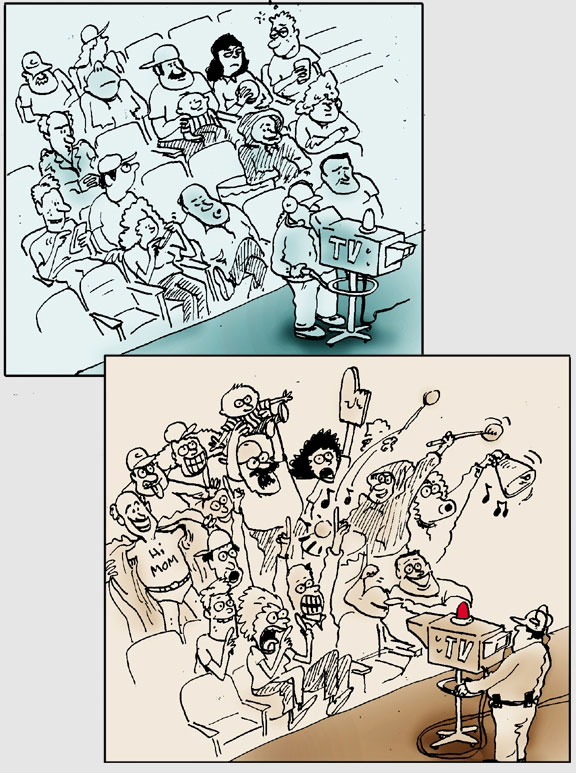 -- Kurt Snibbe
"Any Given Sunday"
Like much of Oliver Stone's best/worst work, the director's pro football opus dives deeply into the waters of unintentional self-parody. The visual symbolism is ham-fisted. (Football players are gladiators, and in case you can't make the connection, here's some spliced in footage from gladiator movies!) The plot is oft-redundant and ludicrously overstuffed, with a dozen-plus major characters and an entire season's worth of "Playmakers" storylines crammed into a mere 2½ hours. (To wit: aren't concussed quarterback Cap Rooney and one-hit-from-tragedy linebacker Luther LaVay pretty much illustrating the same idea?) The tone is overheated and operatic, and a number of clichéd sports movie sins -- No. 4: absurd-looking team uniforms; No. 38: a night game in a driving monsoon -- are both present and laughably accounted for.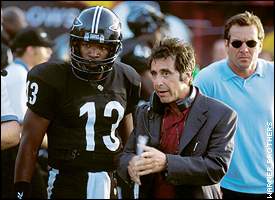 Al Pacino was a master motivator in Oliver Stone's "Any Given Sunday."
And yet: "Any Given Sunday" is anything but boring. To the contrary, it's unexpectedly compelling.
The script's underlying paranoia and wounded idealism masquerading as cynicism -- both Stone hallmarks -- fit the respect-driven, dog-eat-dog (shark-eat-shark?) world of pro football like a snug chinstrap. With the exception of Cameron Diaz as a conniving team owner -- people want passes, Tony! They want touchdowns! -- the casting is pitch-perfect: Al Pacino as a grizzled coach, Jamie Foxx as a flashy young quarterback, James Woods as a sketchy team doctor, Liz Berkley as a high-end escort, Lawrence Taylor as pretty much himself. While some scenes are unforgettably silly (the baby alligator in the locker room shower), others are surprisingly resonant (Taylor's sauna address to Foxx). And then there's Pacino's "inches" speech, easily the best locker room pep talk never given.
I'm not afraid to admit it: Some Sundays, I'd rather watch Stone's take on the NFL than the real thing.
-- Patrick Hruby
Stadium DJs
My friends always wondered why I kept going to Indianapolis for Pacers games. A three-hour drive to see Reggie Miller? Something else had to be up. It was. Name: DJ Paul Bunyon. The pregame and timeout sets where so over the heads of most of the paid attendants in Conseco Fieldhouse, it was like watching white folks at a Frankie Beverly and Maze concert.
He dropped gems like men drop Jennifer Aniston.
People assumed I was there to cover games. Nope. I was there for "in-arena spinna". Then addiction set in. Whoever, wherever. Down in Miami, it was DJ KNS, then DJ Irie. In Los Angeles, DJ Dense. In Cleveland, the legendary Mic Boogie. I started going to NBA games instead of clubs, just to get my eargasm on. Staying through the fourth quarters of blowouts. Missing postgame deadlines. When I found out that Rony Seikaly -- no, really!-- was spinning house music, I even began following him.
Yeah, that's how bad it is ... I mean, got.
-- Scoop Jackson
Fans Getting Tasered
Forget about adding golf to the Summer Olympics. I've got a much better alternative.
Consider this my official plea to add "fan tasering" as an Olympic sport. It's the true test of a person's agility, athleticism, lateral movement and level of sobriety. It would provide the answer to the age-old question of whether inebriation and adrenaline can out-duel a device that houses several hundred thousand volts of electricity.
[+] Enlarge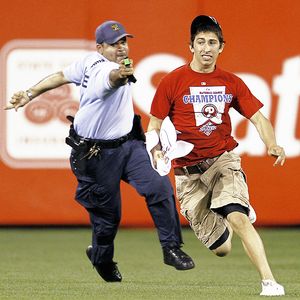 AP Photo/Matt SlocumHe's gonna tase you, bro.
Call me heartless, but a fan being tasered is just life's way of reminding us of the principle of natural correction: Do something stupid and something stupid is likely to happen to you in return.
It's also a godsend for Youtube.
Admit it, when a fan runs onto the field, it becomes its own side sport. Consider it the human, more dangerous version of tag -- and during an especially boring game, a good tasering is a great diversion.
Instead of man versus beast, or man versus self, or man versus a golf course, we're talking about a stun gun and an overweight security guard against a (likely) inebriated fan who is on a mission to prove he possesses very little common sense.
In that moment, there's a lot of pressure on that security officer, too. If they outweigh the prey by 50 or 75 pounds, they could easily be overmatched -- as was the case when the 17-year-old Philly fan was tasered by police in May after running onto the field at Citizens Bank Park. That minor displayed some nifty moves; if not for an 11th-hour lunge, that security guard might have fainted from exhaustion before he nabbed the kid.
Of course, I don't want to see anyone seriously hurt. But chasing, falling, maybe even a little taser-induced teeth chattering -- that's all fair game.
-- Jemele Hill
The Black Eyed Peas
The Black Eyed Peas started out as a backpack hip hop group from Cali. Their first single "Joints & Jam" from their debut album "Behind The Front" was right out of the Native Tongue catalogue and fit in with a lot of the late-'90s hip hop from The Roots to Mos Def to De La Soul. They were three dudes that liked to dance a lot, sporting funny names (will.i.am, apl.de.ap and Taboo), weird clothes and a cool sound.
[+] Enlarge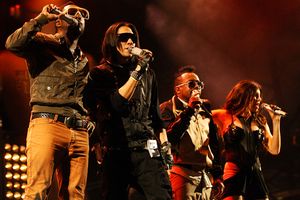 Danny Martindale/WireImageWe'll be honest -- We gotta feelin' when the Black Eyed Peas come on.
Hip hop heads like me dug them, respected them. But after a couple years and two modest-selling albums, they went and got some chick named Fergie from a group called Wild Orchid, then morphed into pure pop. They sold millions of albums, produced ubiquitous songs like "Let's Get It Started" and "Where Is The Love," tunes you couldn't escape at Ice Station Zebra. And once arena DJs and sports leagues took notice? Then you really were inundated.
I claim to have discerning ears. I'm one of those guys that wears his "I don't listen to the radio" badge with condescending honor. I'm supposed to want to stab my temples with one of Fergie's stiletto heels when I hear "Pump It" -- but instead, I start rocking a bit. I spend 10 months of the year in NBA arenas on a nightly basis. I've probably heard "Boom Boom Pow" 200 times, yet I can't help but get my chair-dance on when the arena DJ plays it for the third time that evening.
And yes, I know that makes me lame.
-- Vincent Thomas
Seeing Cheerleaders Cry During NCAA Tournament Games
The horn blows. The band stops. Play resumes, the clock ticking down, another team's season about to end. Alone on the baseline, the cheerleaders continue to fake-believe, shaking their pom-poms, standing ramrod straight, exhorting a comeback that simply can't happen. And then ... reality breaks through the peppy haze, in the form of a single Iron Eyes Cody tear, streaming from eye to chin, smudging those precious little team check decals en route, one shining moment of high comedy and higher truth: Life is mostly about losing, no matter how hard you root, and if weeping over a basketball game isn't worth a few sneering giggles, well, what exactly is?
Of course, maybe it's just me.
-- Patrick Hruby