Commentary
Grading the athlete/GMs
Originally Published:
January 4, 2011
By
Patrick Hruby
| Page 2
With Hall of Fame quarterback John Elway reportedly returning to the Denver Broncos as an executive vice president, the struggling franchise's front office will have a living, breathing link to its glorious past.
[+] Enlarge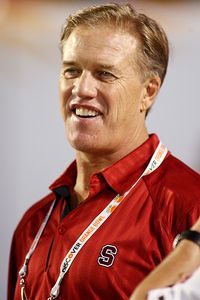 Marc Serota/Getty ImagesWill John Elway's cannon arm translate to the front office?
But will that ensure a winning future?
A quick Page 2 review of prominent former players-turned-team executives reveals mixed results:
Jerry West: Former Los Angeles Lakers great was even better behind a desk, masterminding the 1980s and early 2000s Lakers dynasties (seven total championships) and rebuilding the woeful Memphis Grizzlies into a playoff team.
Grade: A-plus. Draft-day pilfering of Kobe Bryant from the Charlotte Hornets in 1996 alone is enough to make West a valedictorian.
Ozzie Newsome: Hall of Fame tight end-turned-Baltimore Ravens GM has made his mark as a master talent evaluator, drafting 11 Pro Bowl players -- including Ray Lewis and Jonathan Ogden -- in 13 seasons while providing stability to a franchise that won a Super Bowl in 2000 and is a perennial playoff contender.
Grade: A. Decade's worth of quarterback whiffs -- Chris Redman, Kyle Boller, Tony Banks, etc. -- are the only serious blemishes on Newsome's record.
Joe Dumars: Former All-Star guard memorably pieced together a roster of chip-on-the-shoulder castoffs (Chauncey Billups, Rip Hamilton, Rasheed Wallace, Ben Wallace, arguably Larry Brown) into the title-winning mid-2000s Detroit Pistons; less-than-memorably passed on Carmelo Anthony and Dwayne Wade to select Darko Milicic with the No. 2 pick in the 2003 NBA draft; inexplicably gave major free-agent contracts to Ben Gordon and Charlie Villanueva.
Grade: B-minus/C-plus. Built a champion, but has managed the Pistons to mediocrity ever since. Of course, Dumars remains way, way better in a suit than former backcourt partner Isiah Thomas.
Larry Bird: Legendary NBA player, pretty good pro coach, quietly mediocre master builder of the quietly mediocre Indiana Pacers. Perhaps the only league executive to rid himself of Thomas and end up with a worse team.
Grade: D. Though Bird deserves a gold star for responding to the news of a man wanted in connection with a murder case being arrested leaving the home of Pacers forward Shawne Williams by pointing out, "We don't want our players hanging around with murderers."
Michael Jordan: Basketball god a mortal in the front office, drafting mega-busts Kwame Brown (No. 1 overall pick) and Adam Morrison (No. 3 overall) while constructing grinding, nigh-unwatchable clubs in Washington and Charlotte.
Grade: D-plus. Deserves credit for moving Juwan Howard's albatross Washington Wizards contract; like Dumars, still better in a suit than Thomas.
Dan Marino: In 2004, Hall of Fame quarterback returned to the Miami Dolphins as the club's senior vice president of football operations … only to resign three weeks later.
Grade: Incomplete. Seriously, three weeks?
Patrick Hruby is a freelance writer and ESPN.com contributor. Contact him at PatrickHruby.net.