Commentary
Celebrities, restaurant biz don't mix well
Originally Published:
April 26, 2011
By
Patrick Hruby
| Page 2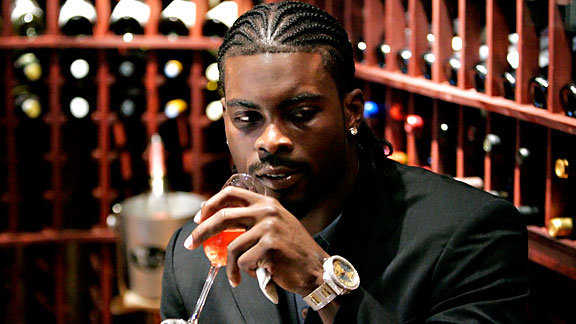 AP Photo/John AmisMichael Vick opened the financially doomed Tasting Room restaurant in suburban Atlanta in 2007.
Want to make a small fortune in the restaurant business?
Start with a large one.
So goes an old joke among restaurant owners, only it isn't really much of a joke. The latest case in point: Rapper-cum-reality television star Flavor Flav, who shut down his fried chicken restaurant in Clinton, Iowa, just four months after it opened.
According to reports, the eatery shuttered largely because of a dispute between Flav and the restaurant manager. Nevertheless, the rapper says he's considering another Iowa restaurant, as well as one in Las Vegas.
Bad idea.
We've said this before and we'll say it again: The restaurant business has a failure rate of 57 to 61 percent. In other words, it's brutal. Particularly for celebrities. Especially for sports celebrities.
Just ask Chris Webber. Or Bernie Kosar. Or Brett Hull. Or Dwyane Wade, George Brett, Don Mattingly, Jeff Conine, Jim Kelly, Johnny Bench, Larry Bird, Lawrence Taylor, Pete Rose, Ronnie Lott, Wilt Chamberlain and ... frankly, we're tired of typing.
But you get the point.
Having surveyed the wreckage of the athlete-restaurateur landscape -- the finest jocks of multiple generations destroyed by mediocre steaks -- Page 2 again presents some business pointers for Flavor Flav and other Gordon Ramsey wannabes:
1. Location, location, location
No, not real estate. You. As in: You really have to be there. Consider Chicago. Former Bears quarterback Jim McMahon was seldom seen in his restaurant, which closed before its third anniversary. By contrast, former Cubs announcer Harry Caray was an autograph-signing, picture-posing, baseball-season regular at his establishment, which continues to thrive long after his death. The upshot? Hungry people are more likely to patronize your namesake eatery if they believe you actually eat there. Go figure.
2. What's in a name? Less than you think
Never mind the food: Treating your restaurant like a smile-and-forget, cash-the-check product endorsement -- a la Krusty Flakes -- is a recipe for disaster. Then-Chiefs defensive end Jared Allen sold his name to a Kansas City eatery, was traded to Minnesota and saw the place close mere months after it opened. A Chicago eatery bearing Michael Jordan's name had initial success as a tourist destination but later shuttered after Jordan and the owners staged a legal fight over the naming rights, all while Sammy Sosa wisely backed out of allowing his moniker to be used in place of Jordan's. (Note: when Sosa thinks something is a bad idea, it's probably ... even worse).
3. Accounts payable is not a suggestion
The two sweetest words in sportsugese? Guaranteed contract. Win, lose, thrive, flop. Get paid regardless. Not so in the restaurant business, which is, in fact, a business. A venture that costs -- and loses -- money. Former NBA player Vin Baker's Connecticut seafood restaurant was foreclosed on because of nearly $900,000 in unpaid loans. Similarly, Wachovia sued Michael Vick and a business partner for almost $940,000, claiming they defaulted on a $1.3 million loan for Vick's upscale restaurant and wine store. (Yes, wine store.) Think of eateries like casinos: If you can't afford to lose money just for an outside shot at winning, you can't afford to play in the first place.
4. Never copy a bad idea
Backed by big-name investors such as Joe Montana, Shaquille O'Neal, Andre Agassi, Ken Griffey Jr. and Monica Seles, the glitzy, stadium cuisine-serving All Star Café restaurant chain couldn't help but succeed. Well, except for one tiny, nagging detail: It was developed by Planet Hollywood, the same company whose movie star-themed eatery business model crashed and burned through 100 worldwide franchise closings and two separate corporate bankruptcies. As of last year, all All Star Café locations reportedly were kaput, including the chain's Times Square flagship, where two chefs were once charged with stealing rare baseball cards from the collection of actor Charlie Sheen. Yeah, that actually happened.
5. Never copy a copy of a bad idea
College football legend Raghib "Rocket" Ismail dropped a cool $300,000 into the Rock N' Roll Cafe, a New England theme restaurant modeled after Planet Hollywood and the Hard Rock Cafe. He never saw his money again; he has no idea if the restaurant ever even existed; he later was the focus of a lengthy Sports Illustrated article on former pro athletes squandering their fortunes. All of which is probably related.
6. Find a good lawyer
Become a professional athlete and you'll probably spend time in an orthopedic surgeon's office. Invest in a restaurant as a professional athlete and you'll almost certainly spend time padding the billable hours of someone with Esq. in their title. Case in point: Wade was sued by former business partners who claimed he walked away from a chain of Wade-named sports memorabilia restaurants that closed weeks -- not years, not months, weeks -- after opening. Remember, disgruntled folks who blame you for losing their money are not as forgiving as NBA referees.
7. Know your customers
Perhaps the most famous athlete-owned restaurant/bar in history, Joe Namath's Bachelors II was popular in New York, prompting plans to open locations in Boston and Florida. That is until PR-minded then-NFL commissioner Pete Rozelle ordered Namath to divest his stake in the establishment, which was frequented by mobsters. A teary-eyed Namath refused and announced his retirement, prompting a late-night meeting between Rozelle and Namath that ended with the quarterback selling his share in the New York restaurant -- but not the other locations -- and returning to the Jets, since everyone knows that the mafia has absolutely no presence in Florida or New England.
8. It's the food, stupid
Once upon a time, Hulk Hogan opened a restaurant called Pastamania in Minnesota's Mall of America. Once upon another time -- like, a year later -- the same restaurant, which featured Chef Boyardee-inspired dishes such as "Hulk-U's" and "Hulk-a-Roos," tapped out. This is not a coincidence.
Patrick Hruby is a frequent contributor to ESPN.com. Read his blog, follow him on Twitter and contact him at PatrickHruby.net.