Commentary
Release Donald Trump's driver's license
Updated:
May 4, 2011, 2:33 PM ET
By
Patrick Hruby
| Page 2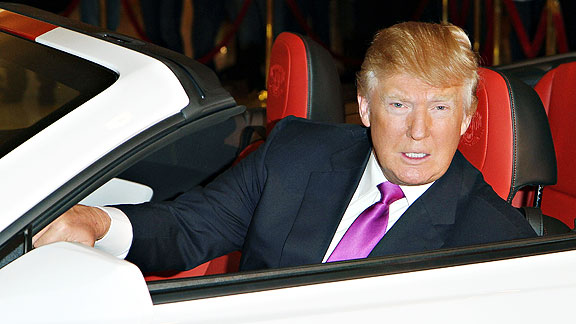 Taylor Hill/Getty ImagesYeah, that's right, Trump. We want to see that driver's license before you get behind the wheel.
Dear Donald,
Is okay to call you that? Donald? Just Donald? And not the Donald? 'Cause there are other Donalds out there: Rumsfeld, Ronald Mc, Duck.
Also, Ohio State kind of has the pretentious "the" thing wrapped up.
Anyway, we hear that you've been tabbed to drive the pace car at the upcoming Indianapolis 500. We also hear that there's a Facebook page with over 5,300 supporters calling on the race to, um, downsize your role as said driver. Which is bunk. This is America. Land of the free, yadda, yadda, yadda. The Indianapolis Motor Speedway has every right to invite you. You have every right to participate. In fact, we're in your corner. Provided you can clear up one tiny disquieting detail.
Show us your driver's license.
Look, it's nothing personal. We're not suggesting anything untoward. We're just saying that it's pretty unusual that a guy who typically rolls in a chauffeured limo when he's not using a private chopper to get around Manhattan suddenly and mysteriously finds himself behind the wheel of the most important car in the country.
Doesn't that seem a little strange?
Do we know that you're legally qualified to operate an automobile?
Do we really?
Hey, we have a driver's license. People have them. Do you? Maybe you do, only there's something on there -- maybe points from speeding tickets, maybe your hair is even more out of place, maybe you ran over a nameless forgotten hobo, maybe it says you can't be an organ donor because being one requires an actual human heart. We don't know. Maybe you don't want that stuff out there.
Or, maybe you don't have a license.
We have people. It's not important who they are. But they've been studying this. They have Google. And they cannot believe what they're finding. You once had your own airline . You've spent untold millions on helicopter fuel just to avoid driving golf carts. Do those sound like the actions of a man who is free to drive whenever and wherever he wants? And if this isn't an issue, then why haven't you just solved it? We wish you would. Because if you don't, it's one of the greatest scams in the history of automobile racing. And in history, period. You are not allowed to drive if you don't have a license.
Right now, we have real doubts.
We've been told, very recently, that the license is missing. That it's not there or doesn't exist. And if that's the case, it's a big problem. You could get fined. Or even ticketed. So clear this up. Put it to rest. Release the long-form license.
And don't stop there.
The word is, according to what we've read -- what and where doesn't matter -- that you were a terrible student in drivers' ed. Then you get a car. Then you get a helicopter. How do you get a helicopter if you're not a good drivers' ed student?
Now, maybe that's right. Or maybe that's wrong. Does it matter? We just don't know why you won't release your records.
Sincerely,
Page 2
Patrick Hruby is a freelance writer and ESPN.com contributor. Contact him at PatrickHruby.net.