By Patrick Hruby
Page 2
EDITOR'S NOTE: Page 2's Patrick Hruby is spending his All-Star break at … well, the All-Star Game. During the festivities in Detroit, he'll post occasional updates on the sights and sounds from behind the scenes at the Midsummer Classic. This is his first blog installment.
IN THE AIR, Sunday, July 10, 10:30 a.m. EDT:
Suspended above the Midwest and crammed into an airline middle seat the size of an elementary school desk, I am hurling toward baseball's midsummer showcase at hundreds of miles an hour. My bladder doesn't simply feel on the verge of bursting; it feels as though a creature is going to explode from my innards, fang-snapping and full-grown, then use its slimy second mouth to ask the flight attendant for another orange juice.
Oh, and thanks to federal regulations, I can't do a darn thing about it. Well, not without wetting myself.
As those familiar with Washington National Airport already know, safety (read: anti-hijacking) rules require that all outbound passengers remain seated for the first 30 minutes of flight. No stretching. No borrowing a two-month-old copy of Golf Digest from the overhead bin. And definitely no using the lavatory.
Ouch.
Survival advice? Don't start the day with an extra-large smoothie. Empty out before boarding the plane. Unless masochism excites you, politely refuse the free in-flight drink.
Otherwise, cross your legs and pray for a swift, merciful end.
The porcelain cornerstones of civilization as we know it, urinals also are at the heart of the then-versus-now stadium debate swirling around this year's Major League Baseball All-Star Game. Never mind that Comerica Park is hosting its first All-Star contest; nostalgia for old Tiger Stadium abounds.
Fans miss the former park's cozy, claustrophobic feel, epitomized by a section of the third deck that jutted over the field. Players bemoan Comerica's vast expanses of home run-robbing green -- Ivan Rodriguez says the park is too big, and Juan Gonzalez left the Tigers in part because hitters at Comerica average 1.81 home runs per game, the third-lowest total among major league stadiums.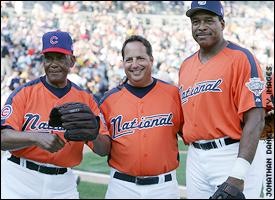 Ernie Banks, Jon Lovitz and Dave Winfield . . . Can you guess which one isn't in the Hall of Fame?
Nearly everyone wishes the city would reuse or redevelop the old park, which still stands at the intersection of Trumbull and Michigan and was the subject of a story in The New York Times Sunday.
Lost in the gauzy reminiscing, however, is a simple fact: Newer is better. Every time.
Think better food, better sight lines, better and bigger bathrooms.
The importance of the latter cannot be understated.
Baseball games can last more than three hours. Beer is plentiful. Do the math. The next time you long for the halcyon days of yore -- or find yourself at a venerable park such as Wrigley Field -- remember the awful truth. A short restroom line puts you back in your seat in time for the next inning; a long restroom line leads to abdominal clenching, hopping in place and contemplating a second use for one's empty bottle or cup.
Note: Attempts at dual-use will not impress the stadium ushers.
The other night, I watched a documentary on the history of London. At one point during the Victorian Era, the city's outdated sewer system was so overloaded that Parliament had to be evacuated in order to escape the stench. Meanwhile, a cholera outbreak spread faster than no-limit Texas Hold 'Em.
In other words, it was a lot like Lambeau Field. At least before recent renovations.
As such, I bid Tiger Stadium a preemptive and tearless adieu. Hopeless romantics can keep their old-school Cathedrals of the Game, their lyric little bandboxes of history and tradition. I'll take a soulless corporate park where the toilets flush automatically and urinal troughs -- the horror … the horror! -- are nowhere to be seen.
Comerica, here I come.
* * * * *
DETROIT, Sunday, July 10, 2:15 p.m. EDT:
Comerica Park is anything but surprising, hardly distinguishable from the half-dozen retro-chic facilities built in the wake of Baltimore's trendsetting Oriole Park at Camden Yards. Visible metalwork, red brick facade, extra-wide concourses that could accommodate an Abrams battle tank. Check, check, check. Ford Field stands next door. The surrounding area smacks of half-finished urban renewal: An oversized, hockey-themed sports bar marks the front line of gentrification; parking lots and abandoned buildings hold fast just across the street.
Walking along the fully-sponsored center-field concourse -- a Chevrolet SUV is parked on the roof, alongside working fountains and directly above a Taco Bell banner -- I come across a beer vendor, working in the shade.
Technically, this is the "General Motors Fountain." Hmmm.
"Hey," I ask. "Can I get one of those GM employee discounts on a beer?"
The vendor laughs.
"Aw, man," he says, spotting my press badge. "You can't drink on the job, can you?"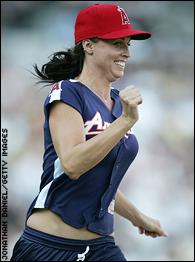 Yes, that's Amanda Beard, voted 2005's Hottest Female Athlete by . . . umm, you.
Not now. Maybe later -- the ballyhooed Stuff Magazine party starts in five hours. In the meantime, I admire the right-field statues of Al Kaline, Hank Greenberg, Ty Cobb and Willie Horton -- note: not the furloughed Willie Horton who helped the elder President Bush trounce Michael Dukakis in the '88 elections -- and stroll down to the bullpen, where tomorrow's arms are warming up today.
A nice way to showcase potential big leaguers, the Futures Game is also a nice way for baseball to sell another title sponsorship -- in this case, to a satellite radio company that will go unnamed.
Speaking of vigorous commercial activity, it's harder to find something at the aptly-named Comerica that isn't sponsored (foul poles, concourse trash cans) than something that is (bullpens, the outfield wall, the side of a nearby parking garage, every available inch of the scoreboard). I half expect the Futures Game jerseys to have "Spiderman 2" patches on their sleeves and VODAFONE scrawled across their chests.
Then again, I'm not complaining. I welcome omnipresent branding. Without it, how would any of us know that the MGM Grand Detroit Casino is "where the city shines," and not where the city goes to blow a couple hundred bucks?
Anyway, the game itself was billed as a contest between the United States and the World, with Canada, Venezuela, Cuba, Australia, South Korea and the Dominican Republic compromising the coalition of the willing. In fact, 10 of the 25 players on the World roster hail from the Dominican, equal to the number of U.S. players from Texas and California combined.
Now and then I get e-mails from high school kids, asking how to break into sportswriting. Two words: Estudias Espanol.
Really, the interesting stories all seem to come from abroad. Kendry Morales and Yuniesky Betancourt are Cuban defectors. John Hatting is the first player to be drafted out of Guam. He could become the first native of his island to reach the majors.
Edwin Encarnacion, a Cincy farmhand, is staring in his third consecutive Futures Game, a dubious distinction that makes one wonder:
1) Does the game have a term limit, a cutoff point where future potential becomes past underachievement?
2) If not, could Encarnacion continue in the Futures Game for another decade, then become the first player to move directly onto the old-timers squad for the Celebrity-Legends softball game?
As the afternoon sun beats down, I approach John Mizwa, 40, a Tigers season ticket holder who works for American Airlines. Two of the best young pitchers in Detroit's minor league system, starter Justin Verlander and Joel Zumaya, are on the American roster.
Does Mizwa have any idea who they are?
"No," he said with a smile. "I don't know any of these guys. What's his name, Dimitri Young's brother, is playing."
Mizwa points to center field.
"I think he's the guy in the outfield right now."
Actually, there are two players named Young on the roster -- Chris and Delmon, the latter the first overall pick in the 2003 draft. Mizwa isn't sure which Young is standing in center. Nor am I, having never worked for Baseball America. I ask a dozen fans the same question. No one has a clue.
Such is the beauty of the Futures Game: No one much pays attention, except when the outfielders toss balls into the stands. Fans would rather talk about the past, specifically old Tiger Stadium.
"If I had my choice, I'd go back to the old park," says Larry Krol, a Detroit native. "I grew up there. It had an intimate value. This is too spread out."
Earlier, South Korea's Shin-Soo Choo hit a third-inning home run, the lone homer of the game. Krol gestures toward the center-field wall, 420 feet from home plate. The field appears endless; even the warning track resembles a dirt road.
"I feel in a ballpark, you want to see a home run go into the stands," he says. "There's a lot of dead space here. Too bad they couldn't have had Tiger Stadium fixed up and had the Home Run Derby there."
Well, at least the bathroom lines are better, right?
"There are lines for the bathroom here, too."
Uh-oh.
* * * * *
DETROIT, Sunday, July 10, 4:15 p.m., EDT:
Bo Jackson stands in a tunnel under the right-field bleachers, talking to a small group of reporters.
Toughest pitcher you ever faced?
"Mark Langston. Never could figure the guy out."
Bo, do you miss the game?
"Baseball is just something I used to do," Jackson replies with a shrug. "I played for the love of the game. That's it. I never let the game consume me. I left it at the ballpark. So it was easy to separate myself when I left."
Jackson says he's happily retired, never thinks about his bad hip. Says he owns a small business that helps feed American troops in Iraq. I nod my head, pretend to take notes. But there's something I can't get over: Jackson is a bit small. Not tiny, and certainly not scrawny. Just shorter than I expected. Shorter than me.
I fumble with my pen, literally looking down on the premier sports star of my childhood. The mythic figure who trucked Brian Bosworth, snapped bats over his knees like chopsticks and was the greatest video game athlete of all-time.
First Santa Claus, now mini-Bo. Say it ain't so.
"I'm old," Jackson says. "The only skills I have now are how to slice a golf ball and how to throw a fishing hook."
No mas. I turn to find Jennie Finch. The Mariner Moose nearly takes my head off. Fortunately, his antlers are soft and fuzzy, and my nose remains intact. The San Diego Padre puts a hand on my shoulder. A sympathetic moment? Nah. He just wants to get by. To my left, four mascots huddle in what appears to be a prayer circle -- not surprising, considering the punishment they endure on a regular basis.
The tunnel is jammed, Mr. Met and the Oriole Bird mixing with camera crews and celebrities. The latter term is generous. I spot Chris Chelios, Amanda Beard, the hunky dude from "Desperate Housewives," some guy from "Extra" and a Sports Illustrated swimsuit model.
Joining them are the twin Jons of the C-list, Lovitz and Secada. Someone mentions Dean Cain.
Ever heard the expression, "You can't tell the players without a scorecard?" In the Celebrity Softball Game, you can't tell the players with a copy of US Weekly. And that, in turn, raises a question: Where the heck is Nick Lachey?
Mr. Simpson ought to be here. This is right in his wheel house. The man makes football picks for Page 3; he's hardly too good for celebrity softball. Perhaps he's in Sweden, where he is supposedly recording a new album.
If so, big waste of time, for at least two reasons:
1.) No one in Sweden cares about Nick Lachey.
2.) No one in the United States cares about what Nick Lachey is doing in Sweden, especially if it involves music.
Chris Webber leans against a golf cart, rhapsodizing over Jackson's takedown of Bosworth.
"He's one of those guys," Webber says, "that you can always say, 'What if?'"
Funny enough, the same could be said of Webber.
Everyone takes to the infield for player introductions. Lovitz gets a huge cheer. Webber is booed, loudly. Michigan fans consider him a traitor for his involvement in a booster scandal. "He's a turncoat," says a manager at a pizza concession stand.
Webber stands by third base, alone, throws up a mock black power salute. The boos get louder.
I return to the right-field press tables in time to catch a two-song set from Uncle Kracker. I wanna get lost in your rock and roll/and drift away …
Wait a second. I know this song. I hate this song. My gym plays it ad nauseam. The band attempts to start a spontaneous clap-along. Why not just ask everyone to throw their hands in the air, then wave 'em like they just don't care? No one buys in. I've never been prouder of my countrymen.
Finch's first name is misspelled J-E-N-N-Y on the scoreboard. Andre Dawson is simply D-A-W-S-O-N. I must have missed his career in international soccer. Fred Lynn nearly hits a home run to right, over the temporary walls that have been set up in the outfield.
Jackson is up next. He shakes hands with the catcher and umpire. Finch tosses him a slo-pitch flutterball.
The former Heisman winner smacks one foul; on the next pitch, he blasts the ball to deep center. Home run.
Jackson smiles as he rounds the bases. A guy with a microphone approaches him at home plate.
Bo, Jennie Finch just said you were lucky. Were you lucky?
Jackson turns his head, never stops jogging toward the dugout.
Yes.
Uh-uh. Don't think so. Maybe Jackson's a bit small. Maybe he gets a little winded going from first to third. Doesn't matter. He's still larger than life.
"I don't think about what-ifs," Jackson said earlier. "I live in the present. But it's nice to be invited back here, nice to know that people still respect my talent."
They always will.
* * * * *
DETROIT, Sunday, July 10, 10:20 p.m. EDT:
Held at the Detroit Science Center, the Stuff Magazine party is supposedly the hottest ticket in town. I call Dan, a public relations guru who also works with the NBA Players Association. Can I get in?
What about a friend from ESPN The Magazine?
"Sure," says Dan, who seems so relieved by the recent NBA labor agreement that he would probably hand over the deed to his house if I asked nicely enough. "We have 150 press credentials. Come on over."
So much for feeling special. The key thing to understand about these sorts of events is that they aren't just parties -- they're massively-sponsored promotional undertakings. Enjoying a watered-down cocktail? Thank Jim Beam, Molson, Kenneth Cole, the Global Gaming League. Whatever that is.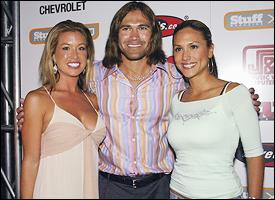 Hey, why not? The man is on a 25-game hitting streak.
The party, of course, is sponsored by Stuff, which touts itself in a press release as the No. 1 magazine for "guys who spend money vs. save money … who like to impress people with their lifestyles." I'm not sure this is a good thing. Then again, my lifestyle isn't particularly impressive, unless you dig watching documentaries on the London sewer system.
Outside the building sits a lit-up Chevy HHR, a VW Bug/SUV-looking hybrid that is the Official Vehicle of Major League baseball. Disappointing. I expected a bullpen car.
Inside, a batting cage houses a Pro Batter Simulator. Balls fly from behind a projection screen that shows the life-size image of a pitcher.
The illusion is convincing.
A red-faced guy takes a few swings, followed by a woman in a low-cut top and six-inch heels. She's thisclose to falling over. Is this a good idea?
"Definitely," said one of the machine's operators. "This is fun."
"It makes it more interesting," said another with a smirk.
The professional version of the machine costs $75,000 and is used by four big league clubs, plus Bobby Valentine's Japanese league team. Tonight's version costs $30,000 and fires whiffle balls.
"We thought it would be a little safer than one with 100 mph fastballs," said the operator.
Around the building, women and men congregate in packs. The vibe is junior high dance-meets-Studio 54 (the safe, touristy one in Vegas). There are shiny shirts, teetering heels, occasional cowboy hats.
Sunglasses at night. Too much cologne, enough makeup to repaint the roof of the Sistine Chapel. The dance floor is empty, but both bars have healthy lines.
It's still early -- so early that official party host Johnny Damon has yet to arrive.
"They lost his luggage," said Dan the PR guy. "But they have it now. His limo is waiting for him. He should be here soon."
Upstairs, you can learn to mix and scratch from a small group of DJs. Actual science stuff is also on display, including an exhibit on harmonic waves that no one pays any mind. The stations are decorated with photos of music stars, including Mick Jagger and the Prodigy. One of these things is not like the other.
Back on the ground floor, a small crowd gathers around what looks like an indoor tent. This, it turns out, is the VIP room. Everyone wants in; most are turned away. Such is the power of a velvet rope: Put one around a 7-11, and the Slurpee machine would become an object of ego affirmation.
"You need a blue-colored band," says the doorman. "If you can get a blue band, you're all set."
Blue bands are available outside, where party organizers have set up a small red carpet. A half-dozen reporters and local television crews stand behind a second velvet rope. Kenny Mayne shows up. With an entourage. The press pack pounces. He mulls around until wristbands are obtained for him and his crew.
"Ah, the Glengarry bands," Mayne says.
A limo pulls up. Out jumps Rob Dibble. Really -- he jumps. Secada's party comes through, followed by Derrick Coleman. Again, someone mentions Dean Cain.
Bands for everyone.
I ask a security guard: How many of these bands do you have?
"I don't know how many," he says with a laugh. "It gets interesting after a while."
Finch is next. Three kids stand on the far side of the red carpet, behind the rope, holding copies of Sports Illustrated. The cover features Finch. The security guard warns them to stay back. No need. Finch stops to dole out autographs.
"We were just at the stadium and got Cal Ripken," says Jeff Buck. "He was really cool."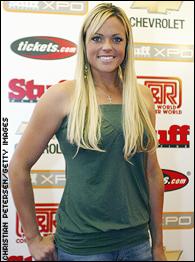 Now here is an autograph worth the wait.
"We were about to leave when we saw [Finch]," adds Andy Buck, Jeff's brother. "She was supposed to be at Fanfest. But we never saw her."
I run into Shawn Kahle, director of the Science Center. Believe it or not, the place hosts 10 to 15 similar functions every year. Kahle wants to make a good impression. The Super Bowl comes to town in February.
"This is a fun place," she says. "Science exhibits by day. Disco by night."
The party took two days to set up. Planning was more involved. Just ask Noah, who works for Dennis publishing (the company behind Stuff and Maxim). Clad in sunglasses and a screaming-loud shirt, he scrambles between the red carpet and the main entrance. He's the doorman, the gatekeeper, the guy who decides who gets in and who doesn't.
Oh, and he's also the rainmaker. In fact, every man in the building owes him a hearty thanks: For the last three weeks, Noah has been scouring area bars and clubs, looking for attractive women to invite to the party.
"Look, our focus is on getting lots of hot women to these events," he says. "Think about it. The NBA is off-duty. Football guys are off-duty. They love coming to these events. They know hot women will be here."
So, what tanning bed did all these ladies crawl out from under?
"It's the suburbs, man," Noah says with a laugh. "I'm not going to lie. We reached out. We had a whole team going to malls, going from bar to bar. We have a system. We separate them from the guys they're with. And then invite them."
Apparently, scouting isn't just for baseball. Mental note: Keep this guy away from my wife.
Time to call it a night.
Patrick Hruby is a Page 2 columnist.