Commentary
The myth of Jordan Crawford
Updated:
July 10, 2009, 2:32 PM ET
By
Patrick Hruby
| Page 2
During their lightsaber duel in "Star Wars," Obi-Wan Kenobi warns Darth Vader: Strike me down and I will grow more powerful than you can imagine. Never one to lose sleep over koanic riddles, Vader does just that, felling the aging Jedi master with a single slash -- transforming Kenobi into a glowing, immortal apparition who later helps topple Vader's evil galactic empire.
The point? LeBron James must be a "Star Trek" guy.
[+] Enlarge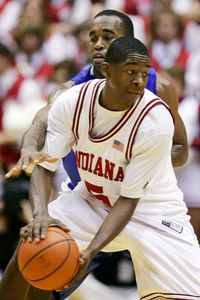 AP Photo/Darron CummingsXavier's Jordan Crawford, shown playing for Indiana in 2007, will become a mythical figure in the wake of his dunk over LeBron James.
As you've probably heard, Xavier's Jordan Crawford supposedly dunked on James during a Monday night scrimmage, video of which was reportedly confiscated by Nike representatives, possibly at James' request. If any of this is true -- if James didn't want his posterization going public -- then both shoe company and pitchman picked the least effective way to minimize the story. For one, they violated the cardinal rule of Watergate: The cover-up is always worse than the crime. Dumber still, they ignored the lesson of Kenobi's vanishing act.
Namely, there's power in the unseen.
Before YouTube, before television and film and photography, there was … memory. Word of mouth. Tales passed from person to person, growing and changing, becoming grander with each retelling. Put Crawford's dunk on YouTube, and it lives on a server farm, plain and prosaic and numbing. Watch. Move on. Hide the tapes, by contrast, and the jam is forever reborn in the public's mind, idiosyncratic and new. Crawford broke the rim. He dunked with four arms. LeBron wept. I heard from a guy who heard from a guy … This is how myths begin; why Babe Ruth's called shot continues to have such legendary purchase; why "The Iliad" will be with us long after future cybernetic killing machines have destroyed every last copy of "Troy" (the sooner, the better). The camera commands and directs. The mind's eye engages.
You'd expect James to get this. The Swoosh, too. After all, the entire athletic-advertorial complex is built on makin' myths to sell sneakers. Different sorts of myths, though -- ones where the imagining is done for you, where Mars Blackmon tells viewers how to feel about Michael Jordan and slick editing does the same for Lance Armstrong. Perhaps that's why the tapes were confiscated: Nike wanted to maintain literal image control. But why? In its absence, Crawford's flush now belongs to everyone. And it figures to live, Obi-Wan style, for a very long time.
Look, just because James favors New York Yankees caps doesn't mean he should actually emulate Darth Vader.
Patrick Hruby is a columnist for Page 2.
Adidas Youth Cleveland Cavaliers Lebron James #23 Alternate Gold Replica Jersey Shop »