Page 2 staff
There are many memorable moments and examples of both Sports Pride and Sports Humility. Here are some of our favorites.
10 Great Moments in Sports Humility
10. David Robinson's deferral. For years, Robinson was the heart and soul of the San Antonio Spurs, a star center and the face of the franchise. Yet when the club made youngster Tim Duncan its offensive go-to guy, Robinson didn't pout, sulk or arrange for Duncan to be traded to Miami. Uh-uh. The Admiral accepted his reduced role with grace, encouraged Duncan to take the reins, and helped the Spurs win two NBA championships.
9. Danny Gathings gives back. Named the Most Valuable Player of the 2004 Big South Tournament, High Point University forward Danny Gathings gave the award to Liberty guard Larry Blair. The reason? Gathings, the conference player of the year, didn't think he deserved the honor.
8. Lance Armstrong gives up the yellow. During the fourth stage of this year's Tour de France, American Dave Zabriskie lost the lead when he was involved in a serious crash. Armstrong took over the overall lead. But Armstrong decided not to wear the yellow jersey for Stage Five -- out of respect for Zabriskie, who he felt probably would have kept the lead if not for the crash, and out of respect for race tradition, which is that you don't acquire the yellow jersey through a crash. Unfortunately, race director Jean-Marie Leblanc eventually forced Armstrong to don the jersey, threatening disqualification otherwise. But it was still a very classy gesture. And it wasn't the first time Armstrong has done such a thing. In 2001, after his rival, Jan Ullrich, crashed in the Pyrenees, Armstrong waited for Ullrich before continuing to race.
7. Shaq writes a check. After NBA legend George Mikan, the first dominant big man in the game, died earlier this year, the league's current dominant big man, Shaquille O'Neal, offered to foot the bill for Mikan's funeral services.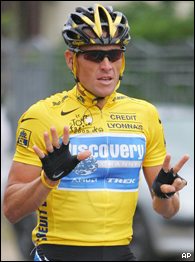 Lance is a good sport, on top of everything else.
6. Troy Brown plays three ways. Troy Brown has been an excellent wide receiver and punt returner for the New England Patriots for several years. But last season, with the Pats' secondary decimated by injuries, Brown filled in on defense as well, and performed admirably. He hadn't played defensive back since early in his career at Marshall University in the late 1980s.
5. Ray Bourque takes it off. When Ray Bourque joined the Boston Bruins, the team gave him No. 7, which had been Phil Esposito's number. When they decided to hold Phil Esposito Night at the Boston Garden in 1987, they announced they would retire Esposito's No. 7 after Bourque was finished wearing it. But during the pregame ceremony, Bourque skated over to Esposito, took off his sweater, and gave it to Esposito. Bourque wore No. 77 for the rest of his career.
4. Barry Sanders sits out. Ten yards. That was it. In the final game of the 1989 NFL regular season, Detroit led Atlanta 31-24 and took possession with just over a minute remaining in the fourth quarter. The game was meaningless; neither club was going to the playoffs. Lions coach Wayne Fontes turned to Sanders, his star running back. You're 10 yards from leading the league in rushing. Do you want to go in? "Coach," Sanders replied, "give the ball to Tony [fullback Tony Paige]. Let's win it and go home." Kansas City's Christian Okoye won the rushing title. The Lions won the game. Sanders went home. 'Nuff said.
3. Pat Tillman enlists. Some NFL players -- who shall remain nameless, cough, Terrell Owens, cough -- believe the most insignificant first down is worthy of prime-time attention. And then there's Pat Tillman. Upon turning down a three-year, $3.6 million contract with the Arizona Cardinals to enlist in the Army in 2002, Tillman declined all media inquiries. He just wanted to do what he thought was right, without comment or celebration. Imagine that. And in the end, he sacrificed his life for his country.
MORE PRIDE VS. HUMILITY
Check out Patrick Hruby's obituary for sports humility. Then cast your vote on which you think wins out, pride or humility.
2. Jim Valvano's speech.
At the 1993 ESPY Awards, as he was dying from cancer, the former N.C. State coach gave a legendary speech, announcing the start of the Jimmy V Fund for Cancer Research and imploring the audience: "Don't give up, don't ever give up."
1. Lou Gehrig's speech. The gold standard. Gehrig's simple, heartfelt 1939 farewell address was immortalized in a film, reduced grown men to tears and moved Babe Ruth to throw his arm around a man he hadn't spoken to in five years. The part you know: a terminally ill Gehrig declaring himself the "luckiest man on the face of the Earth." The part you don't: Gehrig thanking his mother-in-law. Now that's humility.
10 Great Moments in Sports Pride
10. Carmelo Anthony gives thanks. During his 2003 ESPY acceptance speech, Anthony thanked himself for all the hard work he'd put in. Was he being dishonest? Not at all. Still, some things are better left unsaid.
9. Fred-Ex. Freddie Mitchell, the former Eagles wideout who signed with the Chiefs for the upcoming season, has done little to distinguish himself so far in his NFL career. But that hasn't kept him from making several outrageous statements. One of our favorites was this one, which came after he caught a touchdown pass in the Eagles' playoff victory over the Vikings this past season: "I'm a special player and I just want to thank my hands for being so great."
8. Keyshawn Johnson, author. After his rookie season with the New York Jets in 1996, wideout Keyshawn Johnson released "Just Give Me the Damn Ball!: The Fast Times and Hard Knocks of an NFL Rookie." Allen Barra, who reviewed the book in the New York Times Book Review, said it best: "Johnson has caught just 63 passes so far in his pro career, and the only record he holds is 'most pages per catch.'"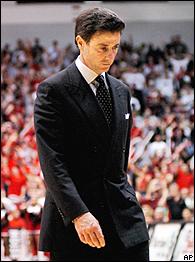 Pitino could have handled things with Auerbach a little better, don't ya think?
7. President Rick Pitino. When Pitino took over as the Boston Celtics' head coach in 1997, he also assumed the title of president -- and very ungraciously demoted the legendary Red Auerbach from president to vice chairman. We all know how Pitino's term in office went. Auerbach became president again upon Pitino's departure.
6. Reggie Jackson opens his mouth. When Jackson signed with the Yankees in 1977, he announced, "I am the straw that stirs the drink," which particularly angered Yankee captain and reigning AL MVP Thurman Munson. Another one of our favorite Reggie quotes: "The only reason I don't like playing in the World Series is I can't watch myself play."
5. Wilt Chamberlain's big number. It's one thing to claim that you bedded 20,000 women, mathematically improbable as that may be; it's quite another to tell the entire world about it.
4. Scottie Pippen sits out. With 1.8 seconds remaining in a tight 1994 NBA playoff game between New York and Chicago, Bulls coach Phil Jackson drew up a final play for Toni Kukoc. All-Star teammate Scottie Pippen, appalled at the choice, refused to re-enter the game. No shot, no play. Kukoc hit a game-winner. Karmic justice. An otherwise decent teammate, Pippen never fully lived the moment down.
3. Rickey Henderson's speech. The dynamic Henderson was a base stealer nonpareil. And darned if he didn't know it. After stealing the 939th base of his major-league career -- surpassing former career record-holder Lou Brock -- Henderson grabbed a microphone and proclaimed, "Lou Brock was a great base stealer, but today, I am the greatest!" Oh, and never mind that the beloved Brock was looking down from the stands. For a player who made talking in the third person an art form, anything less from Henderson would have been a crushing disappointment.
2. T.O. The Messiah. Terrell Owens believes the Philadelphia Eagles should renegotiate a contract that is set to pay him a paltry $12.4 million from last season through the upcoming one. Jesus of Nazareth was nailed to a cross. One of these things is not like the other. Still, that didn't stop the outspoken Eagles receiver from comparing himself to the Prince of Peace, as he told the Miami Herald: "At the end of the day, I don't have to worry about what people think of me, whether they hate me or not. People hated on Jesus. They threw stones at him and tried to kill him, so how can I complain or worry about what people think?" Left unsaid: People also hated on Marie Antoinette, Nicolai Ceausescu and Pauly Shore. But why should Owens worry about what people think?
1. Muhammad Ali, the man. "I am the greatest." What else is there to say? Tough to argue with him.