By Patrick Hruby
Special to Page 2
WIMBLEDON, England -- The New York Post has nothing on Fleet Street.
Sure, the Post reigns supreme as America's undisputed heavyweight champion of over-the-top tabloid headlines. Put it in a playoff bracket with London's finest, however, and it would be a No. 16 seed. At best.
Not convinced? Then take Page 2's Wimbledon headline quiz.
Here's how it works: We give you the story and four possible headline choices. Only one of the irresistibly titillating headlines is real, ripped straight from the pages of the London tabs. It's up to you to pick the right answer.
Ready? Then sharpen your pencils -- er, keyboards -- and get started. You'll find the correct answers listed below:
1. The Sun, on Tim Henman's fourth-round Wimbledon win over Australia's Mark Phillippoussis, in which Phillippoussis cursed out a chair umpire:
a) HEN-MANHANDLES AUSSIE POTTY MOUTH
b) TIM FLOORS FILTHY PHIL
c) TIGER TIM DUMPS BRATTY SCUD
d) HENMAN FLUSHES DIRTY POO-SSIS
2. The News of the World, on England's loss to Portugal in the Euro 2004 soccer tournament:
a) WE'RE A NATION OF LOSERS!
b) UNITED KINGDOM OF SUCKTITUDE!
c) FAIL BRITANNIA!
d) NEVER MIND THE QUEEN, GOD SAVE THE REST OF US!
3. The Mail, on former tennis star/glamour girl Gertrude Moran having to live on Social Security handouts:
a) FROM GLAM TO SHAM: GUSSIE LIVES HAND-TO-MOUTH
b) WIMBY PRINCESS TURNS A PAUPER
c) WIMBLEDON'S GORGEOUS GUSSIE: WHY I HAVE TO SELL MY KNICKERS ON EBAY
d) GORGEOUS GUSSIE WILL SERVE FOR FOOD
4. The Mail, on Martina Navratilova's friendship with a married American couple: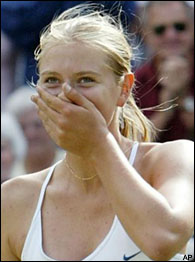 From Russia, we love: Innocent Maria blushes at the headlines she's been reading all week in the British tabloids.
a) MARTINA BRINGS HER LATEST LADY FRIEND OVER TO WIMBLEDON ... AND HUSBAND MAKES THREE!
b) LOVE-3: NAVRATILOVA'S KINKY THREESOME
c) NAVRATILOVA, MARRIED COUPLE PLAY MIXED DOUBLES
d) NAV-RA-TOI-LOVA!
5. The People, on lax Wimbledon security that allowed a reporter to sneak onto the grounds, work as a vendor without a background check and even take a Centre Court photo with John McEnroe:
a) SCANDALEDON!
b) SHAMEBLEDON!
c) WIMBLEDOPES!
d) WIMBLEDUPED!
6. The Sunday Mirror, on Henman's improving serve:
a) TIGER TIM'S HEAVY BALLS
b) TIM CARRIES A BIG STICK
c) TIM'S GOT A HUGE WEAPON
d) TIM HAS BIG SHOES
7. The Observer, on Phillippoussis lashing out at reporters who questioned his relationship with British actress Delta Goodrem:
a) THE POO KICKS UP A STINK AT INQUISITON
b) POO SEZ: PUT A LID ON IT!
c) MARK POO-POOS NOSY WRITERS
d) POO LEAVES SKID MARKS AT PRESSER
8. The Daily Sport, on Andy Roddick's first trip to Wimbledon, where he hung out with intoxicated overnight campers in line for tickets:
a) ROD HOLDS COURT WITH WIMBLE-DRUNKS
b) AA-NDY SPENDS LONG NIGHT IN LIQUOR LINE
c) RODDICK'S SAUCY EVENING
d) ROD'S BOOZE CRUISE
9. The Sun, on Amelie Mauresmo's improving grass-court game:
a) AMELIE SMOKES THE GREEN STUFF
b) AMELIE HIGH ON GRASS
c) AMELIE ADMINISTERS GRASS-KICKING
d) LAWN MO-ER
10. The Sun, on England's recent failures in tennis, rugby, cricket and soccer (includes photo illustration of a mock police suspect lineup with Tim Henman, David Beckham and others):
a) THE USUAL SUSPECTS ... OF SHAME!
b) MURDERED ROW!
c) A LINEUP OF LOSERS!
d) GUILTY ... OF CRIMES AGAINST ENGLISH SPORTS FANS!
11. The Daily Star, on England's sports failures:
a.) WE RULE THE WORLD (OF FISH AND CHIPS)!
b) THERE'S STILL THE OLYMPICS (FOR US TO LOSE)!
c) CHEER UP, ENGLAND ARE STILL CHAMPS (AT BOG SNORKELLING)!
d) OUR DAY WILL COME (IN EXTREME IRONING)!
12. The Sun, on Tim Henman's quarterfinal loss to Croatia's Mario Ancic:
a) DIMBO: HOPELESS HENMAN MAULED BY MARIO
b) TIM-ID HENMAN CRUSHED BY CROAT
c) GRIM TIM TRAPPED IN SUPER MARIO WORLD
d) ANCIC TURNS TIGER TIM INTO PUSSYCAT
13. The Sun, on Maria Sharapova reaching the Wimbledon final:
a) GIVE US A WHITE RUSSIAN!
b) FROM RUSSIA, WE LOVE!
c) MARIA, LET'S TRADE STROKES!
d) MOMMA, MARIA!
Correct answers
1. b 2. a 3. c 4. a 5. b 6. c 7. a 8. d 9. b 10. d 11. c 12. a 13. b
Patrick Hruby is a sportswriter for the Washington Times.