Commentary
Checking in with Team Gorgeous
Originally Published:
August 21, 2009
By
Matthew Iles
| Special to Page 2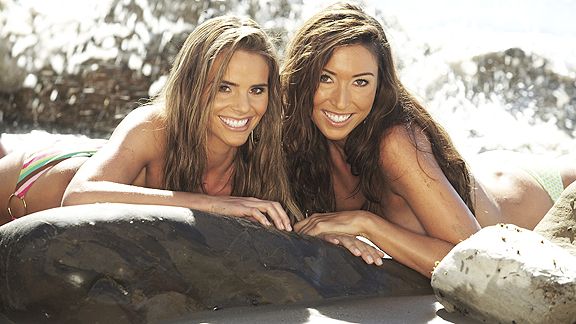 Playboy Michelle More and Suzanne Stonebarger decided to strike while they were hot.
Iconic, controversial and seemingly everlasting -- a charge led by its venerable Viagra veteran Hugh Hefner -- Playboy has become a unique and powerful cultural symbol during its 56-year tenure.
It's the Louvre of naughty magazines. Getting your hands on a copy is virtually a rite of passage for adolescent men.
For some women, an invitation to appear in its pages is a stamp of approval no flattering compliment or blithering pickup line could ever match.
That's true even for AVP Pro Beach Volleyball teammates Michelle More and Suzanne Stonebarger, whose collective nickname Team Gorgeous was coined during their amateur playing days when the crew members didn't know their real names.
Well, after posing nude together in an eight-page spread for the most recent Playboy issue, people certainly won't forget who they are now. Frolicking for the cameras on a private beach in Santa Barbara, they joined the likes of other athletes-turned pinups such as Olympians Amanda Beard and Katarina Witt as well as fellow volleyballer Gabrielle Reece.
"We are thrilled to have [them] join the roster of other beautiful athletes," Playboy's photography director Gary Cole said. "Their photos are gorgeous and depict the artistic, feminine and sexy side of sports."
When asked why they decided to do it, More and Stonebarger both mentioned some of the more oft-cited reasons for doing anything risky -- or in this case, risqué.
"It was so professional," "You only live once" and "It's something we'll always remember."
More was especially serious about that last one.
"We'll look back when we're grandmothers someday and laugh about the days when we did Playboy."
Teammates since their first year in college together, More and Stonebarger are used to seeing each other naked. Baring all in front of complete strangers, though, must still be a little weird. But since their profession already requires them to run around in bikinis all day, Stonebarger said it really wasn't too different.
OK, sure. You're adults. It was tastefully done. We get it. But didn't your parents and significant others disapprove?
"Uh." They both stretched out a pause. "Yeah." They couldn't help but laugh.
"Once we ultimately made the decision to do it, they supported it," More said. "But initially, they were definitely very uneasy about the idea of us being in Playboy."
No matter how classy or professional or even fun the shoot turned out to be, though, this was ultimately a career move. After all, they're professional beach volleyball players, not models. They both emphatically said they would not have posed nude for free.
So they seized what they thought was a good opportunity for them. But they're still just a couple of regular gals -- no number of bikini-clad workdays or "Team Gorgeous" catcalls could prepare them for camera shyness. Just talking about the experience made them giggle.
It's this ability to laugh at themselves, though, that made the whole thing possible. The best friends both admitted they wouldn't have been able to do it without the other.
In the sand and in the spotlight, albeit for slightly different reasons, they remained teammates just the same.
"We were laughing the entire time, because obviously neither one of us had posed naked," More said. "We were just totally, brutally honest with each other. We laughed during the entire shoot just making fun of each other."
Of course, I had to ask the million-dollar question: Will they get to visit the Playboy Mansion?
"Why? You want to come?"
They both currently appear naked in one of the most widely distributed magazines in the world, but even over a transcontinental phone call, they managed to make me blush.
Now that's gorgeous.
Matthew Iles is an editor at ESPN.com.