By Scoop Jackson
Page 2
This was the last team they needed to see. The Lords of the Ring. Not them. Not on this day.
The Cavs knew that. But what were they going to do? Doesn't matter that the Detroit Pistons had nothing to prove. The Pistons' post-April 19th destiny was not just set, but their fate is possibly the exact opposite of the team – of the city – challenging them.
So the Cavs are the exact opposite of who they were going up against.
The Cavs, a team fighting for their lives; the Pistons, fighting for a win.
The Cavs, a team that hasn't been to the playoffs since 1998; the Pistons, defending a chip.
The Cavs, who finished their season 13-28 on the road; the Pistons, whose 11-game winning streak ended on the final day of the regular season.
The Cavs, a team with one superstar; the Pistons, with stars but none super.
The Cavs, a team that can't fill in the blanks; the Pistons, a team that has its (blank) together.
This is about the rise and eternal fall of the Cleveland Cavaliers. About an NBA team's sweet potato pie of hell after its slice-of-heaven experience. About how one season's mission turned into two halves of inevitability.
This is about two people – one named LeBron, the other named Dan. Dan, the new owner of the Cavs, the man the basketball world is about to blame all of this on. And LeBron, the player who might be on limited time with the organization he was born to save.
This is their story.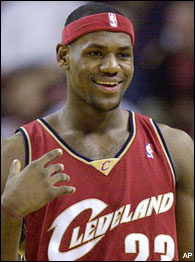 We haven't seen LeBron smile in weeks.
---
"You don't understand; we can't handle this!"
His name is Vincent Flournoy. He's from Cleveland. Fan for life. Cradle to grave. The Detroit loss pushed him close to the ledge. He's trying not to lose his head.
"Cavs fans, we can't handle the rumors ... LeBron leaving?! You don't get it; this never happens to us. Not for the Browns, not for the Indians. We never have something [LeBron] happen to us. For once, the cards all fell in place. But at this point, I don't have a clue to what's going on. No one in Cleveland does. We can't take another dose of mediocrity. I mean, we can handle not making the playoffs if there's a plan to fix it, but what is the plan? I need to know. Because if this doesn't happen, if something positive doesn't come out of this, I'm going to jump off a bridge."
Webster's defines a plan as such: "A strategy worked out in advance of an action; a outline or diagram."
When Dan Gilbert took over Cleveland's basketball empire 6½ weeks ago, the future was bright, but dimming. The All-Star break was over, and the Cavs were not hooping the way they were playing before the Denver intermission.
Gilbert arrived, and a sense of deja vu began to seep in. Another hotshot young owner coming into the League? was the cry heard on radio networks. The next Mark Cuban, a Pat Croce remix? A renegade. Art Modell II?
After 11 road losses in a row, after a nine-of-their-last-12 games losing streak, after a loss to the Raptors, the new-old Bulls (despite James' 56 points), something had to be done. So Gilbert fired Paul Silas, relieving him of his head-coaching duties after only a season and a half. It seemed like a knee-jerk reaction to a losing streak, as opposed to something bigger. It was the first executive move Gilbert made as owner; and according to many in Cleveland, it was done with no "real" explanation – outside of the standard "We weren't happy with the direction the team was going."
Cavs GM Jim Paxson appeared to be next. Less than two weeks after Silas' exit, it was reported that Paxson would be gone "within 48 hours." Then came the news that "because of the decisions being made," LeBron wanted out before the end of his contract. In Cleveland, chaos and panic set in.
The new local (and national) anthem became, "What in the hell is going on?"
The perception of the Dan Gilbert Era one month in: "This dude doesn't have a plan."
---
"I'm struggling right now. This is driving me crazy!"
His name is Jamal Jeter. Distant cousin to Derek. Cavs fan to the death. LBJ protector. Say anything bad about "his team," he gets heated. Calls people, asks for numbers of those who make ill statements. He's like Cube, "XXX" ready.
"I think [Gilbert] saw the bright lights, the future, the growth potential and bought it. He dropped his 350 million dollars, but he didn't see everything. He didn't realize how much of a mess he was in until he got the team. No Carlos Boozer. The GM and coach weren't getting along. No draft picks in 2006. No first-round draft pick in 2007.
"The team, if you seriously look at it, is really not that good. They're right where they're supposed to be. And as bad as it is now, the future looks even more bleak. It's like putting a round peg in a square hole. Plus, the perception we're getting is that he's not communicating anything with the players, so they don't know what's going on, either. But I can't blame him for their losing. I think it's the ownership change, not the owner."
Webster's defines perception as such: "Discernment or judgment; insight gained from observation."
Perception is a funny thing. Some will tell you that perception is reality. And once you don't have control of perception, it can ruin every plan you have to turn a once-doormat franchise into the old-new Bulls.
But perception is not reality. Reality is. And the reality is that Dan Gilbert has made only one move since coming in as owner of the Cavs. And judged against the number of coaching changes in the NBA this season alone, he's done nothing different than half the owners in the League have done.
Reality will tell you that Paul Silas was gone before Gilbert even asked him to leave. Not only was the relationship between Silas and Paxson beyond repair, Silas apparently was upset with what insiders say was "meddling" by outsiders with everything from his philosophy to his "rotation of players in games." Silas even went so far as to tell some reporters during his final days that he wanted out. That known, Gilbert's hands were basically tied.
Paxson is still GM. That's reality. There has been no change. Information false. But the impact of the rumor has been damaging – which is something Gilbert might not be able to control.
The reality is, as bad as things look right now, and even if the Cavs don't make the playoffs during the length of his contract ... until 2007, LBJ is going nowhere.
But in this case, the perception of what's going on in Cleveland is more real than any reality could ever create.
---
"We stopped playing our No. 1 point guard for no reason; and as a team, we didn't know why."
His name is LeBron James. Franchise. League. Damn-near MVP. Best Ever?
"We lost our coach, we get new players, we get new ownership, and now 'Pax' might be getting fired – it's been difficult. The chemistry has all been shifted. That bothered me."
Webster's defines chemistry as such: "The study of the properties of matter."
Does it matter that right when the Cavs got a win they desperately needed, the New York Post reported Spike Lee as saying, "There's no guarantee that LeBron is going back to Cleveland"? Backed with the matter that 'Bron's Nike deal gets "bumped up" past its existing $102 million if he signs with the Knicks?
From there, only speculation mattered. LeBron will force a trade at the end of the season. That's how it read.
After that, the loss on Sunday. That made three in a row. Another streak.
Should the improbability of LeBron's future two months from now have an impact on a team that has two games left to determine its playoff life? Is it the chemistry or the psyche of the team that's weak? When no other playoff-bound team in the league is free falling like this, the answer: Maybe yes.
Which means the issues facing the Cavs are much deeper than the rumors of LeBron's departure. Even his agent's comments – "[LeBron] has no intention of leaving ... he has the full confidence that the new owner will do everything he can to build a winning team ... he wants to bring a championship to Cleveland ... he will not think of going anywhere else until that goal is exhausted ... " – haven't helped.
Even if LBJ's comments – "The fans in the city [of Cleveland] have nothing to worry about ... I'm here ... " – haven't helped.
Which leads us back to that one thing, the only thing that's been done under Dan Gilbert's reign: The removal of the coach. That's all. Evidence of nothing else exists. Flip Saunders, Bill Laimbeer or Tom Izzo as coach? Nothing. Greg Anthony as GM? Nothing. Sign-and-trade for Zydrunas Ilgauskas? Nothing.
LeBron a Knick? Nothing to the third power.
Can one move have that much of a negative impact without something much deeper contributing? Could it be coincidence?
Webster's defines coincidence as such: "the condition of coinciding; a series of chance events that seem to have been planned."
A collection of coincidences that almost act as a black cloud inside a franchise that hasn't seen sunny days since ... since ... damn.
Is it simply a coincidence that the minute Dan Gilbert inherited this team, Ilgauskas dislocated a finger on his shooting hand and Drew Gooden sprained his shoulder? Is it coincidence that even in the minds of die-hard Cavs fans, both Jeff McInnis and Eric Snow hit a point-guard wall? Is it coincidence that teams then started exposing the Cavs' defensive issues by running screen-and-rolls like they were Argentina and Cleveland was the USA Olympic squad?
Is it coincidence that, in the observation of ESPN analyst Len Elmore, the minute LeBron's trust in his teammates dropped, they stopped moving without the ball?
Is it coincidence that only seven days after the date published on that magazine that had LeBron on the cover with the headline that read "Best Ever?" the jinx came into effect – but seemed to affect everyone connected to the organization but him? Can coincidence be that strong?
Or is this just Cleveland?
Wonder how Webster's defines "fate."
Scoop Jackson is an award-winning journalist who has covered sports and culture for more than 15 years. He is a former editor of Slam, XXL, Hoop and Inside Stuff magazines; and the author of "Sole Provider: 30 Years of NIKE Basketball," "Battlegrounds: America's Street Poets Called Ballers" and "LeBron James: the Chambers of Fear." He resides in Chicago with his wife and two kids. You can e-mail Scoop here.