Single page view
By Scoop Jackson
Page 2
EDITOR'S NOTE: Scoop Jackson interviewed Cavs owner Dan Gilbert on Sunday.
If you were a Cavs fan right now, what would you be thinking about the change in ownership?
Gilbert: I would be thinking there is now an ownership team in Cleveland that is willing to do whatever it takes to put the right people and players in the right places to bring a championship and world class organization to Cleveland.
I also would be thinking that this ownership team took over with only 25 percent of the season left and after the trading deadline had expired. There is not a single player nor anyone else in the entire organization that was drafted, traded for, signed in free agency or hired by this ownership team.
CAVALIER ATTITUDE
What's wrong with the Cavs? A losing streak, a new owner, and rumors of LeBron's possible departure have Cavs' fans on the edge, writes Scoop Jackson.
In short, this ownership team has not even started its era. It won't do so until this season is over.
From the outside looking in, the perception seems to be that there is no plan in place. Is that perception off-base? Is there a plan? And if so, what is it?
Gilbert: You first have to start with a philosophy. Then you hire the kind of people that believe and embrace that philosophy. After that, you put in the plan.
Do we have a philosophy? We sure do. And it's the same philosophy that has guided us in our other businesses.
It's a philosophy of winning. Not sometimes. Not most of the time. But all of the time. It's a philosophy that only tolerates excellence. It disdains mediocrity. It never settles for being OK. It's a philosophy of awareness. It's one of urgency. It's one that allows hungry, talented and motivated people to get closer to their potential.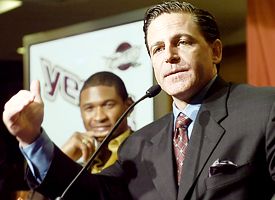 AP Photo/Mark Duncan
New Cavs owner Dan Gilbert has seen his team plummet since he bought the team a few weeks ago.
Once the season ends, we will find the best people in the world who embrace our beliefs and want to build the kind of culture and environment that innovates and executes on a world-class level. Once that is completed, then the tactical details get laid out and put in motion.
In your mind, has the falsehood of the Paxson information had any effect on the team's effort or play on the court?
Gilbert: There have been many lies, exaggerations, distortions and insults cast since we took control 47 days ago. It is quite shocking and disappointing, indeed. I have never personally been exposed to such a gap of sincerity and integrity.
Our guys are professionals. I take the position that once they get on the court, they play to win and all of the noise takes a back seat.
In hindsight, could the firing of Silas been handled differently? Especially from a timing standpoint? If not, are you worried about how that move has been perceived? Keep in mind, we – the public – view that as your first move as an executive. We don't know everything that was going on behind closed doors. What do you say to those who think you came in with the intent on making your stamp on the franchise that way?
Gilbert: You hit the nail on the head when you say, "We don't know everything that was going on behind closed doors." That's the box, unfortunately, the dismissal of Paul Silas has put us in.
I am certainly not going to talk about the details of what was going on inside of our house. There is no reason to do that. I don't believe in airing anybody's dirty laundry in the media.
Needless to say, I believe that just about any reasonable and competent leader, if presented with the facts and situation as I observed them, would have come out with the same decision that I did. I never make any important decision to put "my stamp" on anything. We have over 3,700 employees; and if you asked any one of them that question, there would not be a single one of them who would think it has been the history for us or me to act that way or decide things that way.