Single page view
By Scoop Jackson
Page 2
Editor's note: If Wilt Chamberlain were playing in the NBA today … ahhh, how many times have we wondered what that would be like?! On the court and off. When we put the question to Scoop Jackson and Eric Neel, they came up with this mind's-eye journal of a hoops writer's Travels with Wilt and the Sacramento Kings during the 2004-05 season. Here's Part 1. Stay tuned for Part 2 Friday.
He sits inside his locker stall, drenched, towel wrapped around his neck, uniform a deep shade of purple unseen even by Glidden. Again, it's Shaq who brings him to this, who makes his head hang as it does. For five years, he's had no answer; and now that Nemesis No. 32 has moved on to Miami, Wilt figured it would be easier to lay claim to the crown that has Susan Lucci-ed him since he came into the league. The NBA scheduled this game to open the season. It's been on Wilt's radar since they announced it this summer.
In his mind, this was going to be the year that Wilt and Sac finally get that chip. His out? Not having to go through the Lakers with Shaq on the roster. Finally, he and C-Webb would be able to celebrate. But from the look on Wilt's face, it'll be some long minutes before any celebrating jumps off.
His numbers for the night are respectable: 27 points on 11-for-20 shooting from the floor, 13 boards, two blocks. But for some reason, Coach Adelman didn't play Wilt his average 45 minutes this game. He played only 38. No foul trouble. And as the media begins to crowd him at his locker, I know (and he knows) that the majority of questions are coming from that number. After a loss – especially a loss to Shaq – he's not going to have an answer, not going to say much. The man's ego is only eclipsed by his pride.
---
The house looks the same. I haven't been here since he got married, so I was expecting mad changes. You know, figured he'd un-bachelor the place. He asks me what I want to drink. I tell him, "the regular," just to see how good his memory is. Once in 2000, after his rookie season, GQ sent me out here on assignment to cover him as one of their Men of the Year. I spent four days with him, days I'll never forget. Days I need to forget.
The wife enters. Bouncin'. The television, the Web site, Maxim, Stripperella … have nothing on this. In person, it's a whole 'nother thing. Pam sits down. Bouncin'. Wilt's at the bar, all smiles.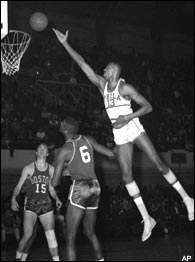 How would Wilt hold up in today's game. Would he dominate?
They got married over the summer. Next to the Shaq trade out of the Lakers, this was the biggest news in pro sports outside of the BALCO/Senate hearings. They live the life of the new "It" couple, just the way the media presents them. They took each other off the scene.
She moved into his Maloof-built estate just a few months ago. Figured there was room in Los Lagos (Granite Bay, Calif.) for one more Jackie Christie or Tyra Banks, that there was enough room in Wilt's 26-room "coach house" for her to find herself, room enough for her 20,000 tapes.
I don't know what to say. Pam Anderson is sitting next to me! … on a couch … giggling. I ask her if she'll use the name, Chamberlain, the way she adopted "Lee" in her earlier marriage.
"Wilt doesn't believe in that," she says. Why am I so lucky?
Wilt puts a bottle of Patron Silver on the coffee table in front of us. No shot glasses.