By Scoop Jackson
Page 2
Editor's note: If Wilt Chamberlain were playing in the NBA today … ahhh, how many times have we wondered what that would be like?! On the court and off. When we put the question to Scoop Jackson and Eric Neel, they came up with this mind's-eye journal of a hoops writer's Travels with Wilt and the Sacramento Kings during the 2004-05 season. Here's Part 1. Stay tuned for Part 2 Friday.
He sits inside his locker stall, drenched, towel wrapped around his neck, uniform a deep shade of purple unseen even by Glidden. Again, it's Shaq who brings him to this, who makes his head hang as it does. For five years, he's had no answer; and now that Nemesis No. 32 has moved on to Miami, Wilt figured it would be easier to lay claim to the crown that has Susan Lucci-ed him since he came into the league. The NBA scheduled this game to open the season. It's been on Wilt's radar since they announced it this summer.
In his mind, this was going to be the year that Wilt and Sac finally get that chip. His out? Not having to go through the Lakers with Shaq on the roster. Finally, he and C-Webb would be able to celebrate. But from the look on Wilt's face, it'll be some long minutes before any celebrating jumps off.
His numbers for the night are respectable: 27 points on 11-for-20 shooting from the floor, 13 boards, two blocks. But for some reason, Coach Adelman didn't play Wilt his average 45 minutes this game. He played only 38. No foul trouble. And as the media begins to crowd him at his locker, I know (and he knows) that the majority of questions are coming from that number. After a loss – especially a loss to Shaq – he's not going to have an answer, not going to say much. The man's ego is only eclipsed by his pride.
---
The house looks the same. I haven't been here since he got married, so I was expecting mad changes. You know, figured he'd un-bachelor the place. He asks me what I want to drink. I tell him, "the regular," just to see how good his memory is. Once in 2000, after his rookie season, GQ sent me out here on assignment to cover him as one of their Men of the Year. I spent four days with him, days I'll never forget. Days I need to forget.
The wife enters. Bouncin'. The television, the Web site, Maxim, Stripperella … have nothing on this. In person, it's a whole 'nother thing. Pam sits down. Bouncin'. Wilt's at the bar, all smiles.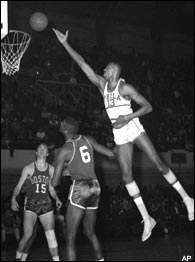 How would Wilt hold up in today's game. Would he dominate?
They got married over the summer. Next to the Shaq trade out of the Lakers, this was the biggest news in pro sports outside of the BALCO/Senate hearings. They live the life of the new "It" couple, just the way the media presents them. They took each other off the scene.
She moved into his Maloof-built estate just a few months ago. Figured there was room in Los Lagos (Granite Bay, Calif.) for one more Jackie Christie or Tyra Banks, that there was enough room in Wilt's 26-room "coach house" for her to find herself, room enough for her 20,000 tapes.
I don't know what to say. Pam Anderson is sitting next to me! … on a couch … giggling. I ask her if she'll use the name, Chamberlain, the way she adopted "Lee" in her earlier marriage.
"Wilt doesn't believe in that," she says. Why am I so lucky?
Wilt puts a bottle of Patron Silver on the coffee table in front of us. No shot glasses.
Dude's got hella memory.
Amare couldn't handle him. Not tonight. "I told y'all he couldn't (mess) with me!" he screams to no one in particular. "I told you he's not man enough for this." He flexes his biceps. Jersey off, muscle-T soaked.
He scored 55 tonight and the Kings beat the team with the NBA's best record. Fifty-five points, 31 rebounds. Although Steve Nash seems to be the difference in Phoenix this year (he came over as a free agent from the Mavs), everyone is talking about Stoudemire as the league's early MVP. Wilt's either tired of hearing it or trying not to hear it at all.
When the Kings got to Phoenix yesterday, Wilt said he was going to "distance himself" from everyone else in the league. His arrogance is like that. "Until I decide to take some time off, do what Tracy (McGrady) and Vince (Carter) did and phone games in, then I should be the MVP every year."
But as I remind him, his numbers against players his physical equal (Shaq, Yao, Duncan) are much lower than they are against players like Amare, who are maybe 4 inches shorter and 40 pounds lighter. He gets irate with me.
"Look at my finesse numbers!"
The screaming gets louder.
"Don't talk to me about size!"
I know he wants to be known as both the greatest and most dominant player alive. Maybe of his era, maybe of all time. But it's a hard proof when Shaq has three rings and he has none … yet. So I leave Shaq's name out of it and bring up the real ghost he's chasing: Michael Jordan.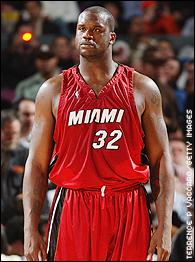 After a series with Shaq, Wilt would be praying to face Bill Russell.
He said in 2001 in a BBC interview that he didn't respect Jordan's scoring because MJ used the 3-pointer. Said his own average was more impressive than Michael's because he "doesn't have the luxury of scoring 50 percent more with one shot 10 times every game." Even said if Jordan was at his peak right now, he'd "murder him" every time they faced off on the court.
I tell him if he played in another era, like the one that just passed, he wouldn't be averaging 36 and 22 the way he has over his first five seasons. "If you were 10 years older … " is my constant stance. Olajuwon, Ewing, David Robinson, Shaq in his prime, 'Zo before the kidneys, Dikembe.
"If you had to go against them on the regular, no way you dominate like you're doing now," I tell him.
And he always says this without a smile: "Leave my Moms and Pops out of this. Don't blame them for having sex late."
In his mind, my point is like saying his all-time favorite boxer, Roy Jones. Jr., is not one of the g.o.a.t. because he's fighting in an era when the middleweight division is weak.
"Ain't got no control over when I was born, brah," Wilt'll say. "It ain't my fault."
Two days after we argue about Jordan's greatness, he takes his anger out on the Eddy Curry-less Chicago Bulls. Jordan's statue is still outside the United Center. Wilt scores 100 points – 22 more than he's ever scored in a professional game, and that 78 was a record he set a year ago against the Hawks. He looks at me as if to prove a point.
"One day, somebody is going to write a book about this game," one of the beat reporters says in the locker room afterwards. Little does he know, somebody is already on it.
I write this in my notes: "100 points, it's big, but so what? Antonio Davis and Othello Harrington were guarding him and both of 'em were in foul trouble throughout. It's like the old Eddie Murphy joke about Stevie Wonder: 'You want to impress me Stevie? Drive.' "
I know I'm the only writer who feels this way – at least, the only one who'll go public about it. Wilt keeps looking at me as the other media guys sweat him. I mouth the words to him, "I'm not impressed."
Maybe I shouldn't have done that.
---
For the fifth time in a row, Wilt is not the top vote-getter for the All-Star Game (Shaq wins again). But for the first time, he starts. The mystery still exists as to why he isn't beloved in the way Shaq and Yao are. If you ask him, he'll tell you the public doesn't "get" him, that it's just hate because he's that good. Others will say that he comes off like he's supposed to be treated special, because he believes he is special.
"No humbleness," Barry Bonds once said about him. But he also said, "no fear."
Even in Denver, with every star in the game floosin', he comes off bigger-than-life. At the dunk contest, he sits in the crowd alone, never in contact with the other players in attendance. "That's not my style," he says. And what rubs people wrong and often leads to the misunderstanding of Wilton Norman Chamberlain is that the "bigger-than-life" persona is all he knows. All he'll ever be.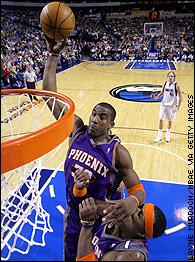 Is Amare man enough? Not according to Wilt.
Josh Smith throws on a throwback 'Nique jersey, gets 50, wins the 'test. Everyone seems impressed.
'Cept Wilt. He exits the building.
Hours later he steps out of the Hotel Teatro elevator in a soft, pearl-white-to-the-floor chinchilla. A fur Dobbs to match. I see him and shake my head. He walks up. "Josh rolls like Dom, I roll like Clyde."
Which proves part of my Wilt theory wrong. In a day and age in which apathy defines a player's knowledge of the game, he might be – isolated as he is, arrogant as he seems – one of the few who has a true sense of the history of the game. Not much of that around in this straight-from-high-school-to-the-league era.
And as cool as it is for him to pay homage to Walt Frazier, I still wonder if he knows how great Bill Russell really was.
TOMORROW: PART 2
Scoop Jackson is an award-winning journalist who has covered sports and culture for more than 15 years. He is a former editor of Slam, XXL, Hoop and Inside Stuff magazines; and the author of "Sole Provider: 30 Years of NIKE Basketball," "Battlegrounds: America's Street Poets Called Ballers" and "LeBron James: the Chambers of Fear." He resides in Chicago with his wife and two kids. You can e-mail Scoop here.