Single page view
By Scoop Jackson
Page 2
SAN ANTONIO – A white Ford Excursion Limited pulled into parking lot No. 5 at the SBC Center. On one window: "TONIGHT'S THE NIGHT." On the other: "GOT CHAMPIONSHIP?"
The whip symbolized what the next three hours were about. The next year.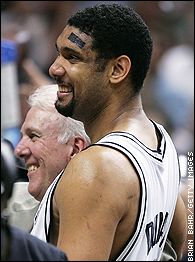 When the clock hit zero -- Pop and TD were champs again.
Thirty minutes before the game, Gregg Popovich stood in a locker room, looked at 12 players and told them nothing more than what he'd been telling them since they lost their last basketball game less than 48 hours ago.
"Live in the moment," he repeated. "Appreciate what's about to happen."
Pop knew the next 48 minutes would change these 12 people's lives forever.
* * * * *
This was about a situation.
The situation had nothing to do with home-court advantage, salaries, trades, CBAs, age limits, suspect refereeing, where coaches will be next year or whose legacy would be tarnished or in question.
It had come to this. It was only right that it did.
It was a situation one team loved and the other seemed to shy away from. A situation of a seventh game. A do-or-dirt nap situation. A situation that hadn't been witnessed in 11 years. A situation John Starks wishes he had back.
It was about a situation of necessity. The league and the game needed this situation, this one-game closeout. Not for ratings or public perception, but for proof. Proof that a beautiful game is not always pretty. And that sometimes, they play out like fights, like championship bouts. Not Gatti/Mayweather, no. Heavyweights. A situation like Ali/Frazier 1, when both were undefeated champs. These two were the league's last two champs.
Just as Ali/Frazier was a 14-round brawl that came down to the 15th, this was a 27-quarter series came down to the 28th. A situation that, in the end, was reduced to 12 minutes. The score equal entering the fourth quarter. The entire basketball season came down to which team could play the best 12 minutes of basketball – not which team was the best.
A situation that was only perfect.
* * * * *
This was about two teams.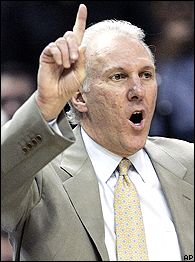 Pop would have loved to see Larry Brown win ... well, not that much,
One trying to defend itself, the other needing to prove itself.
There were no giveaways. No body language reads, no eyes wide shut with fear, no twitching of nerve endings. Over the last two games, Detroit had gotten away from its offense and San Antonio was playing too much one-on-one. They both won games the other was supposed to win, and they both lost games the other was supposed to lose. The mirror image had finally found its reflection. The two best teams in the world had taken a seven-game series, turned it into a three-game series, and then turned it into a one-game saga.
One game.
And there's a theory inside the conspiracy theory inside the NBA: We'll get you to a Game 7, but once you're there …
It was about each team's taking on the personality of its coach, its city. It was about the teams being duplicates of each other, learning about each other over this two-week period, discovering things about themselves along the way.
It was about reps. How each team had to live up to its reputation or live one down. In this series, the Pistons earned one as a team that wanted a Game 7; the Spurs developed one as a team that might not be strong enough to handle a seventh game.